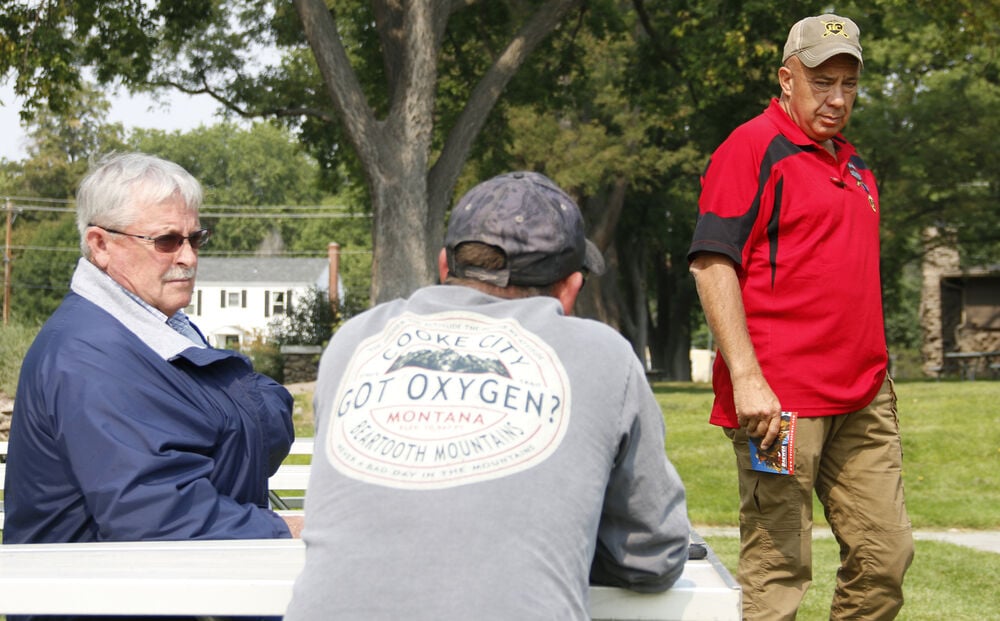 At present, three men lead the Panhandle's Unicameral delegation some 400 miles away. State Senators John Stinner, Steve Erdman and Tom Brewer — and the candidates they beat or are running against this year — have spent nearly three-quarters of a million dollars to get there, according to campaign finance documents.
Of that $729,105, over half (about $429,033) was spent by four candidate committees in two elections trying to win the seat for the rural Legislative District 43. And that's just the general election. If you include spending among primary candidates, the total spending swells to $800,105 spent between 11 candidates in eight years.
According to an analysis of campaign finance records, it's getting more expensive to run for the Panhandle's three Unicameral seats. The money spent on competitive races (races with at least two candidates) has increased by an average of 45% since 2000.
"When the threshold is $100,000 to run, that brings in the (Political Action Committees) and the lobbyists and the associations and big corporations," Stinner, of Gering, told the Star-Herald in a recent interview.
When Stinner beat Mike Meister in 2014 to represent district 48, Stinner reported spending $101,235.54 from January to December. According to his campaign finance reports, Stinner's biggest cost was office space, office supplies, and staff salaries, which totaled $55,423.60.
He told the Star-Herald this was a necessary expense as he was balancing his time between campaigning and working full-time.
His other expenditures included about $11,000 in the production and postage of mailers. Stinner also spent about $21,000 in newspaper and radio ads — including about $2,300 in ads purchased in the Star-Herald.
"That all adds up to a pretty large sum of money," Stinner said. "I set my goal to raise at least a minimum of $100,000."
For Stinner, reaching and exceeding that goal came from 62 individual donations (typically about $250 per donation) for a total of $27,464.02.
"I think the individual donors at the local level are more important," Stinner said. "The local people that contribute really tells you what support you've got."
The rest of Stinner's election money came from Political Action Committees (a political committee organized to raise and spend money to elect and defeat candidates), individual businesses, or other candidate committees.
Stinner collected $78,061.06 from 106 non-individual donors with a typical donation of about $800.
When the 2014 race was over, Stinner out-raised and out-spent Meister nearly 3 to 1. Stinner's election victory closely aligned with his campaign finances. He pulled in 70% of the vote. For reference, former representative John Harms out-raised, out-spent, and beat George Schlothauer in 2006, although by smaller margins.
While money corresponds with election success in the densely populated district 48, the opposite is true for the district 47.
The current representative, State Sen. Erdman, of Bayard, was out-spent and out-raised in a 2016 duel with Karl Elmshaueser. Erdman won the seat overwhelmingly with 10,739 votes compared to Elmshaueser's 5,230 votes.
Erdman said he learned a lot from watching his son, Phillip, run for and win the 47th district in 1999 and 2004.
"You have to go door to door," Erdman said. "The reason I spent so much less was because I did just that."
In all, Erdman spent just under $53,000. Elmshaueser spent just over $71,000.
Erdman's largest costs were yard signs and media advertising at $10,880.30, including $210 purchased from the Star-Herald. He spent the rest on mailers, staff and events.
"It's always been an expensive proposition to run for office," Erdman said. "It just takes a lot of money to get the information and the name recognition out there."
To get there, Erdman gathered cash from 17 individual donations (including himself and his son) totaling $12,287 with a typical donation running around $500. From non-individuals, Erdman's committee collected $23,024.38 with a typical donation of $625.
However, the spending in districts 47 or 48 comes nowhere near the piles and piles of money spent in the state's largest and most rural district.
In the 2016 slugfest between then-incumbent Al Davis and current-incumbent Brewer, the two candidates spent a combined $254,059.33. The current race, between Brewer and Cherry County Commissioner Tanya Storer, is on track to surpass that number.
Storer and Brewer have spent a combined $174,974.58 from January to September. The two Republicans are out-spending the hotly contested race in eastern Nebraska's District 1.
That race between Julie Slama and Janet Palmtag has ensnared the support of current and past governors and seen accusations of racism, sexism, and campaigning improprieties, along with dozens of newspaper articles.
Despite that, running in Cherry County and the surrounding counties is more costly.
Both candidates in the 2020 election for district 43 attribute the high cost to the district's size and its diversity in media outlets.
Brewer spent $35,565.83 in 2016 with 15 media outlets, including $1,217.72 with the Star-Herald. His 2016 opponent spent $74,456.23 on media advertising. It's unclear how many outlets ran Davis' ads because he used an advertising group based in Omaha to purchase ads.
In all, Davis reported spending $183,648.87 while Brewer reported spending $70,410.46. Despite Davis' hefty cash advantage, Brewer won the 2016 election with 52% of the vote.
"I spent thousands on road signs and yard signs," Brewer said. "The reality is the Nebraska wind blows away 250 and you have to put up 250 more."
You can read more about Tom Brewer and Tanya Storer's campaign spending in Tuesday's paper. This article is part two of a four-part series, examining the campaign spending of Nebraska's Panhandle districts.