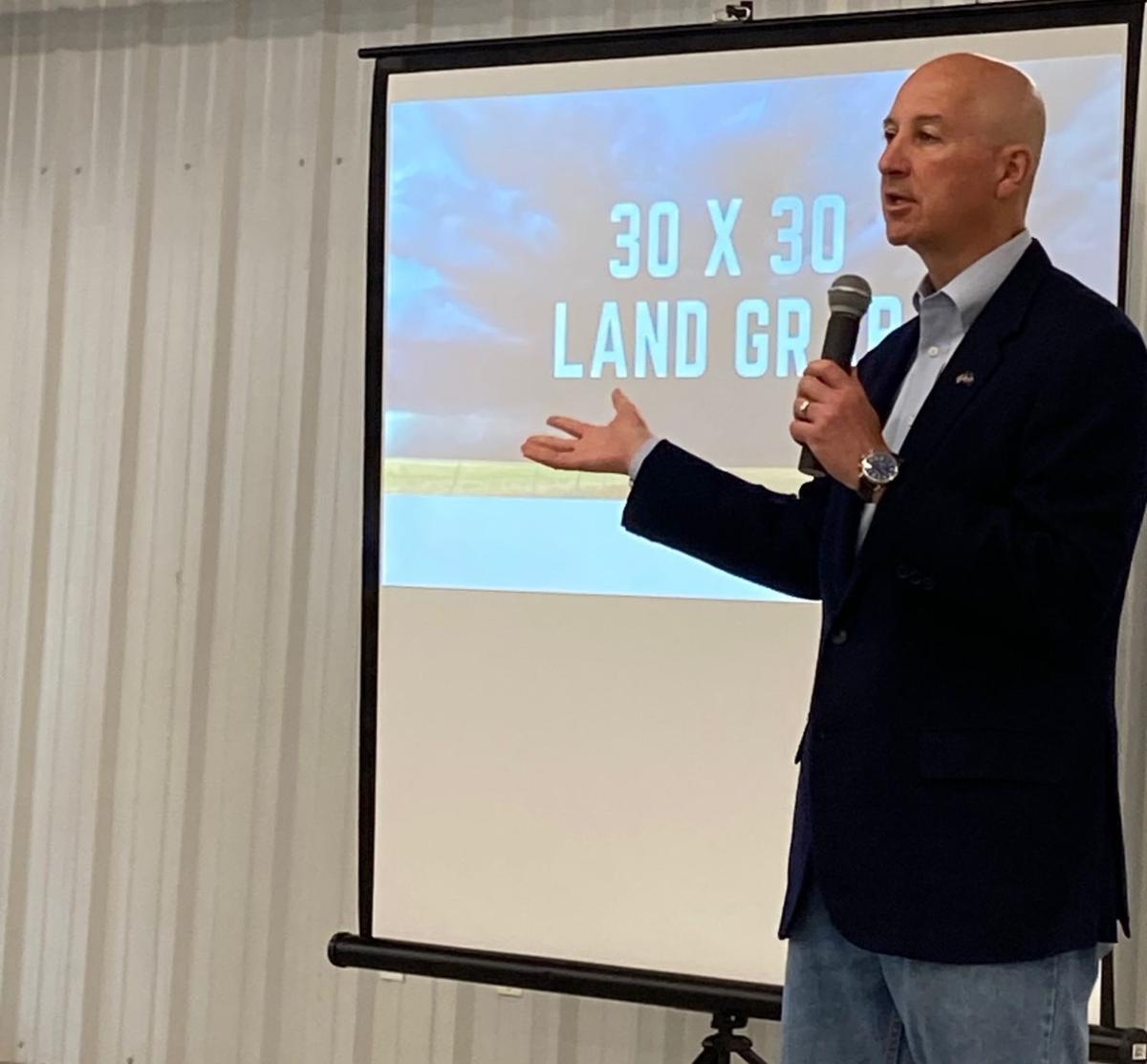 Landowners from Box Butte County, Dawes, Morrill and other surrounding counties gathered at the Knight Museum and Sandhills Center in Alliance on Tuesday morning for a town hall meeting with Nebraska Gov. Pete Ricketts.
Ricketts has been hosting town hall meetings across Nebraska as he works to raise awareness about opposition of what he calls President Joe Biden's "radical climate agenda" 30x30 plan. Ricketts calls it "the 30x30 Land Grab," as it was displayed on the projector.
"I'm going to tell you why I call it a 'Land Grab,'" Ricketts said. "Right now if you wanted to get to 30 percent of the United States in conservation, they would have to add on a land mass the size of the State of Nebraska each and every year between now and the next nine years."
If you're a farmer, rancher or landowner, then you have likely heard about the 30x30 plan as the GOP has heavily lobbied against the plan, which is a federal effort to conserve 30% of U.S. lands and waters by the year 2030. Currently, about 28% of the land in the U.S. is in conservation or 289 million acres.
"Right now, the federal government owns about 28% of the land in the lower U.S. 48 States. Twelve percent of that counts toward that 30x30 plan which means the federal government would like another 440 million acres," according to Ricketts. "National Geographic said, 'OK, according to the President's plan, if 290 million acres qualifies already and you have to get to 729 million acres, that means you have to add 440 million acres; that's the equivalent to nine states of Nebraska or two states of Texas.'"
Ricketts talked about where the plan came from, what the Biden administration has done, what we don't know and what he feels we can do to protect ourselves.
"This started back in 1992 when the United Nations had their convention on biodiversity," he said. "In that convention they said nations should set aside 17 of their land and waters into what they called 'permanently protected in their natural state' which means little or no human interaction. Fast forward to 2019, a left-wing group called the Center for American Progress published a paper on how much nature America should have and in that paper they said we should set aside 30% of our land and waters. The way they got that was not science. They hired a consulting firm to put together a model and came back with 30%."
After Biden was sworn in, he issued an executive order launching the 30x30 initiative as part of his effort to elevate attention to climate issues. In April, Ricketts and 14 other governors responded with their opposition, warning that the 30x30 plan could violate private property rights, and hurt the economies of rural states by taking land out of production.
"We asked him what he meant by this 30x30, how he plans to implement it and reminding him that he does not have the Constitutional Authority to implement 30x30," Ricketts said. "There is nothing to give the president the authority to set aside 30% of our land for conservation. We have not heard back from him.
"What the president has put out is a document called, 'America the Beautiful,' and it's a rebranding of the 30x30 plan because apparently 30x30 was just not such a good brand. Well, unfortunately, in this document there's just not much more information, there's a lot of vague platitudes," he claimed.
"But one of the things that they do say is they are not trying to permanently protect the natural state but they talk about conservation; they want to conserve. The problem is they don't define what they mean by conserve. They also say they want to work with local folks, and this would be done in a voluntary way. Well, of course, it has to be a voluntary way because they don't have the authority to do it any other way."
"To get to 30%, remember, they would have to get land the size of the state of Nebraska each year for the next nine years, how do you do that on a voluntary basis?" Ricketts said.
Some residents, and Ricketts, offered their opinions on how the government might proceed with the plan.
"I know exactly how they are going to do it," Alliance resident Jeff MacDonald said. "They are going to raise our taxes to the point that you can't pay it so they can take it."
"Actually, I think one of the implications of this is that they will raise our taxes," Ricketts said. "Think about this, Nebraska is 97% privately owned. If the federal government set aside 30% of our state, that means everybody else will have to pay more taxes. The federal government does pay taxes in lieu of some of the land that they own; on average here in the state of Nebraska they are paying $2.50 an acre in property taxes. How many people here would like to pay $2.50 in property taxes?"
The packed crowd grumbled and many raised their hands.
Concern about the issue has swept across Nebraska, prompting at least 24 rural counties to pass resolutions opposing the 30x30 plan. U.S. Reps. Adrian Smith and Don Bacon, both Republicans, have signed onto a House proposal to kill the plan, and U.S. Sens. Deb Fischer and Ben Sasse are backing a Senate bill to do the same. U.S. Agriculture Secretary Tom Vilsack has continued to deny that Biden's conservation goal is a land grab.
Jeff Metz, a commissioner in Morrill County, which has passed a resolution opposing the 30x30plan spoke during the town hall, thanking the crowd for being in attendance.
"When the word was out in March that the 30x30 plan was signed we, as a county, put it on the agenda to pass a resolution opposing this," he said. "So on the 23rd of March, Morrill County was the first county in the state to oppose this plan.
"We are adamantly opposed to this plan," he said. "We are glad to see other counties around passing resolutions too; Scotts Bluff just passed theirs, Box Butte has, but we need to get on Dawes and those that haven't."
Ricketts said, "We are on the front lines. We are in the trenches right here in Nebraska. Go read the information on the Governor's website and stay on top of what is going on. Folks, a lot of times we think what is going on in D.C. as being very far away. This fight is in our own back yard."
"Study up on your county's zoning laws and work for your counties," Ricketts said, saying that there is a lot that we do not know about the plan and urging people to follow his website, governor.nebrska.gov for updates.
"What we do know is the Biden administration set this goal of getting 30% of the land for conservation which they won't define, and that means more federal control. I can tell you that with my experience when there's more federal control that means that you lose rights over your property. Here's the deal: We don't need the federal government's help with this. Our farmers and ranchers are the original conservationists. They have been protecting their land to pass on to the next generation."
He praised Nebraska's successes in conservation to a cheering crowd, citing the Ogallala Aquifer as "within one foot of where it was in the 1950s" due to water management of natural resource districts and a U.S. News and World Report ranking Nebraska as the sixth among the 10 "best states for natural environments."
Ricketts said, "By contrast, the president's home state of Delaware has the sixth worst state of natural environment. Maybe the president should focus on his home state and leave us alone in Nebraska."
Ricketts announced a June 17 stop on Thursday, June 17, in Gordon at the Gordon City Auditorium, 311 N. Oak St.