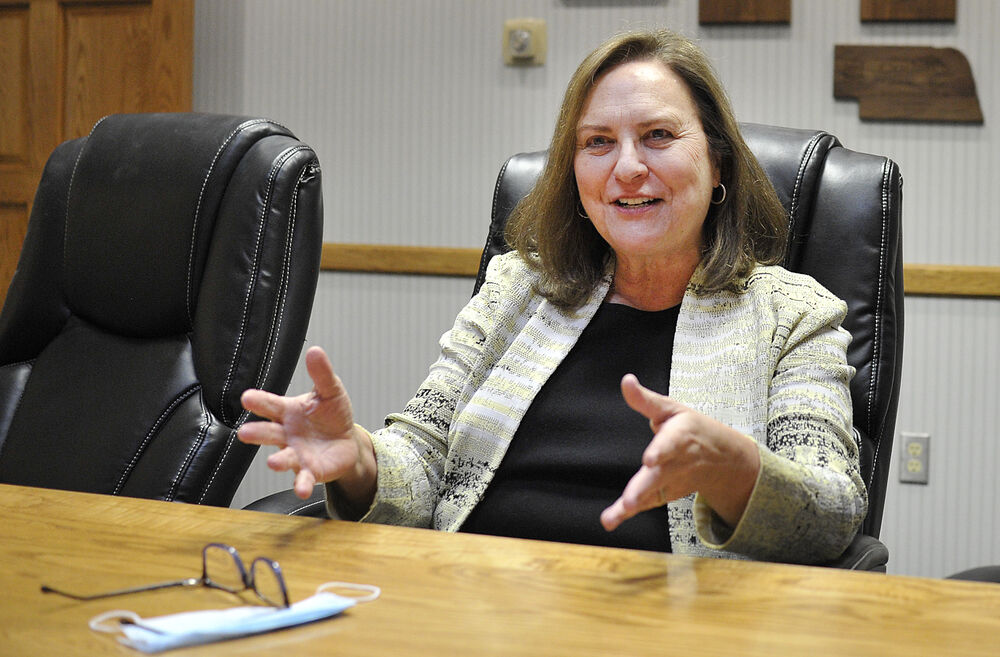 U.S. Sen. Deb Fischer stopped at the Star-Herald Tuesday on a statewide tour to discuss some of the projects she's working on and give an update on what's going on in the nation's capitol.
Fischer said it's important for her to see how the communities in her state are doing.
Fischer's visit came as the Senate's parliamentarian determined that Democrats would be able to do a third budget reconciliation bill this year. The measure allows Democrat lawmakers to pass more legislation without Republican support.
"With the news that we heard (Monday), about the reconciliation, the parliamentarian making a judgment that none of us really expected — that reconciliation can be used for a number of things now ... that's really horrible," she said. "It's upsetting, it's bleak.
"That's how it is, which is different from my message I usually give, because I like to come and talk about all the great things we're working on together and what we can accomplish, and how it's going to help the people of Nebraska. And after hearing that (Monday), it's hard."
Reconciliation is the process by which the Senate can pass budgetary legislation with only 51 votes. Typically, legislation needs 60 votes to pass. In the past,  reconciliation could be used once a year to fast track a bill. Parliamentarian Elizabeth MacDonough ruled Monday to allow it to be used more than once this year for President Joe Biden's infrastructure plan, which faces Republican opposition.
Fischer, who should be a key voice in the infrastructure conversation as a member of many key committees including Transportation and Infrastructure, said she hasn't been reached out to on Biden's plan. Fischer said the Biden administration had not reached out to any Republican so far. She sees this as only deepening the divide that exists in the Senate and across the country.
"It changes how the Senate works. It changes the idea that the minority party needs to be heard," she said. "If there's no reason that we have to work together, obviously, the parties are not going to work together."
Fischer said that with the Senate being split 50-50, the reconciliation process essentially ends the filibuster and gives the majority party the ability to pass legislation without the approval of any minority party.
"The Senate will become the House, and we will have really wild swings of policy," she said. "Whoever is in the majority can push through an agenda and totally ignore half the country. We don't end up with good policy, then we don't end up with lasting policy, because you'll have extremes on both sides that would be pushing an agenda. Instead of finding consensus, we're going to be dealing with more and more division within the country, at least for two years or four years, and then it will swing the other way."
Not only does this make consistent policy more difficult to achieve, it also sets an unhealthy tone for the entire country, Fischer said.
"The divisions within the Senate are a reflection of the divisions in this country," she said. "And that's why I think it's so important that we don't see this big upheaval, that we don't change the rules. … We're made to work together; we're forced to work together. If you have to get 60 votes, you are forced to be able to accommodate somebody else's views. We are so different as states, you have to be able to recognize the differences in this country. … We have to work together if we're going to solve all these big issues … across the country."
Still, Fischer hasn't given up hope. She said there are still a few things she is working on that she's excited about and that have some bipartisan support.
Right now, she and Sen. Cory Booker have co-sponsored a bill to provide veterans with PTSD service dogs through Veterans Affairs. She is also working toward addressing issues in telehealth, broadband, infrastructure and agriculture. One of her favorite bills she is most optimistic about right now is her cattle marketing bill, which is co-sponsored by Sen. Ron Wyden of Oregon, who she said might be one of the most liberal senators in the Senate.
The main goal of the bill is to have more information available on cash markets on a regional basis for all segments of the cattle industry. She said she wanted to focus regionally instead of nationally because the markets differ from state to state.
Fischer said because each state has different systems in place, it makes more sense for cattle producers to make decisions based on regional information.
"We succeed as ag producers ... if more information's available and the more transparent it is," she said. "And we succeed as a state, because of the importance of agriculture to the state of Nebraska, and livestock is the largest percentage of that. ... So, the more information you have, the better decisions you can make."
Fischer said she is trying to remain hopeful during this time of doubt and division. When asked what the country could do to try to mend the divide, she said the main thing is to listen.
"I think you have to listen at a local level. Listen to people and show respect to people. That's extremely important," she said. "I will continue reaching out to colleagues on the other side, because I believe that you need a Republican and a Democrat on a bill in the United States Senate to get something done. I hope that will still be the case."
Fischer said she will not be running for governor in the 2022 election. She said she is satisfied with her work in the Senate and what she does for Nebraskans there.