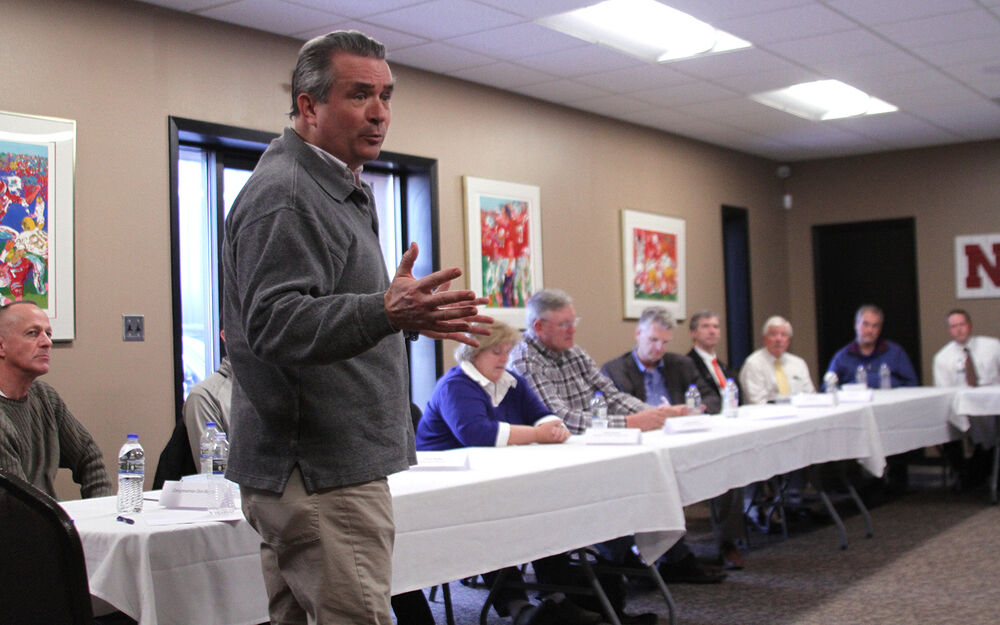 U.S. Representative Don Bacon held a meeting Wednesday with Panhandle crop producers, cattlemen and local officials hosted in part by the Nebraska Dry Bean Commission. The meeting with the Omaha representative stretched over several hours and was held in a conference room at the Weborg 21 Centre with a dozen or so attendees.
Bacon held a similar meeting in North Platte on Thursday and told the Star-Herald the purpose of the meetings — attended by producers and manufacturers for ag bankers, cattle, sugar beets, dry beans, wheat and corn — was to build better policy in a post-COVID reality.
"in the end, we can't continue federal COVID support, we got to taper that off and get back to a Farm Bill, that is the norm," he said. "Even with the farm prices going up, the actual incomes are going to probably be decreased, because a lot of the aid programs are going to start tapering that off. So we're talking about how can we do that smartly."
Bacon said the House Committee on Agriculture will soon take up the Farm Bill, which is revised every five years.
"I just wanna make sure I'm representing the diverse interests in western Nebraska," Bacon said. "The crop insurance we talked about, we need more free trade that is really big right now. And also there were some issues with having enough beef processors out there and our finite capacity."
CEO Kevin Kelley of Kelley Bean said producer's top concerns were steel tariffs in China causing a competitive disadvantage for producers against competitors in Canada and Latin America.
"We're really hoping to see see more push on free trade," he said. "We'd like to see the retaliatory tariffs ... go away."
Kelley also emphasized the importance of irrigation infrastructure and drought concerns in an area of dryland farming.
"Without water, you know, our Valley wouldn't sustain itself as it is today," he said. "I think the congressman really listened, he and his staff."
When asked about drought or recent deep freeze impacts on local agriculture, Bacon said he'd ask for studies to analyze the impact, and switched the topic to advocating for infrastructure, saying the $1.9 trillion in the COVID relief bill should be redirected to roads and bridges.
He said the Gering-Ft. Laramie tunnel collapse was brought to his attention, and he vowed to work with Congressman Adrian Smith and Senator Deb Fischer to call on the Bureau of Reclamation to fix the structure.
In July 2019, the second of three tunnels along the Goshen/Gering Fort Laramie canal collapsed, causing a breach that forced all water to be shut off in the two irrigation districts, leaving more than 100,000 acres dry for nearly all of the rest of the growing season.
Bacon said the bureau was "slow-rolling" the repairs and had plenty of funding to address the problem.
"We need to repair that; I think it's a federal responsibility. And I think they've been too slow," he said.
He said he would also continue pushing for Farmers to Families food boxes from the Department of Agriculture and look into commodity shortages that hit Panhandle supplementary programs for seniors hard.
The Omaha World-Herald noted that observers for the gubernatorial race have their eye on the retired Air Force brigadier general, as he's won Nebraska's competitive 2nd District three times.
Meeting topics included water, food boxes, and agriculture legislation, but also the specter of the Jan. 6 storming of the capitol by the former president's supporters and partisan politics on the Hill. In the tail-end of the meeting, Bacon told producers that while House Speaker Nancy Pelosi from California wanted a commission to investigate the Jan. 6 riot, he wanted one to explore election integrity, saying the Republican party's distrust of the elections was "unhealthy."
"I want a commission on the elections," he said. "I don't think there was as much fraud as people say there was. I'm willing to do a study and commission, let's get to the truth of it. That way here, if there was if there's not – there's healing."
When asked about those comments after the meeting, Bacon said he was still concerned after Jan. 6.
"I am angry that people affiliated with me, broke into the Capitol and did that, I'm mad as can be about it," he said. "I think they gave a bad name to my party, and the people that think like me, and so I want justice. Anybody that broke in the Capitol, they deserve to go to court and do time."