Panhandle health officials report that COVID-19 caseloads aren't showing any signs of coming down in western Nebraska and are further stretching the health care system.
Scotts Bluff County Health Director Paulette Schnell announced 444 new cases, bringing the total of active cases to 2,352.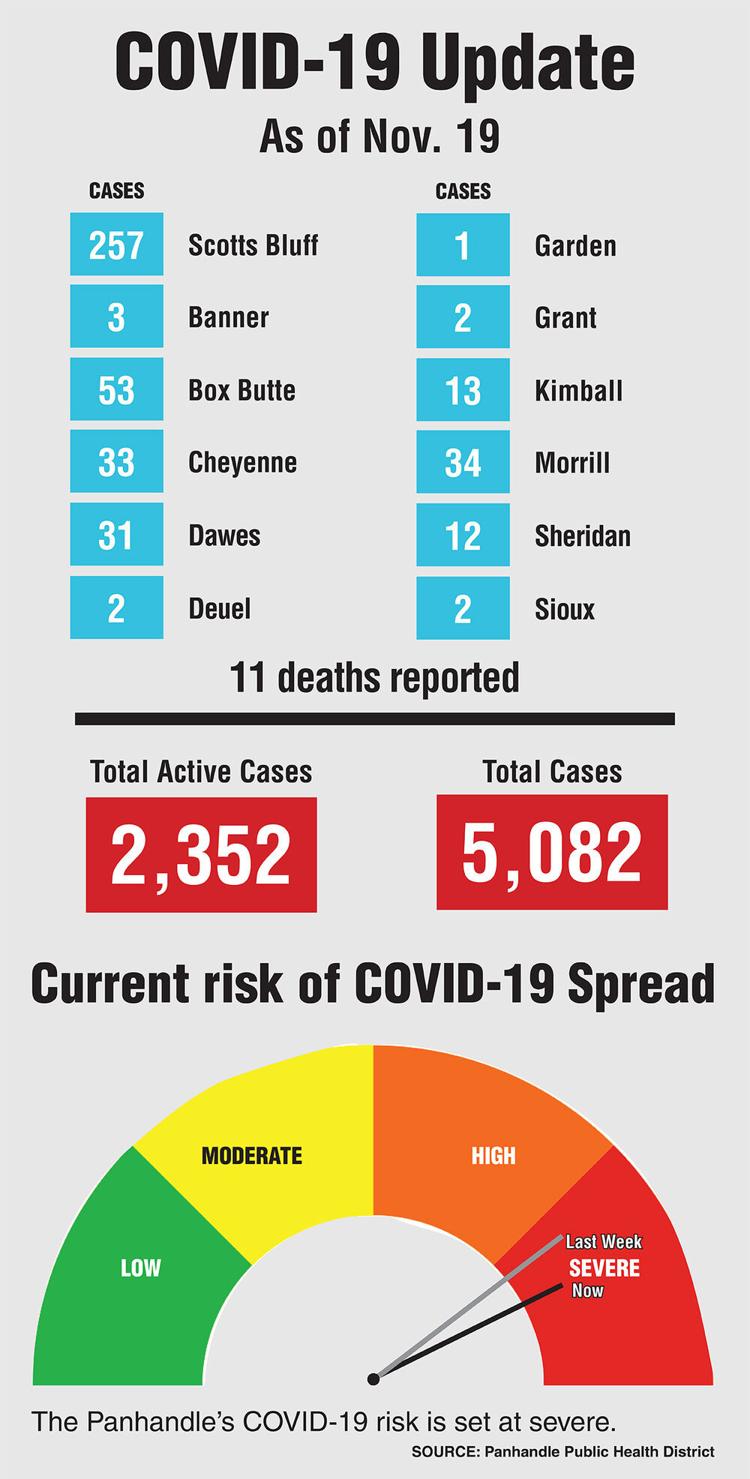 COVID-19 deaths in the Panhandle have significantly increased in the last month. On Thursday, PPHD reported 11 additional deaths have been confirmed in the Panhandle, which Schnell said occurred over a period of time from October to the present. Seven deaths had been reported earlier this week. With a total of 18 deaths reported this week, public health officials report a total of 42 deaths have occurred in the Panhandle. Just a month ago, on Oct. 19, the Panhandle reported only 11 deaths had occurred over a six-month period.
The following COVID-related deaths in the Panhandle are being reported: Box Butte County woman in her 80s; Dawes County man in his 80s; Grant County male in his 70s; Kimball County male in his 60s; Morrill County man in his 80s; two Scotts Bluff County women, one in her 60s and one in her 90s; two Scotts Bluff County men, one in his 60s and one his 70s; and Sheridan County: two women in their 80s.
At the time of the daily briefing, Schnell said that some deaths are pending confirmation, which officials have said can take some time as death certificates are reviewed by state officials.
"We have enough deaths out there that we couldn't get those numbers together. We were unable to do that in time for the report today."
After the call, the Star-Herald followed up with Panhandle Health Director Kim Engel said 14 deaths are pending confirmation. That means death rates have increased by more than 400% in the Panhandle over the last month.
The Panhandle has an overall cumulative positivity rate of 20.9%, compared to a cumulative positivity rate of 7.1% a month ago. Positivity rate is important because a higher percentage of positive cases suggests higher transmission, and a higher likelihood that there are additional COVID-19 cases in the community where persons have not yet been tested or chosen not to get tested.
The World Health Organization (WHO) recommends that test positivity should remain at 5% or lower when considering measures such as reopening regions, according to a Harvard Global Health Institute article. Asked what was a "good positivity rate," Engel said that New York state has a positivity rate at about 3% and is "pulling out all the stops" to ensure that COVID-19 cases remain low.
At this time, she said, "it's going to take a long time to (bring the cumulative positivity rate) back down."
The weekly positivity rate is key at this time, which last week officials reported at 51.1%. The Panhandle weekly positivity rate began climbing steadily at the end of September, exceeding 50% on Oct. 25. It's continued to climb weekly since.
On the state level, Gov. Pete Ricketts has indicated that he'll put forth more restrictive directed health measures if hospitalizations reach 25%, or 1,170 beds are occupied by COVID-19. Dr. James Lawler, an infectious disease specialist at UNMC, said Thursday that hospitalizations are nearing 1,000 in the state (961 on Nov. 17, according to the Nebraska Department of Health and Human Services) dashboard. Lawler referred to the impact on the health care system in Nebraska as "frightening." The state has an estimated 3,200 staff beds to provide critical care and med surge services across the state, he said, and within two weeks, he estimated that hospitalizations could exceed 2,000.
In the Panhandle, however, it could be said that the hospitalization rate is not just frightening, but alarmingly so. The Star-Herald asked Engel about the staff bed availability in the Panhandle. Engel said that the Panhandle has 171 staff beds, and COVID-19 hospitalizations are at 85, which means that 49.7% of the beds in the Panhandle are filled, much higher than the 25% rate that Ricketts is using on the state level as a marker to implement stricter health measures. During a press conference on a statewide advertising campaign, Dr. Matthew Bruner, of Regional West Medical Center, said that hospitals were experiencing more "critical timing" on Thursday.
Ambulances in the area have also been affected, according to information released by the Gering Fire Department in a press release and in the PPHD call. In the press release, Mayor Tony Kaufman and others asked Gering residents to strictly adhere to CDC recommendations and state directed health measures to curb the threat of exposure. Residents were asked to avoid crowded places, close contact and confined spaces.
In the release, Flowers said that the Gering Fire Department has seen the call volume increase by 42% in November alone, due to COVID-19 patients, and was seeing a 25% overlap in calls.
"It is becoming noticeable that our resources are being stretched thin and delayed because of 911 calls," he said in the statement. "It is appropriate for us to inform the community that it is a very challenging time for your volunteer fire department. Because it is realistic that an ambulance could be delayed or not available if our residents need them, we are asking the community for their help. Your volunteer fire department will continue to support the community unconditionally, and we wish to partner with you so we can protect our community in the manner you deserve."
"Flowers told the Star-Herald that the advisory doesn't mean that people shouldn't call for an ambulance, if one is needed, and will support any calls. However, "We are asking for help and understanding from the community that ambulances might be delayed when calling 911 due to the rapid surge in COVID calls."
All mutual aid partners are experiencing an increase in calls, he said, and working together to continue to offer services.
During Thursday's call, Engel was asked how people could support health care workers who are feeling overwhelmed.
"Everyone is pleading," she said. "Please step up your defense of this virus and help your neighbors," she reminded residents that they, not doctors or nurses, are the front line of defense by practicing preventative measures to avoid the spread of COVID-19.
Get local news delivered to your inbox!
Subscribe to our Daily Headlines newsletter.