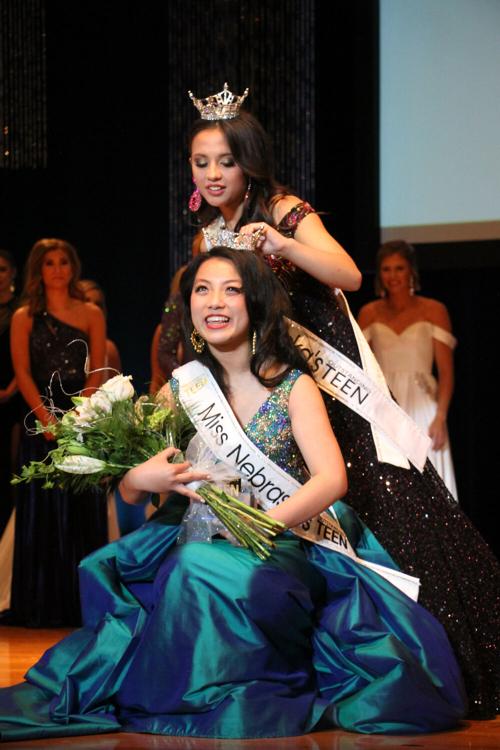 Miss Scotts Bluff County Outstanding Teen Jamie Rose Chen was named Miss Nebraska's Outstanding Teen Saturday at the Miss Nebraska Competition at North Platte High School.
Chen was selected to represent the state as the 2021 Miss Nebraska Outstanding Teen for the next year after two years of holding her 2019 Miss Scotts Bluff County title due to the pandemic.
"She's phenomenal," Scotts Bluff County Fair Pageant Director Cheryl Engelhaupt said. "When she entered the (Scotts Bluff County) pageant in the teen division, she was 15 and then naturally we didn't have anything last year because of COVID and then she came back."
The competition started Thursday, June 10 with the young ladies competing in talent during the preliminary night of the scholarship pageant. Chen was named the winner in talent for night one.
Saturday evening's competition began with an opening number before the judges narrowed the field to the top eight in the miss and teen divisions. The young ladies competed in talent; interview; on stage question; evening gown, now called red carpet; and the teen division was judged on physical fitness.
As the judges narrowed the field down to the top five, Engelhaupt said she knew who Chen's biggest competition was as she held her breath.
"They both stood up there and my heart was beating and sure enough," she said. "You're just overwhelmed, excited and thrilled."
After Chen was crowned, Engelhaupt found her. Despite being newly crowned, Chen's personality still shown through as she complimented Engelhaupt on her attire, rather than focusing on herself.
"The first night of competition, I told Jamie, 'You are outstanding,' and then I told her, 'I told you, you are outstanding."
Engelhaupt said Chen will put everything she has into representing the state over the next year and she is excited for Chen to have this experience.
"It's a lifetime experience to get to that point and have that experience this next year," she said.
Chen will represent Nebraska at the Miss America Outstanding Teen competition in Orlando Florida, July 15.
"As the Miss Nebraska Outstanding Teen, she will go compete against 50 other gals," Engelhaupt said. "I'll tell you what she has to be everything they're looking for."
Chen will receive a $2,000 cash scholarship as Miss Outstanding Teen as well as funds to represent Nebraska at the national competition in Florida.
With a month to prepare for the national competition, Engelhaupt said Chen is a natural and has all of the qualifications to represent not only Nebraska, but also the country as an outstanding teen.