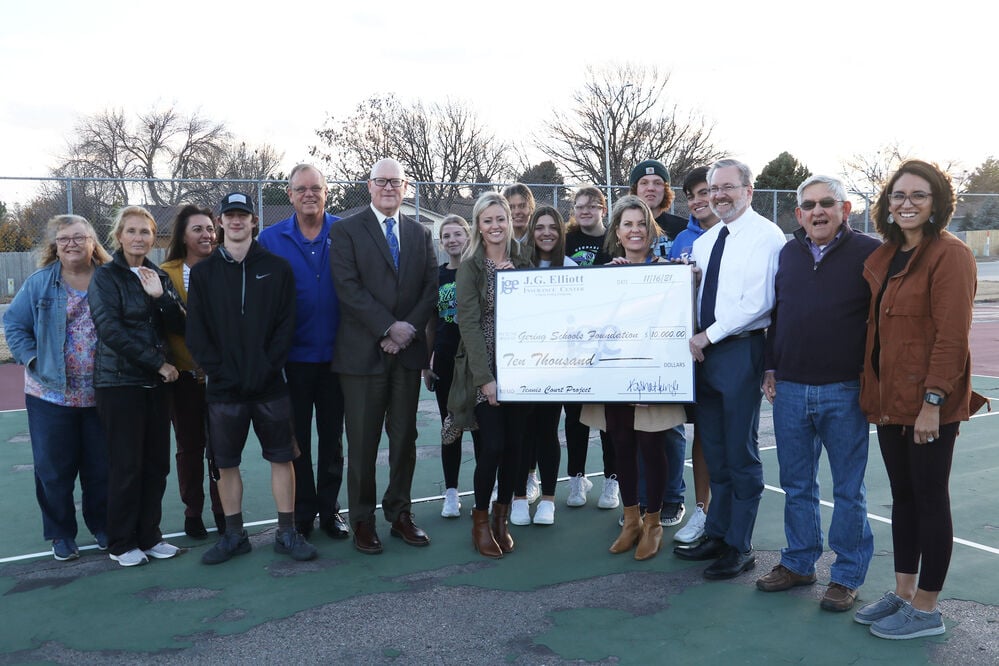 Representatives from all organizations working to revitalize the Gering High School tennis courts got together to celebrate getting one step closer to funding the project Tuesday afternoon.
JG Elliott, a Platte Valley Company, donated $10,000 to the tennis court revitalization committee through the Gering Public Schools Foundation on Tuesday. With the donation, the group is only about $40,000 away from reaching their goal.
"As part of our 100 years of being in business, JG Elliott Company decided to make contributions totaling $100,000 in the communities that we serve," John Massey, director of affiliate services for JG Elliott, said. "And what we were looking for were projects just like this (that were) going to give back to the local community, especially young people, and really make an investment in the communities that we serve. So, this was a perfect fit for what we're doing. We're just thrilled to death to be able to provide this funding for the project."
Zac Karpf, one of the leaders of the committee, said, "In addition to the very generous donation today from JG  Elliott and Platte Valley Companies of $10,000. We have other very generous contributors that are making contributions to our organization that goes through the Gering Schools Foundation. We're about halfway to our goal."
The project will cost about $400,000 total, and the cost was split up among the school district, the City of Gering and the committee. GPS budgeted $200,000 toward the project, while the city agreed to give around $100,000, leaving the committee to raise $100,000 in donations.
Karpf said that the committee is currently working toward a matching grant through the state government called the Shovel-Ready Capital Recovery and Investment Act. They have to raise about $40,000 more by Dec. 31 in order to qualify for the grant.
"We're on our final push here," Karpf said.
Karpf said the committee has been working toward this project for roughly four years and is glad to see it finally starting to become a reality.
"This partnership, where we all kind of bring something to the table, is what finally ended up pushing it across the finish line and getting the project fully funded," he said. "… It feels really good to know that future kids at Gering are going to be able to benefit from this for many years to come, and also the just the City of Gering at large because, of course, it will get used a lot by the community."
Gering tennis coach Ron Swank said he was thankful for all the support throughout the community to make this possible.
"I go to these meetings, and I just, I'm going, 'Wow.' All these ideas of 'We can do this,' 'We can do that.' That's been overwhelming," he said. "… You just need that community support. It's been great."
The goal is to begin construction on the courts around April or May so that they will be ready in time for fall tennis season next year.
"It's going to be a restart for the program. I mean, we've got really good kids now; we got 10-15 out. And, I think it's just going to be an ignition for a lot of future stuff," Swank said. "… There's a sense of pride. Gering's got a lot of pride, and that's just going to boost everything (and) just help get some confidence going."
To find out how to help or donate to the cause, contact Karpf at Platte Valley Bank or Jennifer Sibal, GPS director of community engagement, at 308-633-4343 or foundation@geringschools.net.