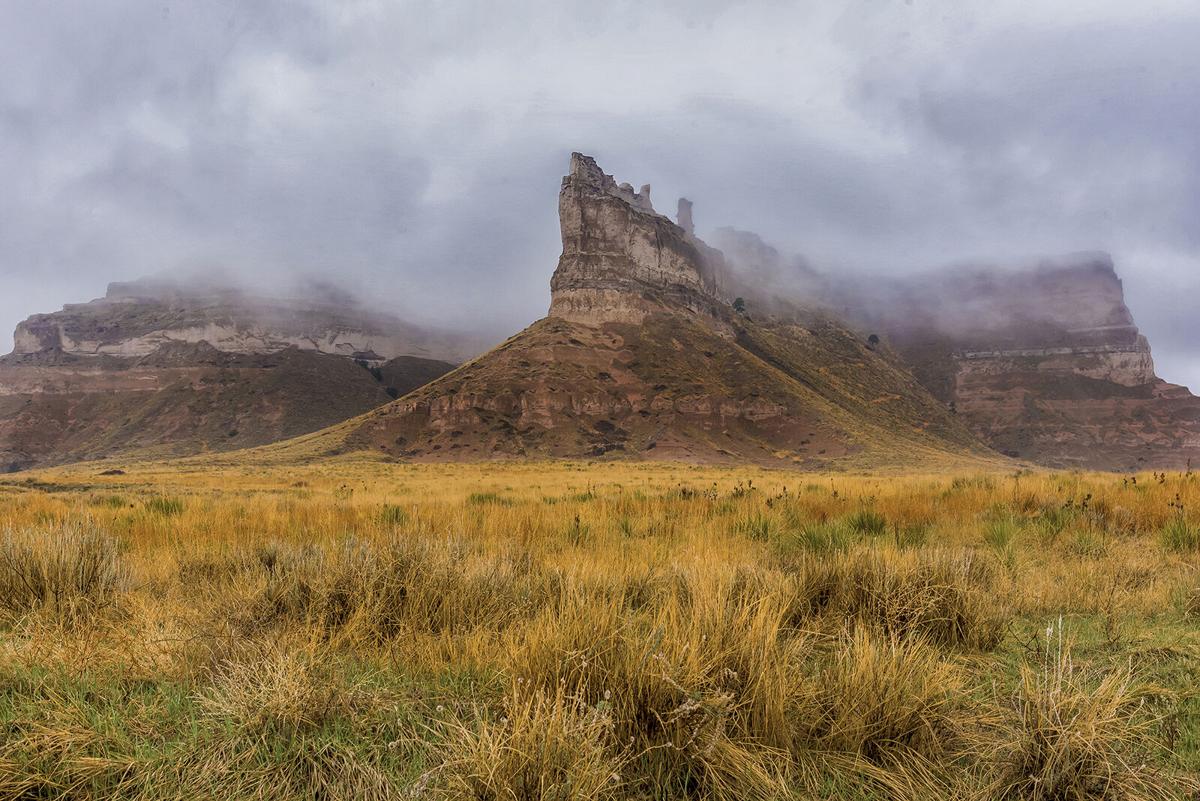 Hundreds of lasers will highlight the Scotts Bluff National Monument like it has never been seen before with the Ignite Giving Laser Light Show Saturday.
The show will highlight the WyoBraska Giving campaign, which is a 24-hour giving campaign, organized by the Oregon Trail Community Foundation and sponsored by the Holliday Family of Companies, that will be held on May 4.
The Ignite Giving show is the kickoff for the campaign, which hopes to raise hundreds of thousands of dollars for nearly 100 western Nebraska nonprofits that benefit the community. The Ignite Giving show has been months of planning for organizer Becky Horne, who unfortunately found herself undergoing emergency surgery this week after a fall and suffering serious injury to her leg.
Asked if she was excited or nervous, she said, "I am a little bit of both. I was not anticipating having to go to the event in a wheelchair, but so many people are stepping up to help."
All is organized, she said. She has said the Connecticut-based laser light show company, Dynamic FX, will put on a show that "you will never forget." The 30-minute display is anticipated to start at 8:30 p.m. Horne said that a 30-minute display showing the more than 30 sponsors will be a signal for people that the show is nearing start time and people should be getting into place. "We are just asking people to come with a healthy dose of patience," she said. "We have the one road taking people in, so plan ahead. I would assume we will have a steady flow of traffic."
Free parking for the community to observe the show will be available at the end of U Street, west of the Gering landfill, where a viewing site will also be available. Parking will not open up until 6 p.m. More details are available on the Oregon Trail Community Foundation Facebook page about site details.
During the show, tune your radio to 101.3 FM KOZY for music that will accompany the show. The Star-Herald plans to live stream the show on its Facebook page, however, has been advised that cell phone reception may be poor at the site. In the event that there are technical difficulties with the live stream, the Star-Herald will offer a video of the show on its website and share it on its Facebook page.
Volunteers with Firefighter Ministry, City of Gering staff and others will be directing parking and providing other assistance.
There will not be any food vendors on site, but people are able to walk to the neighboring Monument Grill for refreshments.
The event is free, due to the 32 sponsors that have helped with the show.
"This event could not have been done without our sponsors," Horne said. "The fact that we were able to do it free, as a gift to the public, was the most important part to us."