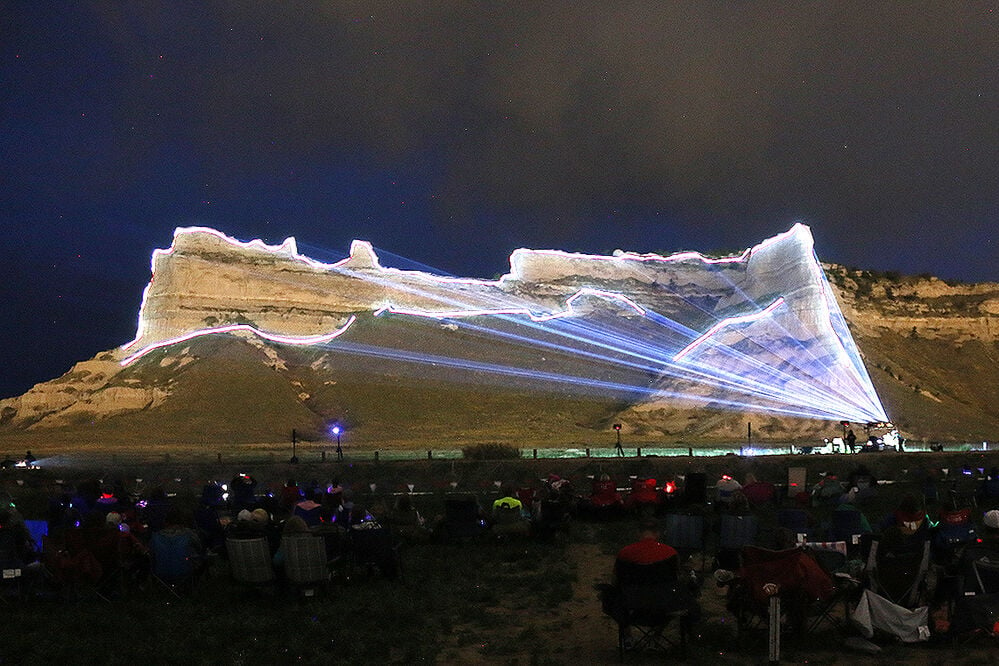 Highlighted by lights and lasers, Saturday night was a first in the 22 million-year history of Scotts Bluff National Monument.
On Saturday night, a laser light show beamed across Scotts Bluff National Monument, kicking off the WyoBraska Gives Day of Giving. The online giving event will be May 4. Visit wyobraskagives.org to donate to more than 90 area nonprofits.
While organizers canceled the 2020 event due to COVID-19, the annual charity event raises hundreds of thousands for non-profits in the area in the past. In 2019, the group raised $477,865 for local non-profits.
Organizer Becky Horne told the Star-Herald that this year is less about the money and more about impact.
"Our expectations are to get as many donors and volunteer hours out there as we can," Horne said. "We decided we weren't going to even put a monetary goal on it this year."
Another change this year was the scale of the event, Horne said.
Without an event last year, Horne said they wanted 2021 to be memorable. In addition to the monument light show, the 2021 event featured a community treasure hunt and silent auction.
"We just felt like with the year of shutdown and COVID-19, we wanted to do something extra special this year," Horne said.
Specifically, Horne said the light show was a late addition to the event line-up. About three months ago, Horne and others started looking for ideas to spice up the yearly event. Horne didn't look far.
"The backdrop of my backyard is the Scotts Bluff National Monument," she said. "Talking back and forth, we thought a light show on the monument would be a really great idea so long as we could get the monument on board."
For that, they needed monument superintendent Dan Morford. He told the Star-Herald the project presented several logistical hurdles. But the overall goal was to ensure the lasers and equipment did not harm the monument, Morford said.
"There was no impact on to the monument itself, other than some potential wildlife disruption from the lights for the short 30-minute show," he said.
Hundreds of families turned out for the show, which started late because of the turnout, Horne said. She added that organizers wanted to ensure everyone who showed up had a chance to get settled in.
The show began with a natural history of Scotts Bluff Monument. Lasers depicted scenes to symbolize the primordial oceans that covered much of North America, the Native Americans and settlers who wandered the area hundreds of years ago, and the monument as it rests today.
The lights show then shifted into choreographed displays set to "God Bless The U.S.A" and other songs.