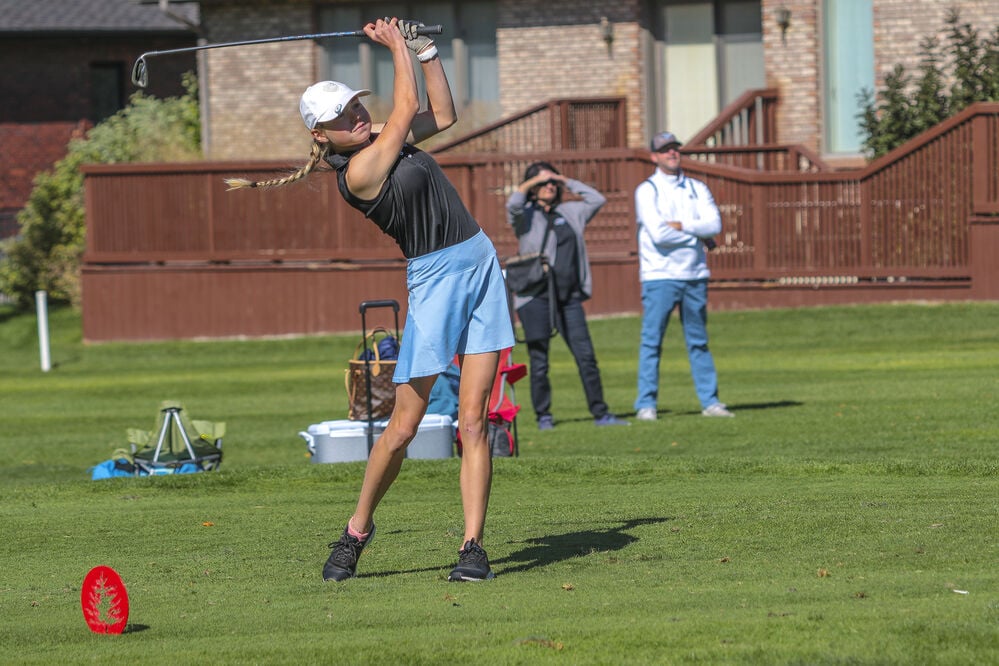 The NSAA Class B Girls State Golf Championships teed off Monday and City of Gering Tourism Director Karla Niedan-Streeks said it should be a boom for the local economy.
Seventy-five players qualified for the two-day tournament. Niedan-Streeks estimates there are at least four to five family members per player who traveled with them.
"We've had players and coaches and families that came in as early as Friday. Well, a lot of them came in on Saturday and, in addition to playing practice rounds, they stayed in our hotels and they got out and did a few things. A lot of them hiked the monument yesterday, which was great," she said.
Niedan-Streeks said she doesn't know the exact number of rooms being occupied by golfers and spectators in the tournament, but the area hotels have been positively affected.
"I've talked to two hotels this morning who were both booked solid from over the weekend, and they attribute that to those golf players coming in," she said. "We have about seven hotels that are on our preferred list and all of them have (golfers or their families staying there), so it's been great."
When the proposal was put in to the NSAA, it was estimated the tournament would bring in $200,000 or more to the local economy. Niedan-Streeks said it looks like the area will meet or exceed that number.
"In our first year, we knew the players and the coaches and the families would come in, but we didn't know how many extracurricular people would be coming. I think we were pleasantly surprised that it's just not the immediate family. It's a lot of family and friends that come in to watch the girls play.
"We'll track that at the end of the year. I would anticipate it's up. I think we've seen more families this year. I don't know if that had anything to do with COVID or not, but we're seeing a lot more families and groups that are following each of the girls who qualified," she said.
Scotts Bluff County Tourism Director Brenda Leisy said she has heard nothing but good comments about the area during the tournament.
"We're extremely pleased," she said. "We have gotten great comments. We've seen a lot of people that we saw last year for the first year, and they're all very positive and happy to be back in Scottsbluff, Gering and western Nebraska. They are commenting about how beautiful the views are and many of them hiked the monument last year and they were up hiking the monument again yesterday. It's all about the girls and the teams that have qualified, but ultimately, all those other people that come with them. We want to make sure that they have a positive experience and the comments have been great," Leisy said.
Leisy said she even had one family who told her how pleased they were with their visit to Scottsbluff.
"We had a girl who traveled out here from eastern Nebraska with her father yesterday," Leisy said. "They got on the course and played. Her dad hit his first-ever hole-in-one. He did that right here at the Scotts Bluff Country Club. That is going to be a memory that he has for the rest of his life. He teased us that he was going to get a membership because seven hours wasn't too far to drive to golf. It is great that we were able to create a good experience for him and his family."
The hole-in-one was shot on hole number 17.
"It is his favorite hole of any golf course he's ever played," Niedan-Streeks said, with a laugh.
Neidan-Streeks said the state tournament had a successful first day thanks to all of the hard work put in by everybody involved.
"We've got an incredible state golf host committee and, literally, we started working on this year's championships about two days after last year's championships. We just worked all year-long," she said. "We've got 68 volunteers who have just been incredible who have signed up to work with us."
With the help of those volunteers, the sponsors and golf courses, Niedan-Streeks said it gives the appearance that it was an easy event to pull off.
"It's just all those mechanics that happen behind the scene, so that when everybody comes out here today (Monday) and tomorrow, it looks like it just happens. But, there's a lot of things that we've been doing," she said. "I can't say enough about our host committee and, again, 68 volunteers from our community who're out here today and tomorrow, helping us make sure that it's a great experience and a great championship for our qualifying players."
Leisy said it also takes coordination with the NSAA to make sure it is done right.
"We also have a great relationship with NSAA. We sat down with them ahead of time and made sure that we understand all the rules and exactly what's expected of us as a host committee. We appreciate the relationship we have with them as well," she said.
Niedan-Streeks said she hopes the event's success will help keep state high school events in western Nebraska.
"We really believe that our area's prime for the class B golf destination," she said. "When the NSAA first awarded us the girls bid, we put together a great presentation and made a lot of promises that we delivered on. Our goal was always to get (the boy's tournament). We've got a tremendous opportunity for the next four years to cement Scottsbluff-Gering as the premier golf destination for Class B golf."
Leisy said the area hit record numbers in the money tourism brings into the area starting in March and has increased each month since. It culminated in July being the best month ever for tourism money brought into the area. The tournament is a great driver for local tourism, she said.
"Last year, we had the same thing as this year. We had people from the eastern part of the state who have never ever been here. They were so pleasantly surprised with how beautiful it is and how great these two courses are. We had a lot of commentary about how everybody is so friendly here.
"The reality of that is a lot of people are back this year. It's like welcoming home, but when they're going back home in the eastern part of the state and all over the state talking about this experience, what they're telling their friends and their family is the best promotion we can get as a destination. They're becoming our ambassadors for a great place to play golf and a great place to visit," she said.