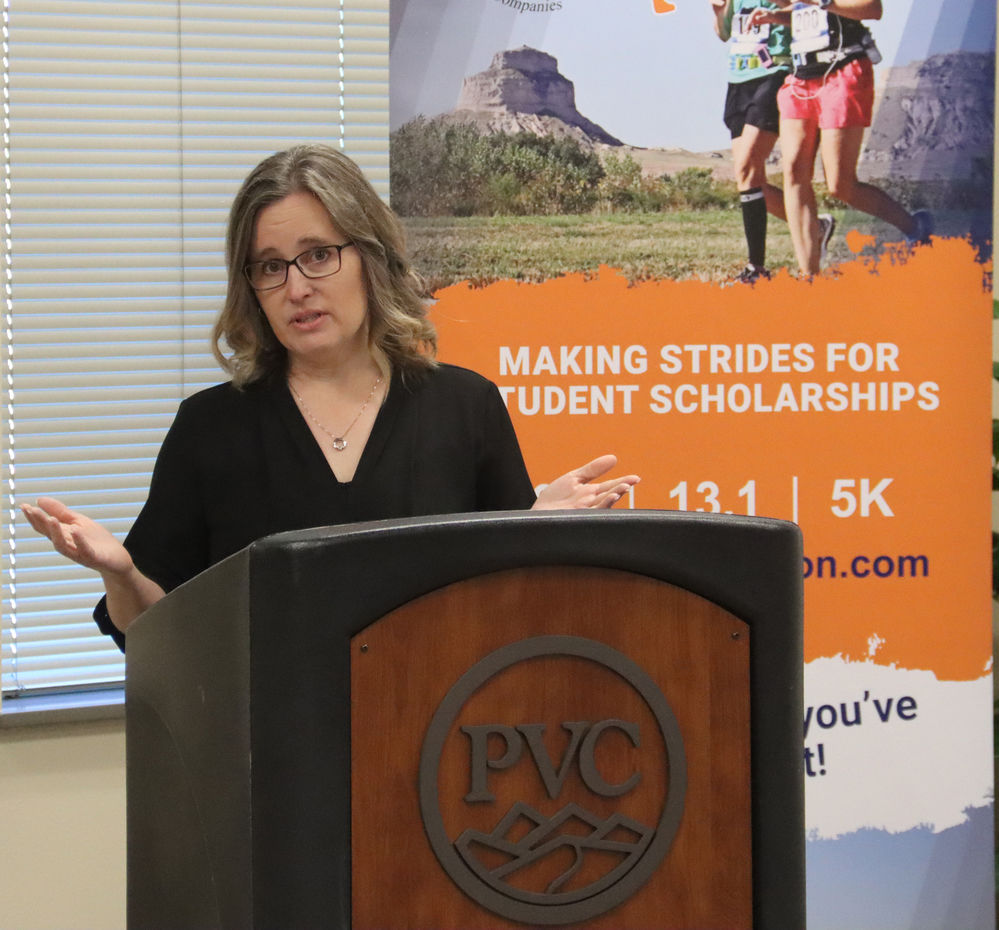 The Monument Marathon 2020 Race Guide has been completed and is now posted on their website at monumentmarathon.com.
Race Director Jennifer Reisig said a number of changes have been included to help assure everyone's health and safety during the COVID-19 pandemic.
Changes have been put in place for both the marathon itself on Sept. 26 and the Monument Marathon Vistabeam Expo on Sept. 25 at the Gering Civic Center.
"The major change is that we will do COVID screening of everyone who comes into the expo," Reisig said. "Signs will list the virus symptoms, so people will have to verify they aren't having symptoms. They will also have their temperature taken with a touchless thermometer."
Students in the Western Nebraska Community College nursing program will do the screenings while they earn clinical hours toward their degrees.
"Once people pass the screening, they'll be let into the expo," she said "Runners will be given a blue armband to signify they're running and they've passed the screening."
Traffic patterns have also been established to provide 6-feet between runners picking up their race bibs, T-shirts and information packets.
"Everyone will be required to wear a face covering," Reisig said. "Every runner will receive a Monument Marathon neck gaiter that can be used for a face covering. We'll also have disposable masks available for people to use."
The pasta will be held held on Sept. 25 from 5 to 8 p.m. This year, Civic Center staff will serve the meal and attendees are asked to only sit in family groups. The public is welcome and tickets are $10.
For the full-marathon, half-marathon and 5K runs the morning of Sept. 26, runners will be required to wear a face mask at the start line. Groups of 25 runners (for the full-marathon and 5K) and 50 runners (for the half-marathon) will start at two-minute intervals to help maintain social distancing.
For this year, spectators won't be allowed at the start line. A map in the race guide shows where spectators can watch the start of the race.
As of Sept. 16, 559 runners have pre-registered to run in the Monument Marathon. That's just 10 away from their record.
"We've been getting five or six registrations every day, even since our last price increase," Reisig said. "We have runners coming from 38 states across the country, as far away as Maine."
With the COVID-19 pandemic ongoing, they've been doing extra marketing on social media. The marathon is being discussed in the running world around the country, as it's one of the few events that haven't been canceled for 2020.
Reisig also thanked the community and sponsors for their tremendous support. Without their help, the Monument Marathon wouldn't be running.
Funds raised by the marathon go to the Western Nebraska Community College Foundation, providing scholarships for students in need who want to continue their education.
Get local news delivered to your inbox!
Subscribe to our Daily Headlines newsletter.