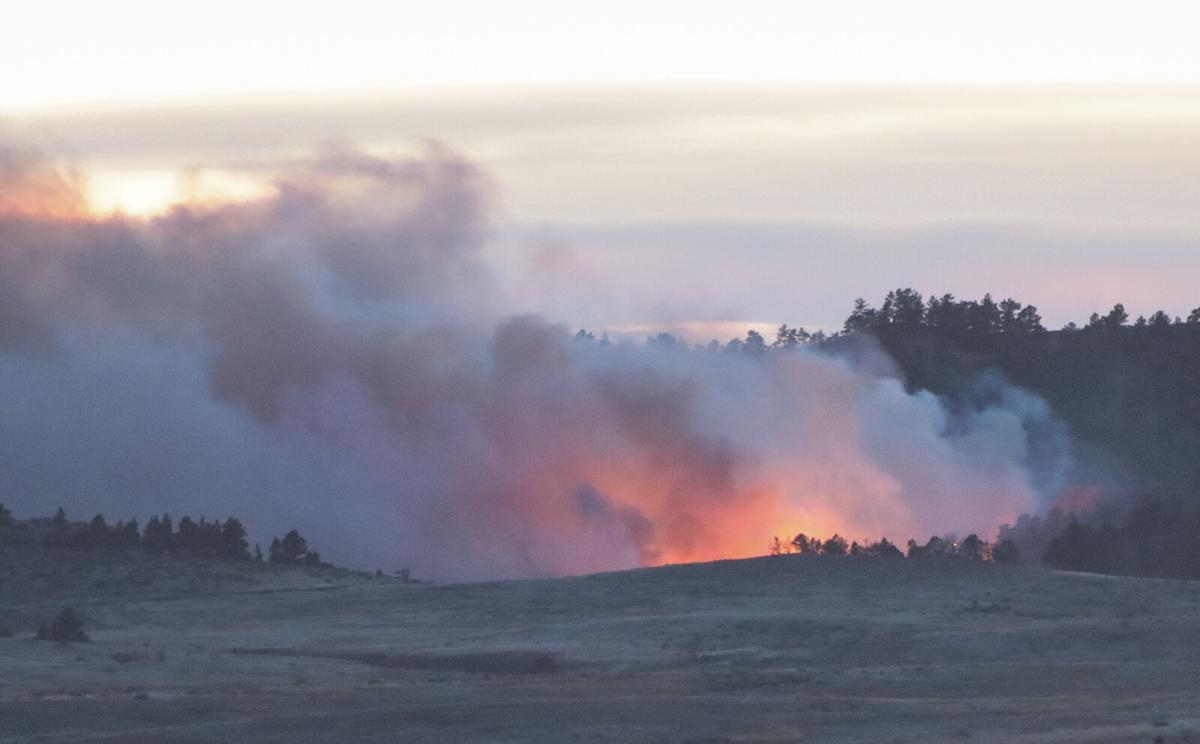 The Gering Fire Department is reporting more than 1,500 acres have burned in the fire that started Sunday in the Buffalo Creek Wildlife Management Area, southeast of Gering. As of 5 p.m. Sunday, 500 acres had been reported to have burned, which means the fire tripled over night.
Crews have been on hand battling the fire since responding Sunday morning. Gering Fire Department reports in a Facebook post that firefighters were called out to the fire at about 11:30 a.m. Sunday. By noon, fire departments from throughout the area were responding. Scanner traffic indicates that fire departments are still on scene as of Monday morning, 7:50 a.m.
Several departments from the Panhandle have responded: Banner, Morrill, Scotts Bluff Rural, Bridgeport, Bayard, Minatare-Melbeta are among some of the departments that have been heard on scanner traffic.
After firefighters responded to the scene, firefighters and law enforcement evacuated hunters from the area. With it being the opening season of the deer firearm season, the Wildcats had a number of hunters in the area. Crews spent hours looking for a hunter and two children, who were located late Sunday afternoon. Details about the search was not yet available.
In the Gering Fire Department post Monday morning, it was reported that the fire has approached Wrights Gap Road where firefighters are providing structure protection. According to scanner traffic overnight, at least one home was threatened by fire, but firefighters were able to protect it.
Firefighters have created mechanical lines for containment and prepping areas where firefighters can successfully burn areas out.
Rugged, inaccessible terrain and wind driven runs has hampered firefighting efforts. Monday's plan includes burning operations where firefighters can be successful. However, potential Red Flag warnings might continue to hamper suppression efforts, the Gering Fire Department advised.
Firefighter Ministry is on scene as well, providing assistance to firefighters. Donations are now being accepted, organizer Carissa Schank said, and thankful for the community support. Many have reached out to donate. Donations of water, Gatorade, Gatorade zero, eye drops, ibuprofen, granola bars, individual chips and lip balm would be appropriate to donate, according to the Gering Fire Department post.
Schank said donations can be dropped off at the Gering Fire Department from 2 to 4 p.m. Persons interested in donating items are asked to do so at that time.
Area closures are in effect. Buffalo Creek WMA is currently closed and Wrights Gap Road is closed from County Road X in Scotts Bluff County to County Road 36 in Banner County.