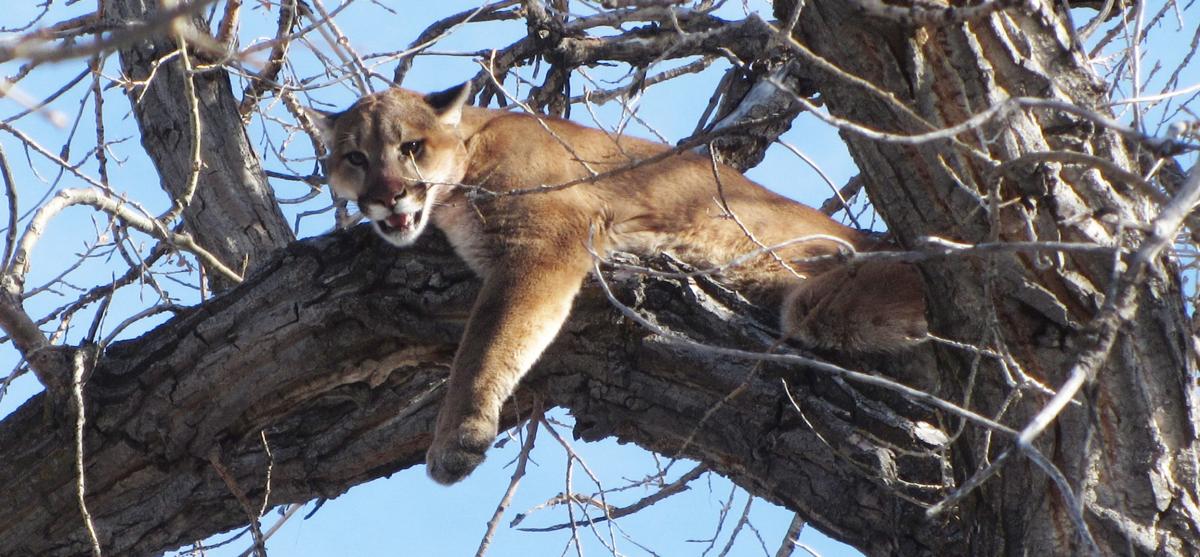 What's in a name? Well, for Wildcat Hills, it's possibly mountain lions, said Sam Wilson, the furbearer and carnivore program manager for the Nebraska Game and Parks Commission.
"I'm not sure which wild cat they're named for, there were two species in Nebraska that were fairly common before the 1850s bobcats and mountain lions, which were wiped out," Wilson said.
"Our first modern confirmation of a mountain lion after about 100 years of absence was in 1991 in Pine Ridge," Wilson said. "A few years after that, we had confirmation in the Wildcat Hills."
In 2013, there was a documented cub sighting in the Wildcats, and with both males and females in the area, it means there's a "resident population."
The elusive big cats roaming the West have moved into Nebraska over the last few decades, said Wilson. In November, a Scottsbluff woman captured a mountain lion on camera, as it wandered near the Westmoor neighborhood in the wee hours. The tan and white cats live in different habitats, from forests to swamps who can weigh between 50 and 220 pounds. They are solitary animals, and often stay away from populated areas and have a diverse diet of deer, porcupine and bighorn sheep across their wide-ranging territories.
The deer population started rebounding by the 1900s, and with more prey and protections for mountain lions in the 1960s, their populations grew in neighboring states such as Wyoming and Colorado, Wilson said. With large territories, they started to disperse into Nebraska. The estimate for Pine Ridge in northwest Nebraska, Wilson said is 34 animals, which are genetically linked to the Black Hills population, which is only 30 miles away and has a few hundred cats.
Finding out how many live in the state is a challenge.
Wilson said the agency doesn't have scientific estimates for populations in the Wildcat Hills, Niobrara Valley or the entire state because the other populations are too small for proper estimates.
He said the department uses two methods to try and determine how many cougars are in an area. Wilson said the first is a years-long process of genetic survey, where the department hires a "scat-detector dog," to find droppings, hair or other materials to test.
"The greatest job for a dog, ever," Wilson said. "He gets to walk between five and 20 miles a day during a service."
After finding a scat sample, the department marks the location and sends it to a lab for analysis Those genetic tests can identify the gender and individual DNA markers of an animal. Then, those individual counts are supplemented statistic models for population estimations, a common technique with wildlife management Wilson said.
The second technique is "mark and capture," where a lion is tranquilized and then fitted with a radio collar, or ear-tagged as a cub. Using the two methods together, he said, is a way to check their data.
"We ask how many mountain lions we have collared and know are in the area, then when we run the genetic surveys, how many of those did we detect?" Wilson said.
In the Wildcat Hills, a small number of animals are collared, or some kittens with ear tags. However, Wilson said samples are hard to find because of the huge territories, where the cats often cross into other states.
"There are mountain lions in the Wildcat Hills. There's just not a large enough population right now, or maybe because of the habitat, to estimate the population size at this point."