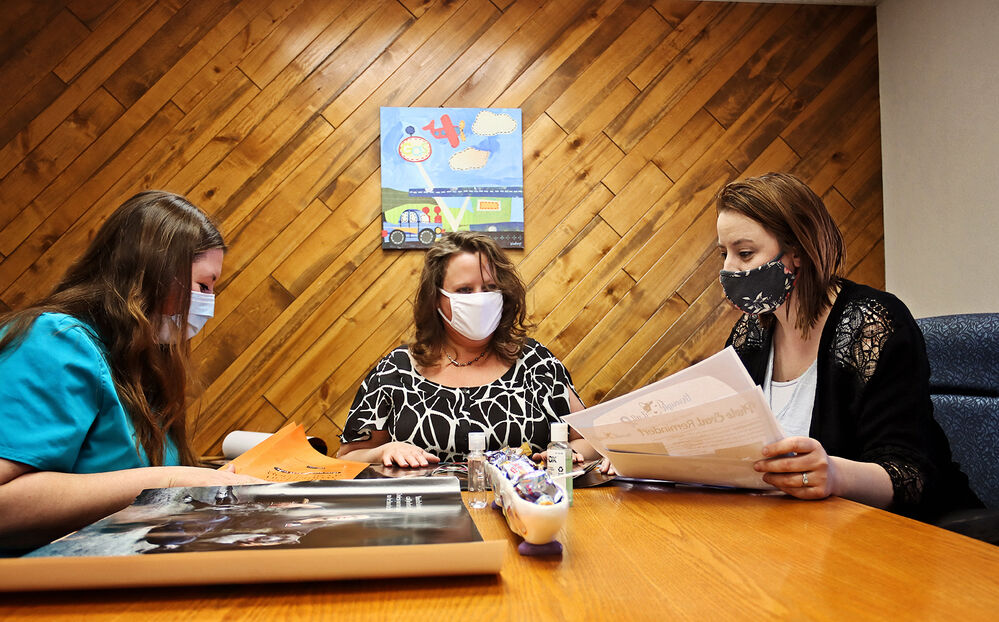 Three organizations are coming together to highlight child abuse, domestic violence and animal abuse during April.
DOVES, CASA of Scotts Bluff County and Panhandle Humane Society are coming together for a social media campaign to capture the attention of people in the community.
"There is a correlation between child abuse, animal abuse and domestic violence," Kelcie McBride, of CASA of Scotts Bluff County said. "We wanted to highlight that and raise awareness."
In fact, McBride said, the first documented case of child abuse arose as the result of an animal abuse investigation in 1874. She learned about the case during CASA training, a case that involved a girl named Mary Ellen Wilson. The girl's father had been killed at war and her mom worked to support her, but ran out of money trying to board her during the day. The child was turned into the New York City Department of Charities and she was placed, illegally, into a couple's care and she suffered severe physical abuse, malnourishment and neglect.
A neighbor turned to a local advocate for the animal humane movement and founder of the American Society for the Prevention of Cruelty to Animals, Hary Bergh. Bergh was able to help with having the girl removed from the home, at a time when children had fewer rights than animals.
"Since then, there have been a lot of studies that show the correlation between animal abuse, child abuse and domestic violence," McBride said.
Sixty percent of families involved in child abuse investigations, specifically 88% of those investigated for physical child abuse, also reported instances of animal cruelty occurring in the home, according to the National Sheriff's Association. The association
Often times, Hilary Wasserburger, executive director of DOVES, said, domestic violence victims express concern about leaving an abusive partner because of concern about their pets. As advocates help domestic violence victims, she said, building pets into a safety plan is among the points touched on.
The Panhandle Humane Society offers a Safe Haven program in which they provide lodging and care for people who need to shelter as they leave a domestic abuse situation.
"We work with them (the families) and provide safe haven, keeping them at the shelter until they're ready to take them back," Lauren Brock, of Panhandle Humane Society, said. "We're always happy to do it."
Wasserburger and Brock said it helps to ease a family's mind to know that their pet will be safe, that they can visit them.
"It's been a world of a difference," Wasserburger said. "It's has been a real seamless relationship for us and our clients who have used that service have really appreciated it."
Of course, with it being a rural area, some animals that advocates help to arrange care for can involve larger animals, like horses. It can be a challenge, Wasserburger said, but they are able to do so with the help of others in the community.
April is Child Abuse Prevention Month and Animal Abuse Awareness Month, prompting leaders of the three organizations to come together for the "Through It All" social media campaign. The campaign is designed to highlight the work of the three organizations.
The social media campaign on April 12 and continue through April 26. Each of the organizations will feature posts on their Facebook page, as well as interactive activities. People are encouraged to share the posts, using the hashtag #TYthroughitall (Thank you Through It All).
"We want to connect our followers to each other's pages," she said.
A local photographer took photos of animals at the Panhandle Humane Society, as well, another bonus to highlight the pets available for adoption.
People who share the posts in the social media awareness campaign, and use the hashtag, will be entered into a random drawing for prizes from photography sessions to a $50 Murdoch's gift card.
"The photographers were really excited about this," McBride said. "They are starting out and hoping to get a little bit of exposure. They are willing to do family or pet photography."
Posts will also highlight how people can report child abuse, domestic abuse and animal abuse.
"All of us have a focus on safety," McBride said.