Owen Palm's involvement with hiring international workers came about by coincidence. Scott Schiff's was deliberate.
Both Scotts Bluff County agribusiness professionals — and the Ukrainian and South African natives they have respectively hired — typify a growing openness to boosting local employers' workforces from abroad.
Alex Tkachenko, 45, who sent out résumés to U.S. John Deere dealers in 2011, joined Palm's Scottsbluff-based 21st-Century Equipment as export manager 11 years before Russia invaded Ukraine in February 2022.
More recently, 29-year-old Michael Henwick permanently left South Africa in 2020 to rejoin Schiff Farms, Scott Schiff's multicounty farm and ranch operation based northeast of Minatare.
Both men's wives were able to join them, and they say they and their children have found the North Platte Valley to be an ideal place to live.
"I think if there's more opportunities like I had here to grow and be cultivated into what I am today, more and more guys would come here if they knew there was an easier road to come and stay here," Henwick said.
Tkachenko, a U.S. citizen since 2017, has especially seen that through co-workers' and fellow church members' concern and donations as he has taken humanitarian aid to Ukraine's front lines three times since the invasion. He's planning a fourth trip soon.
"Fifty dollars, a hundred dollars, we were pulling together," he said, saying that helped him buy a van he keeps in Poland between trips to haul supplies. "The neighbors, like every time they say, 'Alex, when will you come back?'"
Schiff, who owns 18,000 irrigated acres and some 40,000 rangeland acres stretching into Box Butte County, said he's one of several Panhandle agricultural producers who employ legal immigrants from South Africa.
He hired his first ones through the federal H-2A temporary agricultural worker visa system in 2011. They're generally white Afrikaners, whose ancestors controlled political power in Black-majority South Africa until the nation's apartheid system of racial segregation ended in 1994.
"Well, it's impossible to find the people locally," he said. "The operations that have grown a lot in the last 10 years have started using foreign workers."
White South Africans make up about half of Schiff Farms' 50-person workforce. Schiff also employs eight H-2A workers from Mexico, mainly with his cattle operation.
They can stay up to three years as long as they rotate between the farm and cattle sides every few months. A couple have gained permanent worker status and returned, Schiff said.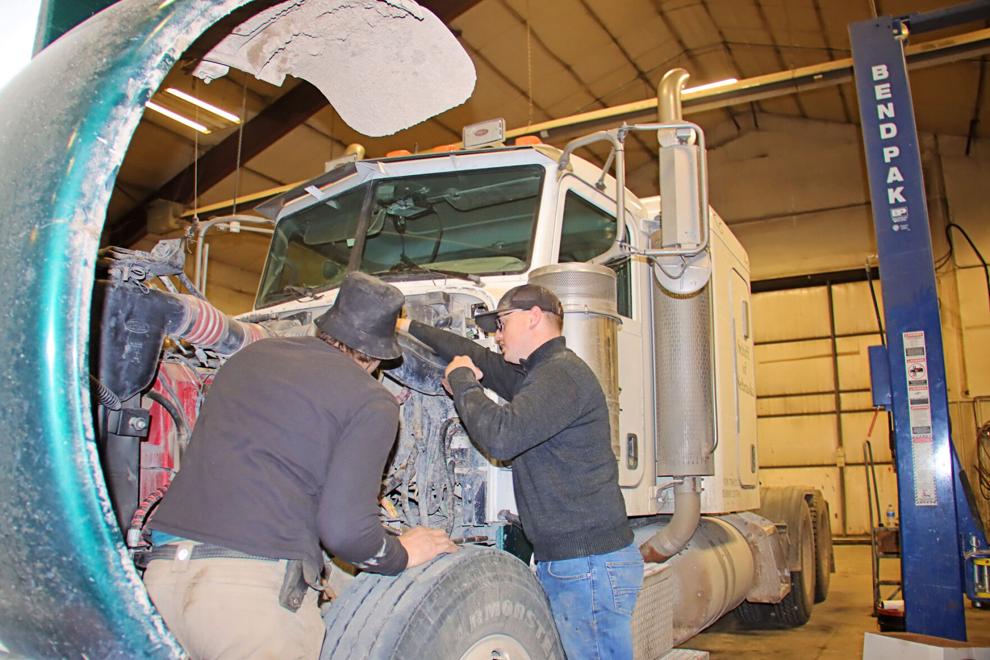 Though Henwick grew up in the cosmopolitan atmosphere of Pretoria, he frequently visited an aunt's cattle-feeding operation about 2½ hours north of the South African capital.
"I had a mechanical background, but when I started looking to come to America, I started learning more extensively about farming," he said.
After finishing school in 2011, Henwick worked for 2½ years for a baking supply company. He became a manager within a year, working in logistics, shipping and receiving.
But the job paid only about $600 a month. "I couldn't afford my life anymore," he said. "There isn't opportunity there like there is here."
He obtained in 2014 his first in a series of H-2A visas, returning to South Africa each winter. Henwick went first to Oklahoma and then North Dakota, generally traveling with the custom-combining crews who harvest winter wheat up and down the Great Plains.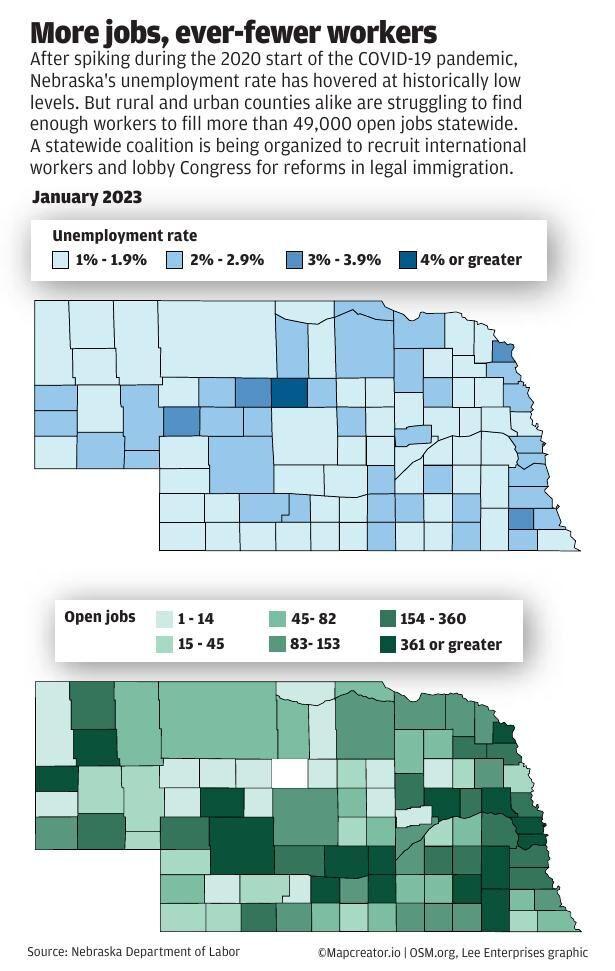 That's how he came into contact with Schiff, he said. He was driving near Alliance when he suddenly spotted a man he knew from South Africa.
"I pulled him over with my truck, and we talked and he was the one working for Scott," Henwick said.
Schiff agreed to take him on when he could return. Henwick went home once more, married his wife, Nastasia, in early 2017 and came to Scotts Bluff County with her that December.
Rotating between jobs like Schiff's other international workers, Michael Henwick drove a feed truck for five months and worked sprayers and harvesting equipment.
He and Nastasia went home once more at the end of 2019. Their three-month stay turned into six when COVID-19 struck, but Schiff applied for their permanent resident status in between. The couple returned in June 2020.
They've since welcomed two children — Levi, 20 months, and Talia, born Jan. 20 — to their home on Schiff's main spread near Minatare. They expect to receive their green cards at year's end and apply for U.S. citizenship in three to five years.
Michael Henwick said he recently found his way back to mechanical work when Schiff assigned him to working on engines, farm equipment, trucks and trailers. "My story has changed a lot through the opportunities I have been given."
A blue-and-yellow Ukrainian flag can be seen in Palm's front lobby at 21st-Century's corporate headquarters at South Beltline Highway and Fifth Avenue.
Tkachenko and his wife, Natasha, "came with two suitcases and a little money. That's all they had," Palm said. "He was lucky in that he had a visa and he had to have a sponsor. Somehow, we connected."
The Tkachenkos grew up in the Black Sea port city of Kherson, which Russian forces captured in the war's first week in March 2022 and held for eight months.
A coalition of agricultural, business and other industry leaders from one end of the state to the other is undertaking work to encourage the state to recruit internationally to grow its workforce. 
But Ukraine has long been known as "the breadbasket of Europe," and Tkachenko, who holds a degree in English from Kherson State University, got a job offer after his 2006 graduation in agriculture rather than teaching.
He joined Imperial Agro, a Ukrainian agribusiness concern founded by U.S. investors. Soon he found that "I just preferred chasing the combine, being in the field and talking to customers rather than being in a teaching job."
Tkachenko already had experienced American life by working six summers on J-1 visas at YMCAs in California during college, he said.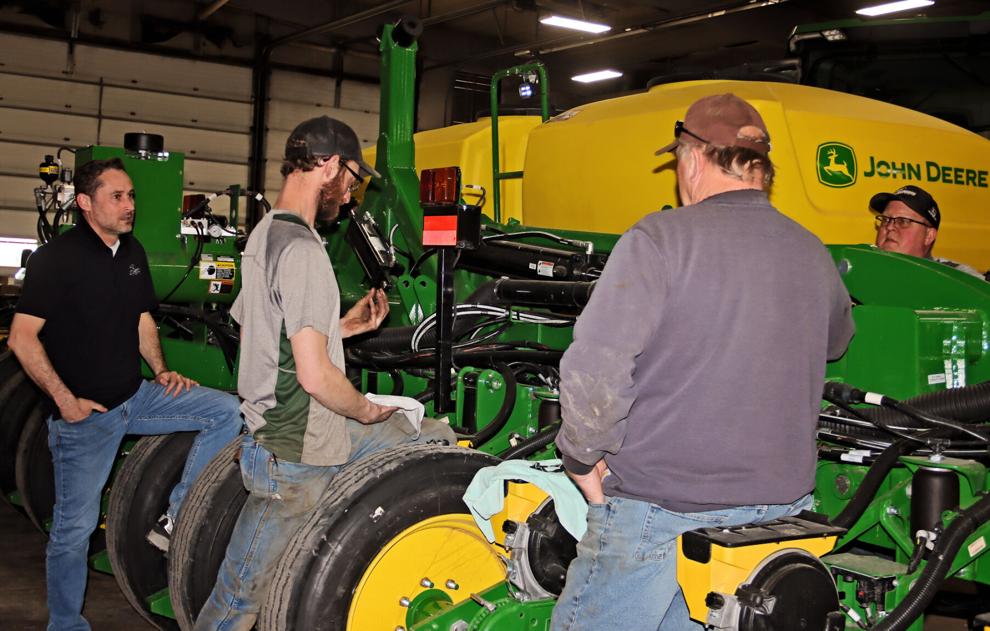 His Imperial Agro duties, which included selling soybean inoculants and doing trade shows, brought him into contact with U.S. dealers of used equipment badly needed after the 1991 breakup of the Soviet Union and its collective farms.
By 2010, Alex and Natasha Tkachenko, who married in 2002, were looking to put his skill set to use in the United States. They already had their daughter, Anastasia, now 16, and now also have a son, Timothy, 10.
"Since I was involved in equipment shipping and imports, I sent a lot of résumés to John Deere dealers," Alex said. "They're top-shelf."
Palm saw the résumé. "Owen responds to me and sends me a reply back: 'That's an interesting résumé. Let's meet. I'm going to be in Ukraine in one week.'"
They met in Kahovka, about 40 minutes from Kherson, and Palm offered him the job. But it took about a year and cost about $10,000 in U.S. dollars to get a permanent resident visa for all three Tkachenkos, Alex said.
They took the train to the Polish capital of Warsaw in April 2011 to interview with U.S. immigration officials, then flew to Chicago.
"You're sitting on an immigration office bench" at O'Hare International Airport to finish the process, Tkachenko said. "We slept on those benches in the Chicago airport, waiting for the next flight."
Just two to three months after starting work in Scottsbluff, "I jumped in the airplane and I was in Ukraine." He's gone home three to five times a year since for trade shows and visiting 21st-Century customers.
"Every time I go to my hometown, people say, 'It's like you never left,'" Tkachenko said.
That's how he came to be in Kherson on Feb. 24, 2022, when Russian President Vladimir Putin's forces started bombing Ukrainian cities and stormed across the border with a goal of forcibly reuniting the one-time Soviet republics.
"I see explosions (from the windows) by the airport," he said. "I got dressed real fast. … That's when people learn how to pack their life in 40 minutes."
Tkachenko didn't escape the country until Feb. 28, leaving with Natasha's parents and her sister. Alex had to leave them behind in Warsaw, but his in-laws joined him and his family in Scottsbluff in November.
When he goes back to Ukraine, mixing humanitarian aid with 21st-Century business, he takes supplies right to the front lines where Ukrainian troops have driven the Russians back toward the border in recent months.
"The closer I get to the front line, I get less afraid," Tkachenko said. "That's what works for me."