The Panhandle Public Health District joined 14 health districts on Monday, moving into the high or elevated risk exposure level for COVID-19. The majority of Nebraska is now in the high-risk level and residents are  advised to take extra precautions to prevent the spread of the coronavirus.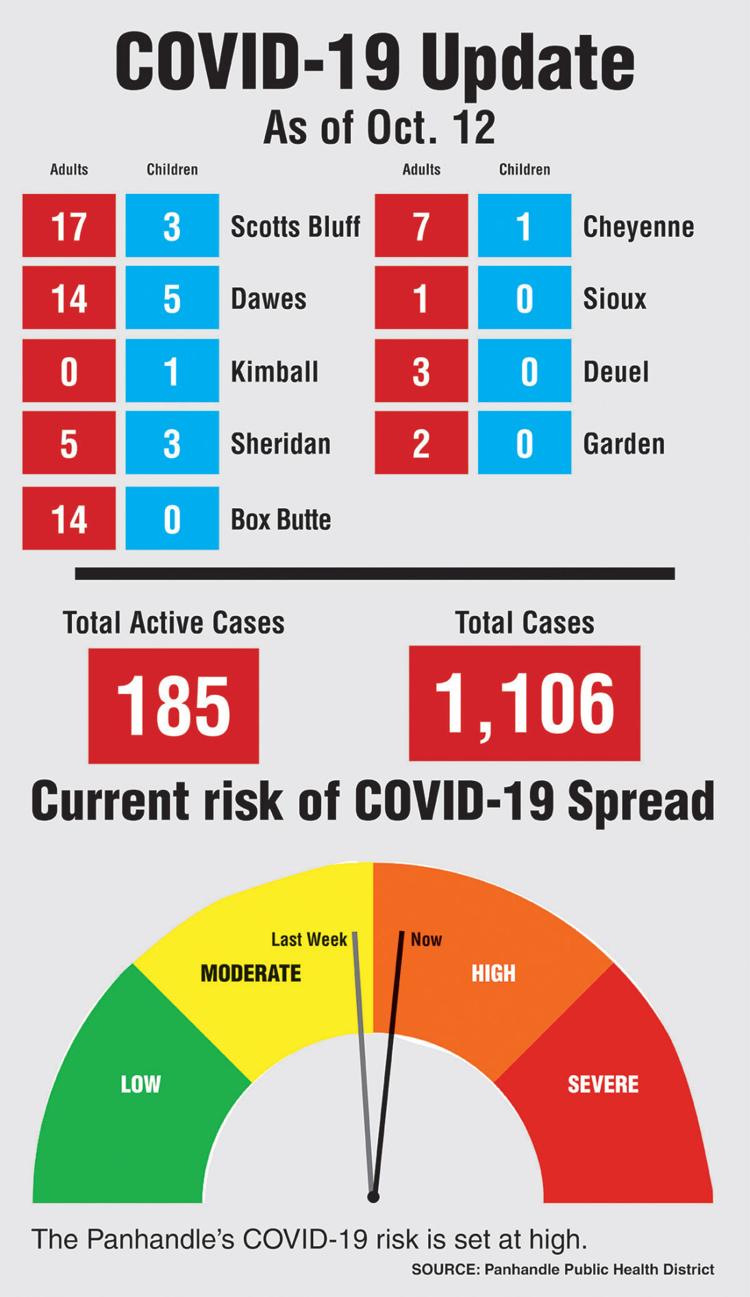 Each Monday, PPHD announces the level of risk on a dial that has been being used since July as an illustration. Health districts throughout the state use a similar dial, and only four health districts remain in the moderate level: North Central Health District (Valentine) Three Rivers Health Department (Fremont), Sarpy/Cass County Health Department (Crete), and the Public Health Solutions Health District (Papillion).
"Our risk continues to increase," Kim Engel, Panhandle Public Health District director, said. "Now is the time, if you haven't before, to think about taking some precautions."
Seven of the Panhandle Public Health District's 12 counties are also now listed in the orange, or elevated risk: Sioux, Dawes, Sheridan, Box Butte, Scotts Bluff, Kimball and Cheyenne.
For individuals, guidance in the high-risk level models that which people may be familiar with from April, when state officials asked people to help flatten the curve to prevent overwhelming health care facilities with an influx of cases.
People are encouraged to stay at home, if possible, limiting travel for work, medical care or food. Social distancing is recommended to be at least 6 feet, and people are advised to work from home, if able, and to avoid activities with others who live outside the home. People should try to limit gatherings to the smallest number of contacts feasible, gathering with modifications such as wearing masks, increasing hand sanitizer and other recommendations. If you are experiencing symptoms, you are encouraged to self-isolate at home.
Proper hygiene, such as washing hands for at least 20 seconds especially after touching high contact surfaces, sneezing or coughing, or using hand sanitizer when unable to wash your hands are also advised. 
Persons who are high-risk for COVID-19, such as those with pre-existing conditions or those over age 65, should stay home as much as possible and ask others to assist with getting groceries, medications and other items.
Face coverings are strongly recommended for anyone over the age of 2, Engel said.
"If you are out and about, and you might be around others, put that face covering on," she said. "Some of the best success we have for stopping the spread among those engaged in activities are in those settings where face coverings are required."
For example, Engel and PPHD deputy director Tabi Prochazka reviewed case studies where more than 40 students have been required to be quarantined after a student or staff member tested positive. However, in classrooms where students and staff, including the person who tested positive, were wearing masks, only the person who has tested positive has had to isolate. Children and staff have not had to isolate and the virus has not spread.
If experiencing symptoms or required to isolate, people should also wear a mask when around others at home, Engel said, to help prevent spread among family members. Transmission among families has been one of the most common ways that close contact spread has occurred.
Officials were asked if face shields can take the place of a mask, and Engel said that current recommendations are that people using a face shield should continue to wear a mask and would be required to quarantine if exposed to the virus. Face shields do reduce exposure, she said, but has not been shown to be as effective as wearing a mask.
Prochazka repeated a quote that Gov. Pete Ricketts gave in August regarding wearing a mask: "If you can't social distance, you're more likely to spread the virus. At the end of the day, this is a virus that spreads from one person to another. Wearing that mask will, well almost 100%, stop it. There's great data showing that when both people are wearing masks, the transmission levels are low. "
For those interested in the least disruption to their lives, Engel said, it benefits them to wear face coverings. School specific guidelines are also available on PPHD's website, and many, though not all, schools have plans already in place if the health district moved above the moderate risk level.
"There are a lot of things that the schools can do," Prochazka said of the recommendations for school districts and school activities.
Engel said not all school districts would see changes with the change in risk level, particularly school districts that have had very little or no transmission. Those districts, most often, are requiring masks, she said, and have policies that are working well. PPHD is available to assist school districts and will evaluate each situation individually.
Seventy-seven new cases of the coronavirus were announced. Among children 19 and under, new cases occurred: Dawes, 2 close contact, 3 community spread; Cheyenne, 1 close contact; Kimball, 1 close contact; Scotts Bluff, 1 close contact, 2 community spread; Sheridan, 1 close contact, 2 community spread. Sixty-four new cases among adults: Scotts Bluff County, 10 close contact, 7 community spread. Box Butte, 6 close contact, 8 community spread; Cheyenne County, 1 close contact, 4 community spread, and 2 still under investigation; Dawes, 6 close contact, 8 community spread; Deuel County, 1 close contact, 2 community spread; Garden County, 1 community spread, 1 unknown; Morrill, 1 community spread; Sheridan, 4, close contact, 1 community spread; Sioux, 1 close contact. ​
Get local news delivered to your inbox!
Subscribe to our Daily Headlines newsletter.