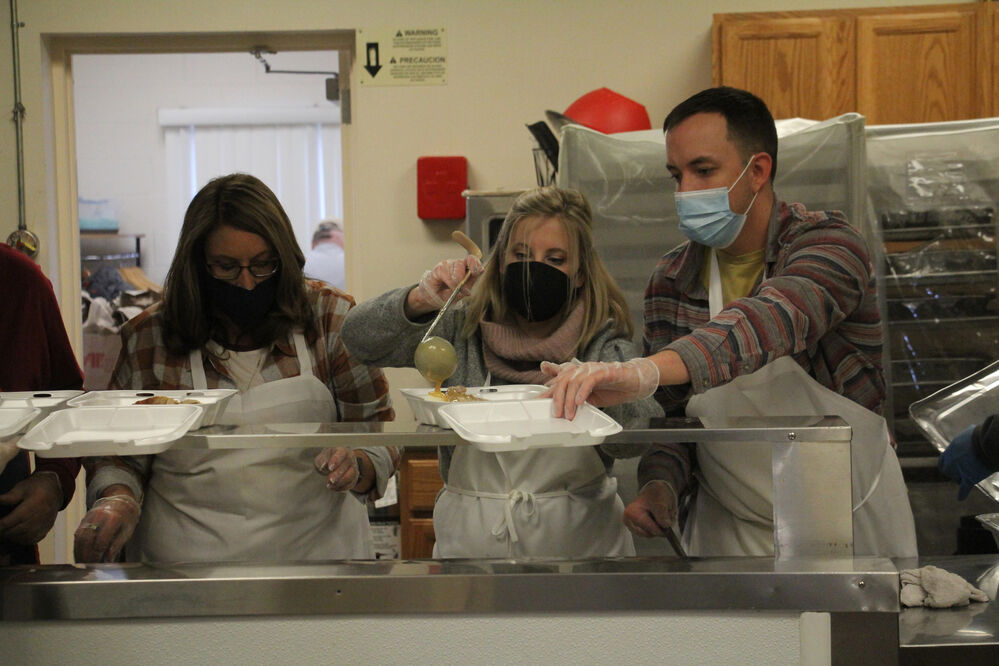 The 38th annual Thanksgiving in the Valley event was one for the record books. On Thursday, volunteers cooked and packaged 1,100 meals, surpassing last year's record by 200. The gymnasium at the Guadalupe Center was bustling with activity as they worked to get the meals out to the waiting public.
The meals themselves were handed out between 11:30 and 1:30. Volunteers had arrived several hours earlier. Normally, the gym itself would be decorated, and diners would eat indoors. "It's kind of changed because of COVID," volunteer Julio Bernal said. "We do carryout. We have less people coming in ... but hopefully next year people will come in and eat here."
Julio and his wife Maggie run the city's soup kitchen, and he was one of the minds behind the Thanksgiving in the Valley event back in 1984.
Current chair Kendra Feather has worked at the event for the last two decades. She said the event got started not just to combat food insecurity, but to create a social atmosphere for Thanksgiving.
"It was a good thing for fellowship. There were just so many people who were spending the holidays alone."
The coronavirus pandemic put a damper on large gatherings. Like in 2020, Thanksgiving in the Valley volunteers wore masks and gloves while they worked. Despite not having guests dine in person, the carryout method boosted the number of meals they could deliver.
While the gym can only fit so many people, delivery drivers could expand the meals' reach across the Platte Valley. Twenty drivers delivered 600 meals across their routes. The drivers were mostly done with their deliveries by 12:00.
The rest of the meals were handed out to people who walked or drove over to the Guadalupe Center. Volunteers served more than 400 meals this way.
After the initial rush at 11:30, there was a period of time where the diners were few and far between. Dozens of meals were packaged for local fire and police stations so they wouldn't go to waste. Any leftovers at 1:30 were donated to the soup kitchen.
"It's a pretty good-sized meal," Feather said.
This year, dishes consisted of potatoes and gravy, corn, dinner rolls, homemade cornbread rolls, milk and pumpkin pie. They also included a turkey roast, which featured a combination of white and dark meat.
"We can count that (the roasts) a lot easier, plus you don't have as much clean-up."
Around 60 volunteers helped prepare the meals. The helpers ranged from little kids to the elderly, each with a unique role to play. Jennifer Urdiales and her husband have spent many years helping out. They're used to helping prepare in-person meals for the event, so putting together carryout servings was new for them. For the first time, they brought along their daughters, ages 10 and six months.
"I think we're very fortunate at Thanksgiving that we've got a full table and we get to spend time together," Urdiales said. "...We think it's important for them to see maybe somebody who's by themselves on Thanksgiving, maybe somebody who doesn't have the ability to cook for themselves, that they still have the traditions they have as kids."
Feather said there are usually closer to 100 volunteers, but that it's a good experience nonetheless.
"I think it's like an awakening," she said. "Take a minute and volunteer, have a good feeling, because then," she joked, "tomorrow's Black Friday and that all changes."
Jokes aside, the Thanksgiving in the Valley events have done their part to create fellowship and feed the people in the community who need it the most. It has even spawned a successor of sorts. Larry Massie of 11:13 Ministries has organized a Christmas in the Valley event for the last several years.
"We've fed thousands of people," Feather said, "and we're just so happy we're able to continue doing this."