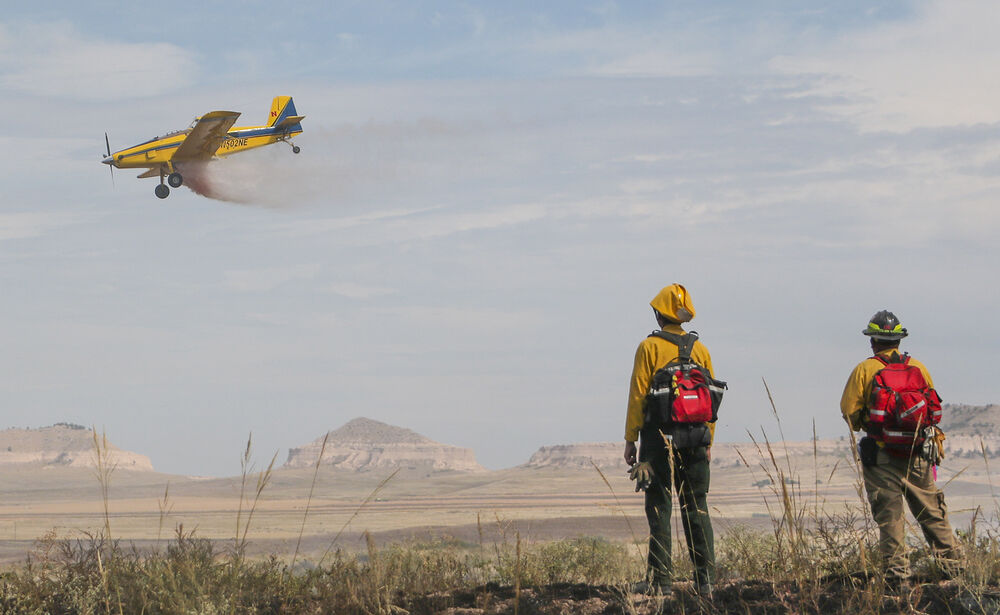 Around 240 firefighters, with 31 fire engines, battled wildfires during training exercises at the West Nebraska Engine Academy on Sept. 11 and 12.
"We have 31 engines and about 240 firefighters from Denver, North Platte, Ainsworth, South Dakota, Wyoming that showed up. I couldn't give you a number of how many (fire departments are at the training) exactly but they stretch out to Olathe, Kansas. The word is getting around and we get to see a lot a lot of fire departments from a lot of places," Gering Fire Chief Nathan Flowers said.
The West Nebraska Engine Academy is a great way for firefighters to get experience fighting wildfires in a controlled environment, Flowers said.
"We have some objectives for our academy, and a big one is mitigation, fuel reductions (burning invasive vegetation) and planned and prescribed fire in the Wildcat Hills to help them do some fuel loading," he said.
The firefighters, though, didn't get to practice on live fires on Saturday. The event's meteorologist said predicted wind gusts up to 35 mph made it unsafe to light fires, Jeff Vance, Gering's assistant chief, said.
Vance said meteorologists play a key role in the training exercises by keeping the event's organizers alert to any weather events like the wind gusts on Saturday.
"We had everything set up for our operational period for Saturday morning. By that morning, it turned into fire weather," Vance said. "So, that changes our whole outlook of no fire going on the ground."
The team's meteorologist did have good news on Sunday, giving the green light for controlled burns.
Vance said that live-fire training is essential for firefighters to be prepared for tackling wildfires.
"You have an IC (Incident Commander) that comes in, calls up a 'size up,' like he was just going to a regular new start. He calls in what resources he needs to extinguish the task on hand — request for more assistance, call in aerial support — to try and get the fires knocked down. Basically, we're just trying to work everybody into that leadership and learning experience," he said.
Those skills will only make each department stronger, Vance said.
"It is very important to build a great team for the safety of everybody else involved — to protect communities and protect structures, assets that are involved," he said. "It's a good learning experience for them to take this knowledge to back home and be able to utilize it in their own departments."