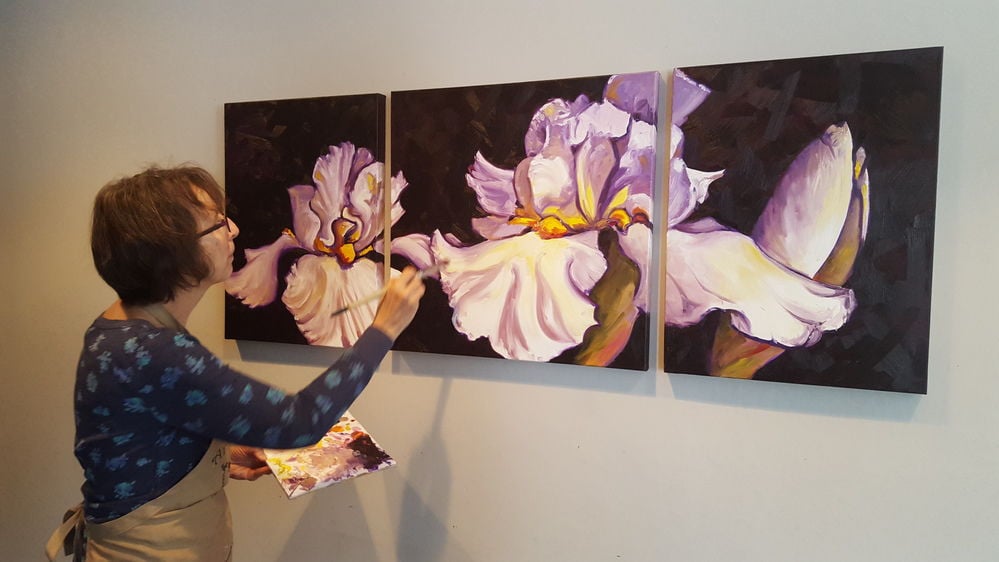 LEWELLEN — Artist Jean Jensen of Lewellen, Nebraska, is putting her hometown on the map with her paintings in the Nebraska Rural Living online gallery.
Jensen talked about her personal art history and how she grew up having a mother who constantly encouraged her drawing habits.
"Our mother always had us drawing," Jensen said. "So we had the back of an envelope or whatever and we just were drawing from the time we were little."
Jensen said having that encouragement was a big thing for her and her brothers because it helped them to get over the fear of being an artist.
"I think that happens a lot of times with people when they start to learn to draw when you're little kids in grade school," Jensen said. "Because when you're in kindergarten it isn't fabulously beautiful, you think you aren't any good, so you quit."
Although she enjoyed art in high school, Jensen did not study it throughout college. Instead, she attended the University of Nebraska and the University of Chicago and earned a degree in anthropology and sociology.
While attending the University of Chicago, Jensen worked with a nonprofit group that led her to earn a master's degree from a Kenyan university.
"And then it was that group that was starting a community development project in Kenya, so I volunteered to go there and then applied to the university," Jensen said. "So that's how I ended up there."
Jensen spent three years in Kenya and also traveled to Uganda and Tanzania. She shared a little about her experiences abroad.
"Even in the world of art, when people refer to African art, certainly in my era, maybe not so much now, but it would be like 'This is primitive art,'" Jensen said. "And when I would look at the art that was being made, you know like traditional art, it would be more like modern art. There would be these real abstract pieces to it and it certainly occurred to me that it wasn't necessarily primitive."
She also learned about the spiritual culture of the people.
"I also found that people in Kenya, I just felt like they were a very spiritual people," Jensen said. "And I felt like, we might have it all over them in terms of technology, but I felt like they were advanced over us in terms of spirituality. And I really thought the art reflected that when I was there."
Inspired by the art she saw abroad, Jensen started to put more spirit and colors in her paintings.
"I was inspired by colors when I was living in Kenya and the use of colors because I certainly like a lot of color in my paintings," she said. "Maybe it helped me be more open in trying to put more spirit into my art or trying to be more expressive."
Jensen returned to the United Sates with the intention of picking up where she left off in Chicago.
"And then I came back and I never thought I would," Jensen said. "I for sure did not want to live in the country and now I live in the country and I absolutely love it. I think 'how could I have survived a city?'"
A constant theme in Jensen's life and art is nature.
"It's also true that it's what I love here and what I loved in Kenya is nature," Jensen said. "I need nature. I need to be out in nature and it is what inspires my art and it is what makes me happy and content."
She said, "I currently live on this little creek and I take my dogs out in this wild land and just up and down the creek for walks. It's the changing sky, the changing season, the grass colors, the birds that come and go and certainly that is what I love."
Jensen also spoke about the different styles of painting she does.
"I spent years doing water color, oh, probably 20 or 30 years painting water color," she said. "Then I went to pastel because I really wanted a little richer color. I do a little bit of water color now, but I almost do exclusively oil. I do like the way it works and the colors that I can get with it."
Jensen's artwork is featured in the Nebraska Rural Living online gallery.
"I think their magazine really promotes smaller communities," she said. "So to be selected by them you have to be from a community of under 10,000 people and Lewellen has 200, so I'm in good shape."
She continued, "I think they're trying to promote the talent of rural areas and the fun and interest of small communities. I find that to be quite true. In Garden County, all those years that I was working, I was very much inspired by other art club members in our county who painted."
Jensen said it is one of the artists from Garden County who got her involved in the Autumn Art Workshop.
"We had excellent instructors. Every year I'd go to these workshops and I really got my art education from those workshops," she said. "I heard this more than once and it's true, 'do a thousand paintings and you learn something.'"
Jensen still attends the workshops and now serves on the board for the Autumn Art Workshop. She also shows her art in the Most Unlikely Place, an art gallery and restaurant in Lewellen.