You may have seen the Facebook posts.
Sometimes, the story changes, but the scenario stays the same: A young woman fears being followed by "strange" men, in the store or the parking lot. Be careful, the poster warns, she believes that she was being followed as part of an attempt to kidnap her for a human trafficking sex ring.
However, local authorities say, the posts are reinforcing a common misconception: real life bogeymen waiting in parking lots, snatching young women off the street and forcing them to have sex with others.
Unfortunately, the truth is far worse: a human trafficker can be anyone you know.
"It's not the stranger danger, as much as we've been trained that. It's the acquaintance, or someone who warms up to a potential target and can really use that manipulation to control the victim," Danielle Larson, a deputy attorney with the Scotts Bluff County Attorney's Office said.
"It's a grooming process, just with any other sexual assault or predator cases. It just really seems to be more quickly," Brandi Brunz, an investigator with the Scottsbluff Police Department, said.
And victims of human trafficking can be anyone — human trafficking victims look just like you or me, a child or an adult, Brunz said. Human traffickers often use charm, they will take care of their victims, exploit that a victim may not have a strong support system in place and even use threats to control their victims.
Law enforcement knows that human trafficking happens in our Panhandle communities.
"It can be someone who is abusing drugs, and trafficked (for drugs)," Brunz said. "It can be a domestic violence situation, where the husband or the wife is controlling that person and making them have sex in trade of something, it doesn't have to be money. It can be the most obvious ones, where you are trafficking your children to make rent, or a landlord situation. It's one of those crimes that is masked in so many different ways."
Brunz and Larson are two members of the Panhandle Region Team of the Nebraska Human Trafficking Task Force. The task force has been leading an effort to educate the public about human trafficking, hosting a showing of a documentary on the topic in August and organizing a Panhandle Human Trafficking Symposium. The symposium will be held on Wednesday, Sept. 26, 8 to 4 p.m. at the Gering Civic Center.
The local task force effort began in 2016, when Brunz and others, became involved in the Panhandle's Regional Task force in an effort spearheaded by the Nebraska Attorney General's Office.
The task force had its first operation in 2017. Brunz serves as one of two regional enforcement officers on the task force. The officers receive information from tips to a Nebraska State Patrol tip line, investigating it and referring it to the task force for follow up. The task force also does proactive investigations — sting operations that have resulted in arrests of persons soliciting sex.
Larson, who has been with the Scotts Bluff County Attorney's Office for three years, tries many of the county attorney's child abuse and neglect cases. With a background in social services, as well, serving on the task force tied in with the areas of prosecution that Larson has overseen.
"A lot of the times, the victims don't come in a pretty package," Larson explained, noting that domestic assault, sexual assault and drug addiction can be components of human trafficking cases.
The primary goal of the task force is to rescue victims of human trafficking, Brunz and Larson explain. However, its one of the more difficult components.
"The amount of demand that there is for sex is staggering," Brunz said of the operations that have been done and resulted in arrests. "I can post a very vague ad and have hundreds of responses within 24 hours."
Oftentimes, she said, responses are often instant, with emails, texts or social media messages quickly being received after ads have been posted. "It's so easily accessible to buy a person online," she said.
"And how motivated people are," Larson said, saying that they have had stings where people will drive hours in response to ads or bring "literally anything" to trade for sex.
An ad can be even be so vague as to not even specify a sex act. One was worded, "I'm in Scottsbluff for a couple of hours, Hit me up" and most responses were sex oriented, Brunz said.
In many of the cases that have been investigated in the area involving victims, investigations began with reports through the Department of Health and Human Services, DOVES and other agencies, many of which have representatives involved in the task force.
"Almost all of the investigations that I'm aware of, have been a red flag in the community, an HHS worker calling in, saying, 'Something is off here, or a patrol officer who caught something," Larson said.
Rarely do human trafficking victims walk into a place, saying they are a victim of human trafficking. Instead, its oftentimes someone noticing a sign of human trafficking, from a doctor to a hotel worker, that prompt further investigation.
"Everyone assumes, if someone is forcing me to prostitute myself, or sell myself for sex, I'm going to ask for help or run away at the first available opportunity that I have," Larson said, touching on another common misconception about victims. "The evidence and the statistics are overwhelming that is not the case, it is not how it works at all," Larson said.
That's because victims may be struggling with numerous complications — fearing not being believed, to blaming themselves, to feeling shame that they have been involved in a crime, such as drug use. Human trafficking can be masked in so many different ways, Brunz said.
"I had no clue, just like anything else, until you are trained. Unless something opens your eyes to it, you have no idea what you are looking at," Brunz said. "Once I went to that initial training by the attorney general's office, I was like, 'Wow.'
In hindsight, Brunz and Larson said, they or others believe there may have been cases that may have involved a human trafficking component. It's another reason that the task force has a breadth of social service organizations involved, to serve as referrals for victims to get any additional help that may be needed.
During the symposium, medical professionals and others will be able to receive educational credits for attending. However, Brunz said, anyone who has contact with people can receive valuable information from the symposium.
"You can be driving down Interstate 80, stop at a truck stop, and see something that could be human trafficking," Brunz said.
Speakers at the seminar will include a victim of human trafficking and officials who have worked with human-trafficking victims.
Two officials from the Nebraska Attorney General's Office, Anna Brewer and Glen Parks, will be among the speakers. Brewer, a former FBI agent, spent a large part of her career specializing in human trafficking, and Parks heads the operation of the Nebraska Human Trafficking Task Force. Chrysta Pryce, a University of Creighton researcher, will speak about data that outlines the tracking of human-trafficking cases and their occurrence in Nebraska, as cited in a report from the Human Trafficking Initiative.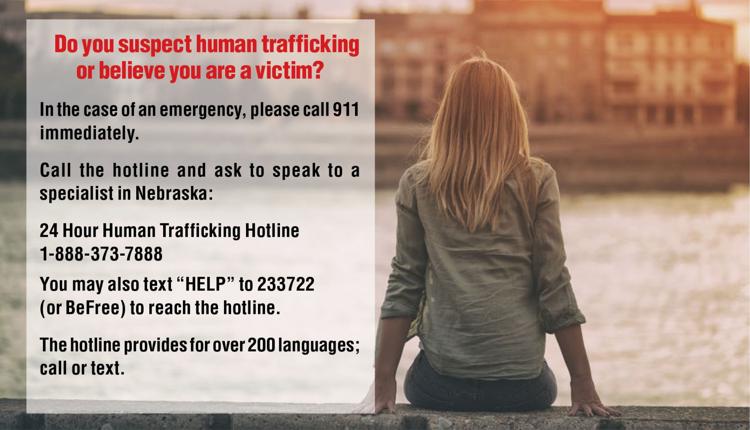 Information about signing up for the symposium and registration is available on the Panhandle Partnership website, panhandlepartnership.com, under "training." The cost to register is $20. The event is also open to the public and continuing education credits will be offered to doctors, nurses, social workers and others.
Scholarships are being offered for persons who may not be able to afford the registration fee. Contact Jessica Lecher at jessica.lecher@panhandlepartnership.com or 308-633-3818 for details.