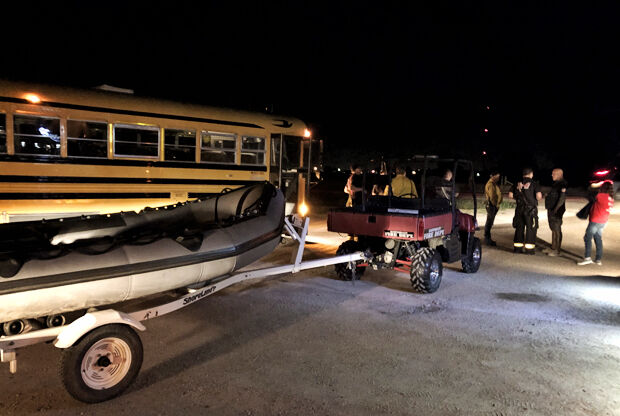 Fire departments, including the Scottsbluff Fire Department and its dive team, were dispatched Sunday to look for an adult man and a boy who were reported to have gone missing while floating down the North Platte River.  According to scanner traffic, at about 9:19 p.m., the boy and the man were reported to both be fine and at home. 
Scanner traffic indicated a woman and her daughter had reported the two missing. Ray Richards, of Scotts Bluff County Communications, said that the pair had been floating down the river from the Mitchell area and did not show where they were planned to meet other. The man and boy were reported to have been floating on inner tubes down the river, beginning their float at about 10:30 a.m. The initial call came in about 8 p.m.
The Scottsbluff Fire Department Dive Team was dispatched, and all other departments throughout the area were also asked to respond with a command post being set up at the Riverside Golf Course. Gering and Scottsbluff Rural were among the departments that responded.
Air Link was also asked to fly over the river, according to scanner traffic.
The man and boy had prearranged to get out of the river at the 20th Street River Bridge in Scottsbluff and were reported missing. According to scanner traffic, the man and boy had gotten a ride to their home. Scott Sauer, a friend of the family, said it was a "just missed each other thing."
"We could not be happier with how it ended," Scotts Bluff County Sheriff Mark Overman said.  
Be the first to know
Get local news delivered to your inbox!