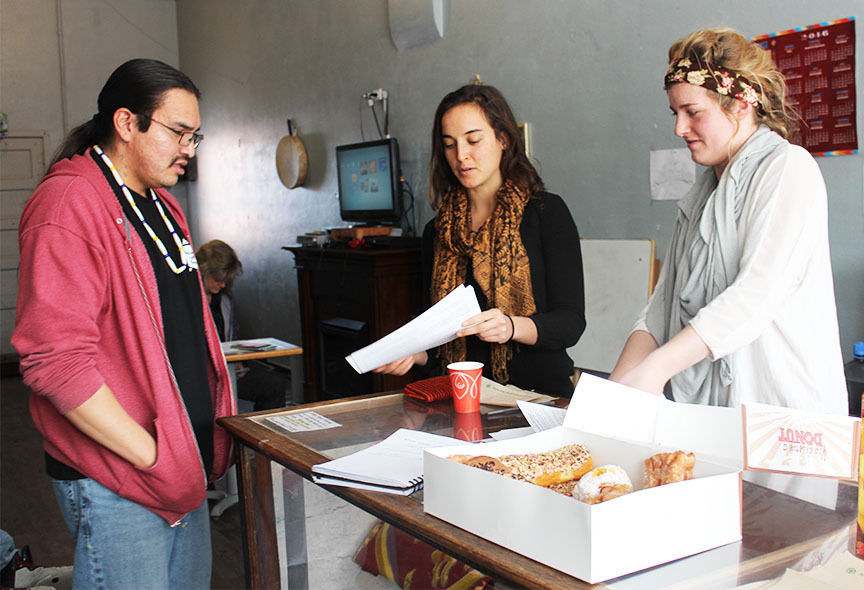 More than 77,000 Nebraskans are falling into a gap created by a state-federal disagreement over Medicaid reimbursement. However, a group of senators has introduced a bill that may create a private marketplace solution, outreach coordinators for the Nebraska Appleseed Project told a small audience Thursday in Alliance.
Senator John McCollister is the sponsor of the Transitional Health Insurance Program Act, LB 1032, introduced Tuesday. It will be heard first by the Health and Human Services committee, of which Alliance's Senator Al Davis is a member, Tori Ostenso, an Appleseed fellow, said.
Ostenso and Kait Madsen, community organizer with Appleseed, said Nebraska will bring in $2 billion for Medicaid during five years, but those funds will all go to other states, because Nebraska is one of 19 states that is not a part of the Affordable Care Act's Medicaid expanded coverage gap.
State officials have declined to become involved in ACA because they believe the federal government may not be able to meet its Medicaid obligations. Another argument against participating in the Medicaid gap coverage is the claim the federal health care coverage plan encourages laziness among users.
In fact, Madsen said, most of the gap users are the working poor – earning enough money so that they don't qualify for Medicaid, but not enough money to receive a subsidy in the ACA marketplace. The vast majority are working in low-paying jobs like sales, food service, home health care and construction, she added. The federal poverty level for a family of four is $24,250, but to qualify for a subsidy, taxpayers must earn 138 percent of poverty or $33,465 for a family of four.
The new bill includes a different approach that will meet the federal requirement to "expand Medicaid" by offering a private health insurance market for most enrollees, employee-sponsored coverage for some and an "Innovation Health Insurance Program," for those who cannot be enrolled under traditional Medicaid, including medically frail enrollees.
The bill ensures personal responsibility, Madsen said, by requiring monthly contributions of 2 percent of the household income. It also encourages access by requiring enrollees to have a primary care provider. Lastly, the THIP act encourages employment and education/skills training by providing skills training targeted at specific state workforce needs.
Host Edison Red Nest, of Native Futures in Alliance, said he is working with native people to enroll in the tribes and get off of Medicaid altogether. He said with a $10,000 minimum income (earned and unearned income), Native Americans who are tribal members can qualify for free insurance as part of the treaties signed by the United States in past centuries.
More Native people are moving in to Nebraska, Red Nest said. While Nebraska population increased only 1.8 percent between the 2000 and 2010 census, the population of Native Americans increased 38 percent in Nebraska, many from bordering states like Colorado, South Dakota and Wyoming.
The pair from Nebraska Appleseed encouraged those with questions about ACA and affordable care to contact a trained health care assistant at 1-800-318-2596.
Osenso also discussed reform on "payday loans" in Nebraska. Pending legislation will lower the rate on interest (which can be as high as 600 percent) for such loans and grant users more time to pay the loans, paying incrementally instead of with a lump sum due on pay day. The legislation is designed to protect the consumer by making the terms more clear and not allowing a customer to have more than two loans at one time.
A third topic garnering attention by some in the small crowd was pending legislation allowing a community to offer free and reduced lunches to all students, if 40 percent or more of the students qualify. This decreases the paperwork involved in managing the lunch program, as well as the stigma sometimes attached to asking for assistance. One Alliance student an audience member knew was turned away in the lunch line because he didn't have the necessary paperwork. The student was given a peanut butter and jelly sandwich for the day's meal, the man said.
Nebraska Appleseed is a nonprofit organization "fighting for justice and opportunity for all Nebraskans." They offer legal information, advice and referrals in the areas of economic justice, health care, child welfare and immigrants and communities.
To find solutions to problems on these important issues, call Nebraska Appleseed at 402-438-8853 or access them online at http://neappleseed.org/gethelp.