GERING — The Panhandle is coming together to address educational needs and childcare programs for youth from birth to grade three.
Beginning in 2014, 200 Panhandle residents, which included 15 school superintendents and members from Panhandle Partnership, Educational Service Unit 13 and the Buffett Early Childhood Institute at the University of Nebraska worked together to look at the regional and community-level needs for early childhood.
"We brought the superintendents together on one side because we felt like we needed to hear what their needs were, what their issues were in the area of early childhood, what their expertise was because in many cases, many superintendents don't have expertise in the area of birth to grade three area," said ESU 13 administrator Jeff West. "The part that I really appreciate the Buffett Early Childhood folks helping us see is bringing in the other people — Panhandle Partnership, the private providers — and let us have a conversation and bring both groups together. Because no matter what we do, we have to be able to work together on it for all kids."
Working together, school superintendents, private providers and Panhandle Partnership members agreed on four strategies to move forward with the early childhood programming:
— Conduct a regional early childhood resource mapping and a needs and capacity assessment. Inform all relevant parties of the results.
— Develop a Panhandle vision and strategic plan for a sustainable, school-based early childhood initiative.
— Create and implement a regional professional development plan for educators and professionals providing services and resources to the early childhood population.
— Develop a long-term early childhood initiative sustainability plan, which aligns local resources and leverages new resources through public-private partnerships and explores with other Nebraska communities the possibility for legislation for equitable opportunities to levy for additional resources as needed.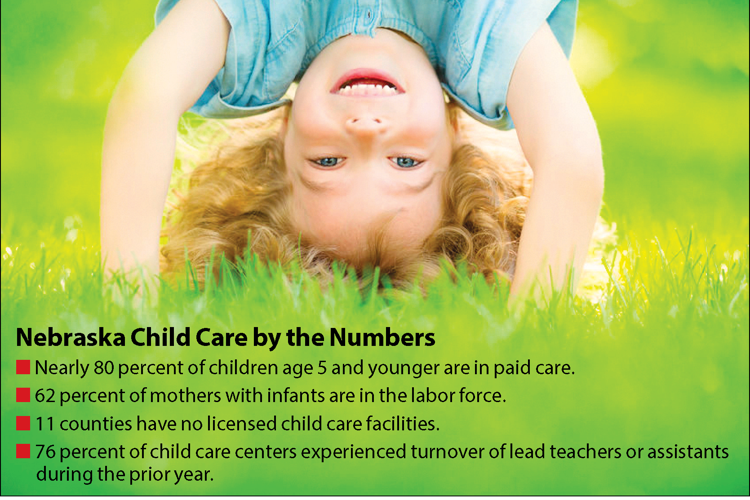 Renee Wessels, associate executive director of the Buffett Early Childhood Institute at the University of Nebraska, said: "Why this was so important to us to bring together both sides of the house together because the language we use to define early childhood is birth through grade three. Children develop along a continuum and what happens in early years helps set up what happens in school."
Around 100 community leaders and other stakeholders gathered Wednesday at the Gering Civic Center for the unveiling of a new report that looked at early childhood education.
Within the report, entitled The Nebraska Panhandle: An Assessment of Birth-Grade 3 Care and Education, the top priorities that surfaced included child care, preschool, and parent education and support. Some of the key findings from community conversations were:
— Community members take great pride in existing programs that support children and families
— Basic needs, the economy, and access to affordable, high-quality child care and preschool are areas of greatest concern
— Community members identified funding and sustainability of child care, preschool, and parent education and support as top priorities
Officials went through an extensive research process of gathering data about the services availability within each community for the report, so that the district could move forward in addressing the needs of their students within the community.
For Banner County Public Schools Superintendent Evelyn Browne, she hopes the report and partnership will yield some results soon for Banner County.
"I think it's an important report, especially from the perspective of Banner County, where we have no birth to three child care facilities," she said. "I think Dr. West's remarks about taking the time to understand the communities and especially the points that all of the leadership focused on not just the Panhandle, but the individual committees and taking the time to recognize the differences will be able to help us plan to move forward and respect the differences."
To ensure the report was thorough at addressing the needs of all the participating schools and communities, 15 focus groups formed. From these focus groups, the details within the report allowed for community conversations between school administrators and board members, teachers and staff, community child care providers, parents and community members. The community conversations asked the members to determine points of pride, challenges and priorities for the community.
Across all 15 communities, the community members and schools said they take great pride in child care and preschool. As they look at the next three to five years, all the communities identified areas for concern of basic needs and economy, which encompasses housing and jobs.
As Matt Blomstedt, commissioner of education for the Nebraska Department of Education, looked through the report, he said he is excited about the statewide potential and the sharing capacities between communities to address gaps.
"From a statewide perspective we get a chance to learn from a great model of how folks study their needs at the community level and at a regional level," he said. "What I really like about this report is that it positions both things. It breaks it down, community by community, and the importance I think for us is starting to look at when one community has a gap or a need that another community has a way to think about sharing capacity they might have."
Blomstedt added that the basic tenets look at a broad base school improvement strategy, which includes looking at transitions and establishing partnerships.
"Some of the key things are the notions of transitions," he said. "Making sure we are thoughtful about transitions in early childhood through elementary and elementary to middle school and middle school to high school and beyond, but also the notion of positive partnerships and relationships for student success. This really exemplifies a lot of that."
With the implementation plan still being developed for the Panhandle early childhood initiative, Blomstedt said he is hopeful the Panhandle's model for addressing early childhood care needs extends across the state as it encourages communities to be thoughtful about their needs and partnerships that can be developed to achieve those needs.
Participating school district communities include: Alliance, Banner County, Bayard, Chadron, Hay Springs, Hemingford, Garden County, Gering, Gordon-Rushville, Kimball, Mitchell, Morrill, Potter-Dix, Scottsbluff and Sidney.
As they move forward with implementing programs, the funding source will likely come from braiding funds by using existing community resources and partnering with existing community-based partners, but those decisions are still being made as they work to develop and implement a plan.
"What it means for education, generally, is we start kids on a more urgent trajectory toward being successful in an educational setting," Blomstedt said. "We put ourselves as a state to say it really matters to get a good first start in the education system and I think this report not only starts to support that but the commitment from a lot of different partners."
To read the report, visit starherald.com.