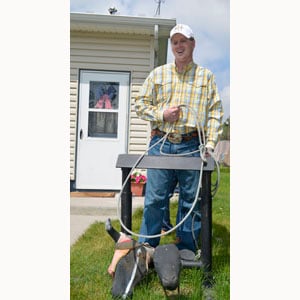 Tim Malm was at home on the family ranch, practicing his calf-roping skills.
A sixth-generation rancher, he was no stranger to a rope. He started practicing rodeo skills in seventh-grade while growing up on the family ranch on the Wyoming/Nebraska border. As a high-schooler, he was the 2007 and 2008 state runner-up calf roper, 2009 Wyoming State Champion calf roper, 2009 National High School Reserve Champion calf roper, and three-time National High School Finals Rodeo Qualifier.
His success earned him a rodeo scholarship to Northeastern Junior College in Sterling, Colorado, where he finished fifth in calf roping in the Central Rocky Mountain Region in 2010. He was hoping to get his Professional Rodeo Cowboys Association card.
But this day in June 2010, everything went wrong.
He was practicing roping and tripping steers. His father, Howard, recalled Tim roping the steer, and as he set the trip he rode to the left, the rope got under and coiled around his horse's right foot. When the rope became tight between the steer and the horse, both Tim and his horse were jerked down onto their left side. It happened so fast that Tim was still in the saddle holding the reins and his rope. Tim was known for his horsemanship; however, he never knew he was in trouble.
"It was just wrong timing with the rope, horse and steer," Howard said.
Within seconds, the horse and Tim went down and came back up as the horse got up on his front. Tim was unconscious when he came up and then he slid off the back of the saddle and onto the ground.
Tim's mother, Dixie, quickly looked for any injuries and then performed CPR after Tim stopped breathing. The Albin ambulance was called. Tim was unconscious, but Dixie had him breathing on his own and held his head until the ambulance arrived.
The accident didn't leave a scratch, bruise, broken bone, or any visible physical injury. But the sudden jolt caused Malm's brain to shake inside of his skull, causing brain-shearing that resulted in a traumatic brain injury. After two weeks in ICU in Cheyenne, he later went to Craig Rehabilitation Hospital in Englewood, Colo. He was able to open his eyes for the first time on his way to Craig. He didn't come home until Oct. 1, 2010.
Since then, Malm has been making tremendous strides in his recovery through the power of his faith and determination to "cowboy up" again.
Tim is now able to talk over the telephone, e-mail and started a Facebook page to communicate with others. He has also been receiving home therapy and been visited by speech, occupational and physical therapists that have helped him make leaps and bounds in his recovery.
He'd finished just one year of junior college with a double major in ag business/farm and ranch management before his life-altering accident.
"When he came home he couldn't talk that much, his voice was so weak," Dixie said. "His voice has progressed and become stronger over the past year and a half."
The progress in Malm's voice has now become his greatest tool to inspire others to live their lives to the fullest every day and make good decisions in their lives. Malm has spoken at rodeo church services and other special events.
"He doesn't remember those four months, but he remembers everything before and has great memory. He has a better memory than ours." Dixie said.
His efforts have helped spread the word about his recovery process, his faith and the book, "In His Time," written by his aunt, Candra Marlett, which highlights his efforts to get back in the saddle again. The book also incorporates Dixie's journal entries and Facebook posts, along with Tim's speeches and personal comments from family and friends.  
"He encourages so many people and is such an inspiration and many have commented on what the book has meant to them," Dixie said.
Tim has also inspired his oldest sister, Bethany, who is a senior at College of the Ozarks near Branson, Mo.  Because of Tim's injury, she changed her degree to speech communication and plans to become a speech therapist. Tim's other sisters, Cassady and Jessica, have also helped him in many different areas.
Tim has also made tremendous progress in walking with less assistance and has even gotten back on his horse three times since the accident. Howard said they want to get him on even more since Tim has persisted in his effort to ride again and has never been scared to get back on a horse.
"I wanted to do it forever, I've always wanted to get back on," Tim said.
NJC has also helped in the effort by building Tim a saddle stand that the family has placed in the front yard. He uses it often and it has helped him increase his upper torso balance.
"He's gotten to where he would get on it and actually rope his calf dummy and practice with it," Howard said.
Dixie said Tim prays daily and thanks God that he chose him because he would never want a similar experience for anyone, especially for his family and friends. In a recent Facebook post, Tim referenced Luke 17:5-6 and related it to his own life.
"I don't question why this happened. My question is why not me," he said. "God knew how much glory he would get, so why not me? That's my only question for God is why not me."
His spirit has never dampened and he is determined to rope cattle once again someday.    
"By golly, I'm going to get back there," he said.
For more information on how to purchase "In His Time" and attend future speeches and radio interviews, e-mail Tim at skyhijordan@yahoo.com.
Be the first to know
Get local news delivered to your inbox!