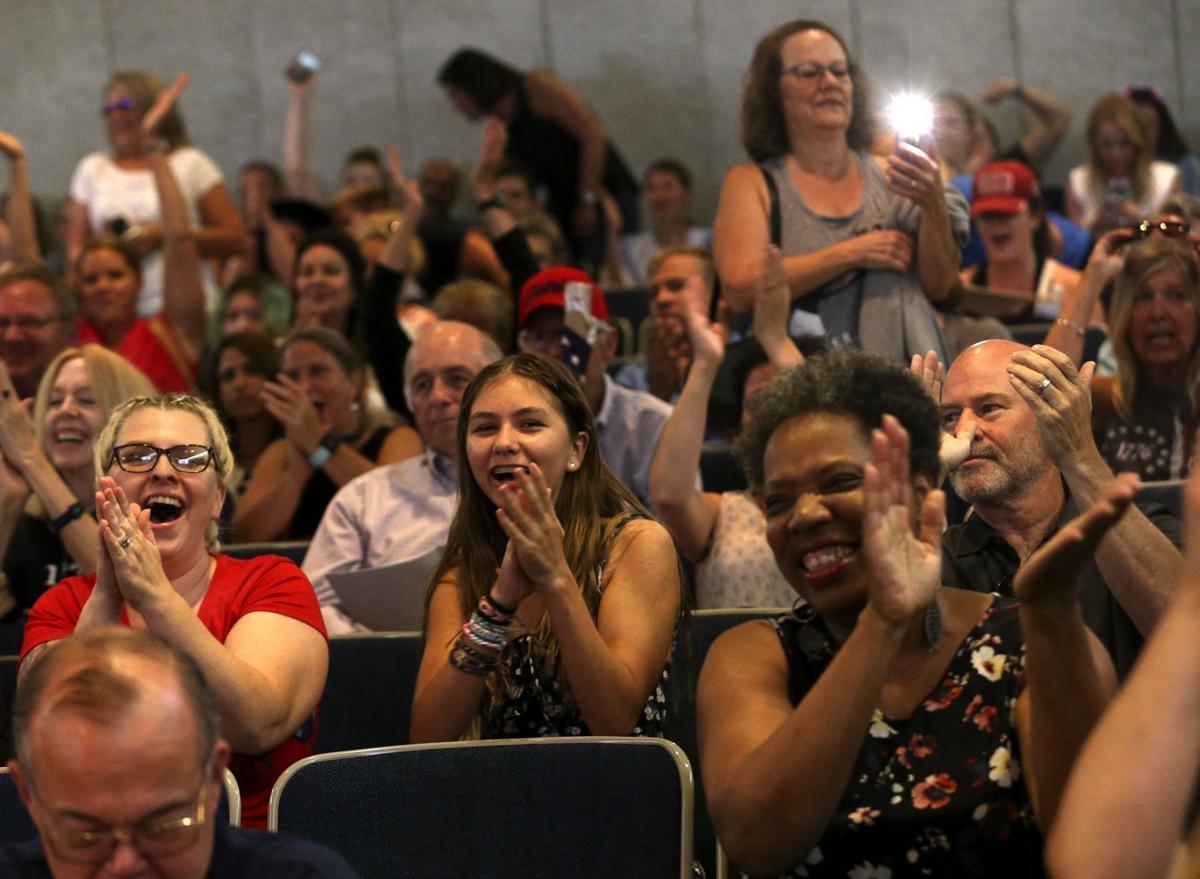 ST. LOUIS — City health officials are going above federal guidelines and asking those who attended a St. Louis County Council meeting on Tuesday to quarantine, including five council members, the county executive and the director of the county health department.
A city resident who attended the meeting began experiencing symptoms the day after the meeting and underwent a test for COVID-19 on Thursday, Dr. Fredrick Echols, acting city health director, said at a news conference on Sunday.
Echols said the city health department received notification of the positive result on Saturday, sparking the advisory asking that everyone who attended the meeting — even those who are fully vaccinated — to quarantine for the next nine days to complete the 14-day quarantine period.
Because the person is a city resident, the city's health department is in charge of contacting those the person may have exposed and asking them to quarantine. Attendees should wait until 10 days after exposure to take a test, or get tested if they develop symptoms, Echols said.
Because the health department was unable to determine the person's movements at the meeting where most people were unmasked, Echols said officials decided the best way to protect the public's health was to ask everyone there to quarantine.
"The likelihood that several individuals could have been exposed and potentially infected is something we are really concerned about," Echols said.
Five of seven council members were at the meeting (two attended virtually) as well as St. Louis County Executive Sam Page and St. Louis County Department of Public Health Director Faisal Khan.
Coronavirus cases and hospitalizations have been on a sharp increase across Missouri and in the St. Louis area because of a highly infectious mutation of the virus — the delta variant. The variant is responsible for overwhelming hospitals in southwest Missouri, where it first took hold in the state.
In an effort to prevent a similar trajectory in the St. Louis area, both the city and county issued public health orders requiring people to wear masks indoors and on public transportation, whether they are vaccinated or not. The orders went into effect last Monday.
Current U.S. Centers for Disease Control and Prevention guidelines state that people who are fully vaccinated do not need to quarantine after contact with a confirmed case unless they have symptoms and that they should get tested three to five days after their exposure and wear a mask indoors in public for 14 days.
Echols, however, said he is concerned about a new CDC report released Friday that showed 74% of 469 cases of COVID-19 associated with multiple July events in Barnstable County, Massachusetts, were in people who are fully vaccinated. Four of those people were hospitalized.
The study also found that vaccinated individuals carried as much of the virus as the unvaccinated. The discovery suggests that while vaccines are highly effective at preventing severe illness and death, those infected with the delta variant could transmit the virus.
The findings led to the CDC's recommendation last week that masks be worn in areas where cases were surging.
Because of the study, Echols said he is asking everyone who attended the crowded meeting to quarantine in order to prevent an outbreak.
"As these new variants develop, we have to make sure that we are doing our due diligence to be very conservative in our approach to make sure that we are not potentially putting the public at greater risk," Echols said.
"As a health department we are responsible for overseeing the health of the entire population, not just segments of the population who have gotten vaccinated," he also said. "So as we think about protecting the entire population's health, we have to make sure we are implementing mitigation measures that can do just that."
St. Louis County Department of Public Health officials say they are assisting the city with contact tracing efforts.
In statements issued Sunday, county health department deputy director Spring Schmidt agreed that until health officials can contact every person at the meeting to determine their risk of exposure, all those in attendance should quarantine.
"St. Louis County (Department of Public Health) is appreciative of the level of general concern for the recommendations and the potential for this to become a cluster rapidly," Schmidt wrote. "Quarantine is an effective tool to help stop the spread of this virus."
Schmidt stated that Page and Khan are quarantining as health officials continue to determine their level of risk.
She also recommend that everyone at the meeting get a COVID-19 test.
The next County Council meeting scheduled for Tuesday could be more raucous than the last, but the meeting may need to be held virtually because of the quarantine order.
That decision will be made by council chairwoman Rita Heard Days, D-1st District. An attempt to reach Days on Sunday was unsuccessful.
At last week's meeting, the County Council voted 5-2 to rescind the mask order. The council chambers — with a capacity of 275 — was full. People were also standing in the aisles and doorways, and a spillover crowd gathered in the lobby.
During the meeting, Khan, the health department director, said the crowd heckled him and mocked his accent. Afterward as he headed for the exit, Khan said he was surrounded by "an angry mob" who shoved him and berated him with racial slurs. Khan admitted he gave one person the middle finger.
Page's office has taken Khan's allegations seriously and launched an investigation. Days also said she would investigate. But several council members are skeptical of Khan's account, saying it was excuse for losing his temper.
Supporters and protesters of the mask mandate, as well as those who support or don't believe Khan, were urged on social media to attend the next meeting. The quarantine order, however, has tempered those requests.
The advisory issued Saturday, telling people who attended a large gathering to quarantine because of potential exposure to COVID-19, was the first the city health department has issued, Echols acknowledged.
Echols said the order was unrelated to the Khan flap or the controversy over the city and county mask mandates.
"Our primary focus is protecting the population's health, and that is exactly what we are doing," he said.
Echols also said he also expects some resistance to the quarantine order and contact tracing efforts.
"We are hoping that individuals will comply, and our goal here isn't to impose on individuals' personal rights but it's really again to protect the health of the population that we are responsible for," he said.
These 10 charts show you vaccination and virus trends in our state and nation
COVID-19 case tracker by state
Coronavirus deaths by county
US counties, new cases by 7-day average
Coronavirus spread by state
COVID-19 testing, ranked state by state
Coronavirus spreads across the United States
Michele Munz • 314-340-8263
@michelemunz on Twitter