The top-rated cornhole player in the state had her wood boards set up on her west Omaha apartment complex's indoor basketball court when a few guys sneaker-squeaked into the gym and spotted her practicing her bean bag tosses.
Jackie Sayasone knew what they were thinking, and why they couldn't hold back the snickering.
A year ago, she hadn't really considered this game to be anything more than a tailgate party pastime, either.
But now the spunky, 5-foot-2 bag slinger has gone all-in on a professional cornhole career, earned some national TV face time and traveled the country to play in tournaments with five-figure purses. She's pursuing a new passion at age 30, maybe even realizing a childhood dream that once seemed sabotaged by the diagnosis of a blood disorder.
It doesn't mean she's taking herself too seriously — she's got a video file on her phone of a David Spade Instagram post, where the comedian jokes about Sayasone's high ponytail and stoic demeanor as he watches a live broadcast of her competing on ESPN in May.
"Yeah, yeah, I kind of laughed at the sport before I came into it," said Sayasone, who grew up just outside of South Sioux City. "And then I realized what it was, how amazing the cornhole community is and how much it's growing."
It's exactly what she needed.
Sayasone isn't afraid to tell you what's on her mind, and she's always enjoyed a good challenge. But she had been searching for an outlet since her first few days training with the soccer team at Briar Cliff University almost a decade ago, when she couldn't figure out why she kept finishing last in all of the sprints.
She was the young kid who fantasized about one day becoming a pro athlete. Or maybe she'd try to join the FBI?
But in college, she was breathing heavier than normal. She noticed chest pains, and headaches.
"I thought I was out of shape," Sayasone said.
Doctors eventually found the true cause: beta thalassemia. Her red blood cells don't carry oxygen through her body the way they should. Mom has the same thing. It requires regular treatments and occasional consults with specialists in Chicago.
One thing's for sure: Too much exertion can be problematic.
"But that's why this game — cornhole — I got really into it," Sayasone said. "It's something I could still be competitive with."
Now she can't get enough.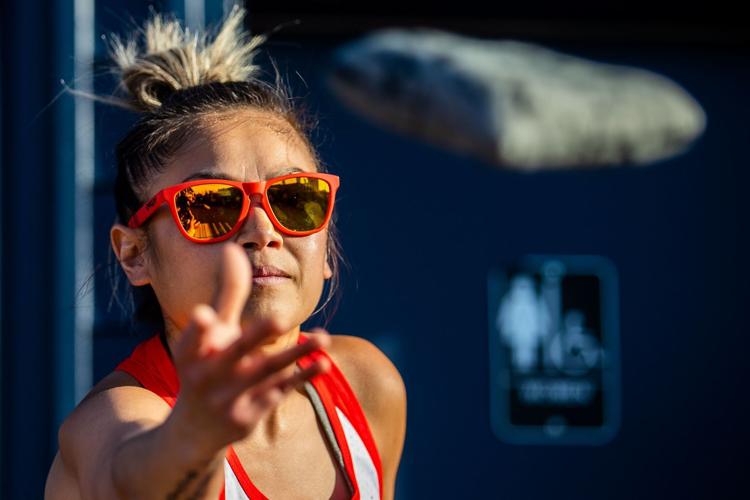 She'll throw for hours at a time — that's how she discovered her skills, actually. She devoted a full week to lobbing 1-pound bean bags about 30 feet toward a 6-inch diameter hole on a slanted wooden surface. You score points in cornhole by either landing bags on the rectangular board or dropping them through the circular slot.
There are different types of shots to master. Different bags to try out. Sayasone dips and lunges when she throws — unconventional but effective. She has to work on several types of strategic approaches, too, or else the pros will pounce.
"There are good players at your local bar, at your local blind-draw tournament," said Eric Ryder, a veteran cornhole player from South Carolina who has mentored Sayasone from afar. "But once you get up to that pro level, it's a whole different ballgame. These pros, everybody can all throw 10, 12, 16 in a row (in the hole). If they get hot, you have to figure out a way to slow them down."
Sayasone is battling against that level of talent at an American Cornhole League tournament this weekend in Philadelphia.
The total number of participants is being limited because of the coronavirus pandemic. But previously, a few years back, this sort of national event drew 200 competitors, Ryder said.
And now? Nationals can bring in more than 1,000 players, who fill a convention center ballroom lined with more than 100 sets of cornhole boards. ESPN is on site. Sponsors, like sausage company Johnsonville, ensure a guaranteed prize payout for winners.
The first time Sayasone experienced that big-stage scene, she ended up facing off against arguably the No. 1 female player in the country, Stacia Pugh. That was August 2019.
Sayasone hung in for a bit. But soon, sweat started to bubble on her brow. Her hands got sticky. She second-guessed herself between throws, perhaps more focused on the amassing crowd than the boards.
"I choked," Sayasone said with a laugh.
But she's better because of it. She realized what she had to work on.
Now the American Cornhole League ranks her No. 42 in the country on its professional singles chart. She's at the top of the ACL's Nebraska-only rankings and No. 16 in her four-state conference (tops among women). There are more than 200 ACL-recognized professional cornhole players in the country — and one (Sayasone) hails from Nebraska.
That doesn't mean she's the best cornhole player around here, though. Sayasone's adamant about that.
Anybody can play this game, she said. Anybody can follow her path — so long as you don't immediately belittle such a pursuit.
"I'll get that look sometimes, like, 'Oh, what the heck are you doing?' " Sayasone said. "But my game keeps improving. And I'm hungry to learn more. I'm like, I'm just going to go for it and see what happens."