MITCHELL — A Mitchell couple have paired ministry and hunting in a unique organization called Doose Outfitters.
Chris Kniss and his wife, Jen, have been operating Doose Outfitters since 2013, but along the way, the company turned into a ministry aimed at helping soldiers and veterans.
Chris and Jen both grew up in the Bayard area — but didn't know each other until they met in 2008 and were married on Oct. 10, 2010, Jen says so that Chris wouldn't forget their anniversary.
"When we were first married, I would never have told you that this man was going to be a chaplain, a preacher, a godly man," Jen said. "He was riding motorcycles, drinking and just carousing. For some reason, I fell in love with him."
In those first two to three years, Jen says, she wondered, "What did I get myself into?" During that time, she remained devoted to her Christian faith.
Chris, who had been competing in bodybuilding, said he had experienced substance abuse issues, both with alcohol and with steroids.
"I just wasn't a good person," he said. "It got to a point in my life where I would go to bed at night and have these horrible, horrible nightmares."
His wife described it to him as it was like he was fighting someone in his sleep, he said.
When he turned to a minister friend for advice, Chris says he told him: "'There is a battle going on, but it's for your soul.' He said, 'You have come to a point in your life where you are going to serve God or you are going to serve the enemy.'"
At that point, Chris says, "Things got real, real quick."
He an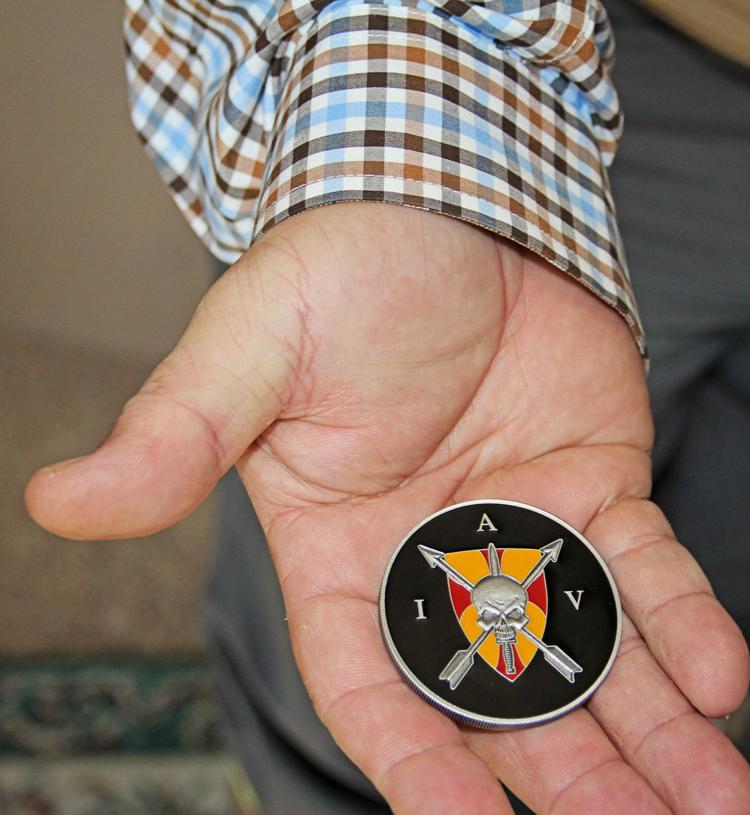 d Jen found a church — they began attending The Rock Church. In 2013, Pastor Tyson Lambertson led the couple in re-affirming their faith.
The couple had been operating an outfitter business on a part-time basis as Chris worked for the railroad.
"Even then, everyone that we brought in got a Bible in their hands. It was still about ministry work," Chris Kniss said. "But God kept working on us, calling on us. I fought him tooth and nail. I did not want to go into ministry."
Chris said he wanted to "do it on his terms," working on the weekends while continuing to work on the railroad. He operated his outfitters business for two years, doing just that; however, that suddenly changed when he was terminated unexpectedly from the railroad after an equipment-related accident. Until that point, he said, the railroad job offered security — a salary, insurance and retirement benefits.
"At that point, I had faith — the faith of a mustard seed, I guess," he says.
He'll never forget the day he was terminated from the railroad, he said, telling about how he came home at about 2:30 p.m. to his wife.
"I was like a beat dog with my tail between my legs when I walked through the door."
His wife noted that he was home early and asked if he was feeling well. When Chris told her that he had been terminated from his job, his wife had an unusual reaction. She got a big grin on her face and started chuckling.
"She looked at me, and said, 'Good.' I looked at her kind of odd, and she said, 'Now you can be obedient and do what God has been telling you for the last two or three years.'"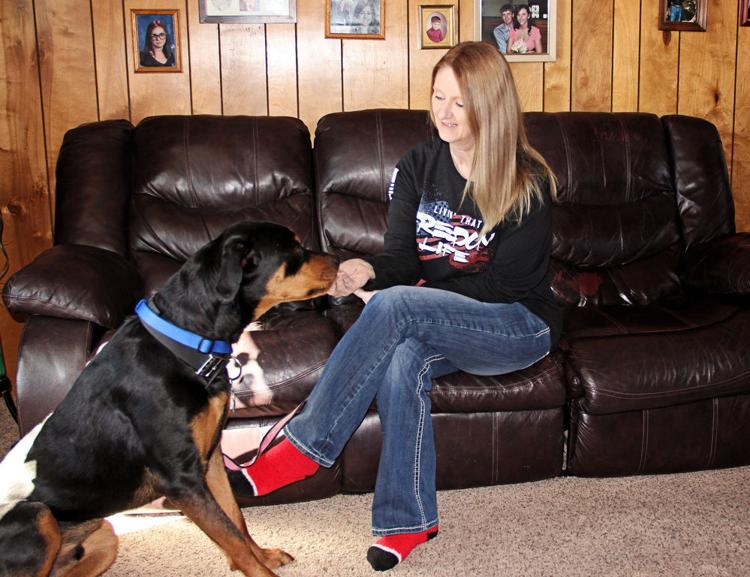 "We were ministering to people, but we were doing it on our terms, our times, and it wasn't His terms," Jen said.
A friend of Chris' operated an outfitters business in Missouri and put him into contact with the founder of Freedom Hunters, a military outreach organization in Colorado. The Freedom Hunters organization sets up outdoor adventures for soldiers who have been deployed, their families, Gold Star veterans and servicemen and servicewomen who have returned from deployments.
"We knew that God wanted us to pastor to people with hunting as a platform, but we really weren't sure what group it was supposed to be," Chris said. He kept talking to his head pastor, Pastor Giles Armstrong at the Mitchell Berean Church, and Armstrong encouraged Chris, who had served in the Air Force for a short time and previously worked in law enforcement, to trust God. Chris said when he talked to others about it, they focused on the work that went into setting up a nonprofit and doubted he could make a living in this newfound ministry.
A leader in another organization, Mission 22, reached out to Chris and Jen and asked Chris to serve as an ambassador for the organization in the region. The organization aims to prevent veteran suicide and cites that more than 22 veterans a day take their own lives, according to a Department of Veterans Affairs study. That number continues to grow, with increases in post traumatic stress disorder and other afflictions, Chris said.
"Somebody has to make a difference. If it is not us, then who?" he said. The group works with American Heroes in Action, based out of Denver, Colorado, and Special Ops Xcursions, a Nashville, Tennessee, organization. Through Special Ops Xcursions, all individuals in that group are in special operations forces, such as Navy Seals, Delta Force, Air Force Air Rescue and others. In 2017, Doose Outfitters hosted 35 active duty military personnel or veterans. In 2018, Doose Outfitters more than doubled that number, hosting more than 70 hunters.
They host people from throughout the United States, with visitors from nearly every region of the country. People have visited from as far as New York
"It is so cool to meet all of these guys," Jen said. She said she anticipates that at some point in the future, they will have women among their visitors, but to date, there have not been any.
Having served in the Air Force and formerly as a deputy for the Goshen County Sheriff's Department and as a contractor with the U.S. Marshal's Office, Chris says he is able to relate to the military personnel and veterans who come to Doose Outfitters.
"With military personnel, especially Tier One operators, there has to be validation. They don't open up to people. ... It's really, really hard to make those connections," he said.
Doose Outfitters organizes hunts during wild fowl, turkey and deer seasons and also predator hunts. Special Ops Xcursions has sent teams twice a year, for turkey and deer seasons. Chris said he is hoping they'll host some wild fowl hunters in the upcoming year.
Most generally, hunters show up on a Thursday and stay until Sunday. They have hosted hunters from five to 10 days.
The couple host each of the hunters in their own home for meals and other activities, with Jen preparing home-cooked meals for them. They sit and lounge on the couple's recliner and couch and enjoy time with their dog, Freedom, a Rottweiler that Jen uses as an emotional support dog after being seriously injured in a crash.
"We put them in our house and we tell them, 'You guys are family. Make yourself at home.'
"It is so amazing having them here," Jen said. "It makes the house so much brighter."
Hunters praise Doose Outfitters and teams welcome Jen and Chris into their military family. One team of three Green Berets traveled to Nebraska this year and gave the Knisses a copy of a painting that hangs in each of their homes and a coin with their insignia on it. It hangs in a special place in Chris' office and he says he thinks he talks to a member of the team at least once a week.
"A lot of relationships are formed, and it is based on just being real with people," he said. "There is no facade. There is nothing fake about it."
That openness has led to some real conversations, from Chris providing advice to a veteran struggling with alcoholism to providing religious guidance.
Chris says he has a commitment to the soldiers and veterans who have visited and helping them build relationships with God. He says it is no different than the relationship we have with our wives, our children, our friends.
Chris and Jen hope to be a part of the solution, whether in the field or in the couple's home. He and Jen question the care that soldiers receive after returning from war, having heard the experiences of soldiers suffering from PTSD and having long delays in getting appointments and treatment.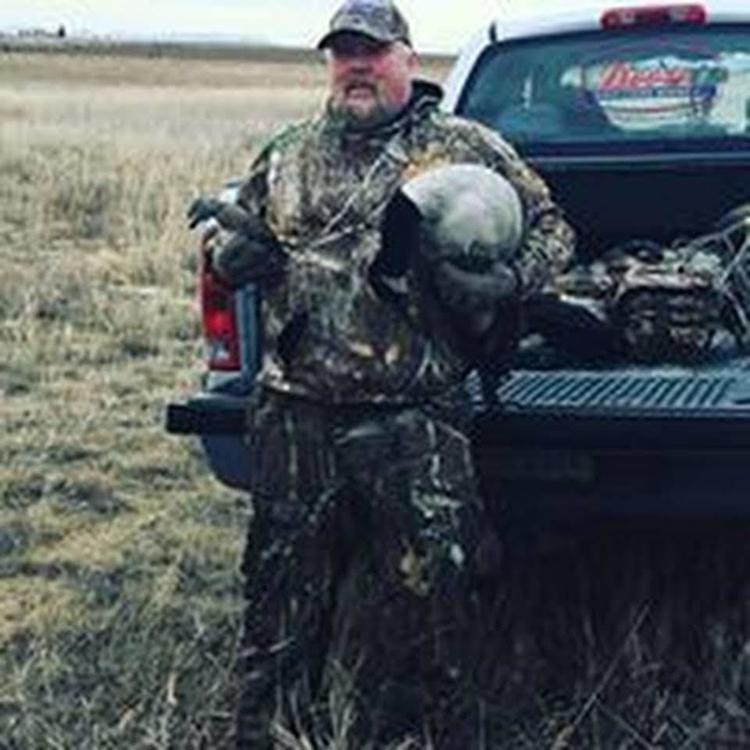 "We go to bed under the security of them walking the wall and no one thinks anything of it," he said.
For his part, Chris says, he believes his role is about guiding soldiers and veterans in letting God "close those wounds and cover those scars.
"We have had guys give their lives to God right at this dinner table," Chris said.
Chris shares stories of soldiers who have gone into treatment, became more involved in their religion or done other things in their lives after visiting the Nebraska outfitting ministry.
"If we only touch one ..." Jen says. "The rest of them, we plant our seed and just take it from there."
Doose Outfitters is 100 percent donation based. Chris and Jen have been working to spread the word about their ministry with soldiers, with plans to expand to working with more first responders. Chris also hopes to implement a fishing program.
For more information on Doose Outfitters, visit the Facebook page, www.facebook.com/dooseoutfitters or http://dooseoutfittersministry.com.