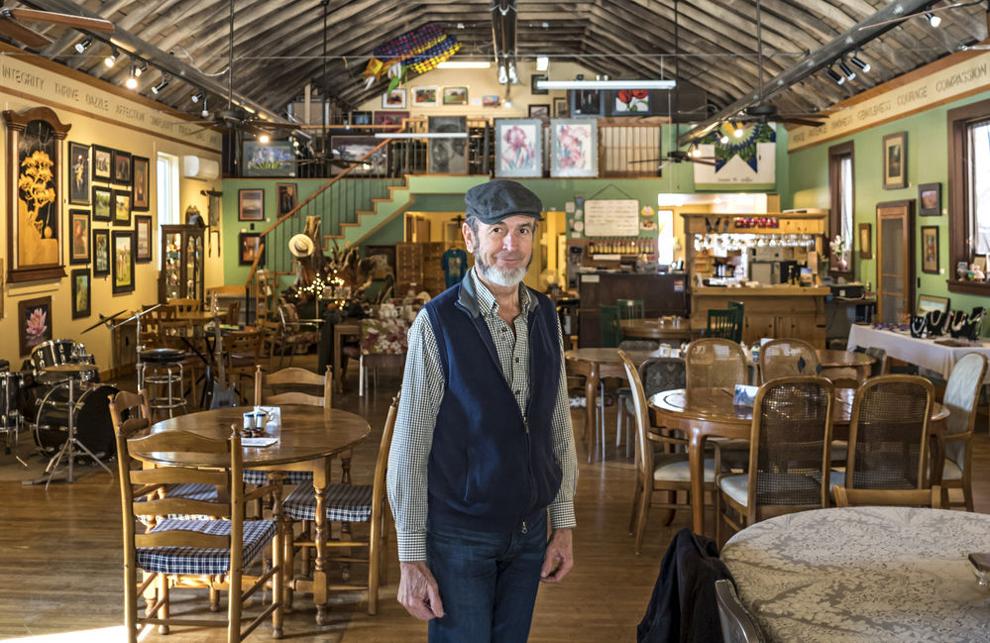 The Most Unlikely Place: A former silent movie theater is the heart of a family's art-based efforts to keep downtown Lewellen rolling
Dennis Miller and his crew put in months removing walls and a drop ceiling to open up space for an art gallery and other functions and to show…
LEWELLEN — The more you learn about The Most Unlikely Place, the easier it becomes to understand that the one-of-a-kind hub of all things arty could hardly be called anything else.
It's unlikely because it's an art gallery in tiny Lewellen, on the far eastern edge of the Panhandle near Ash Hollow State Historical Park. It's also a coffee shop, restaurant, music venue, gift shop and gathering place, in a building big enough to show silent movies and host basketball games — both of which are part of its unlikely history.
Lewellen's population is barely more than 200, with many of its homes serving as summer cabins for visitors seeking a place to stash their boats during fishing season at nearby Lake McConaughy. That makes it the second-largest community in Garden County, which has lost population in every census since the Great Depression. Lewellen could be a typical rural ghost town, with empty storefronts and a few untidy holdouts trashing side streets with stray dogs, dead cars and rusty junk.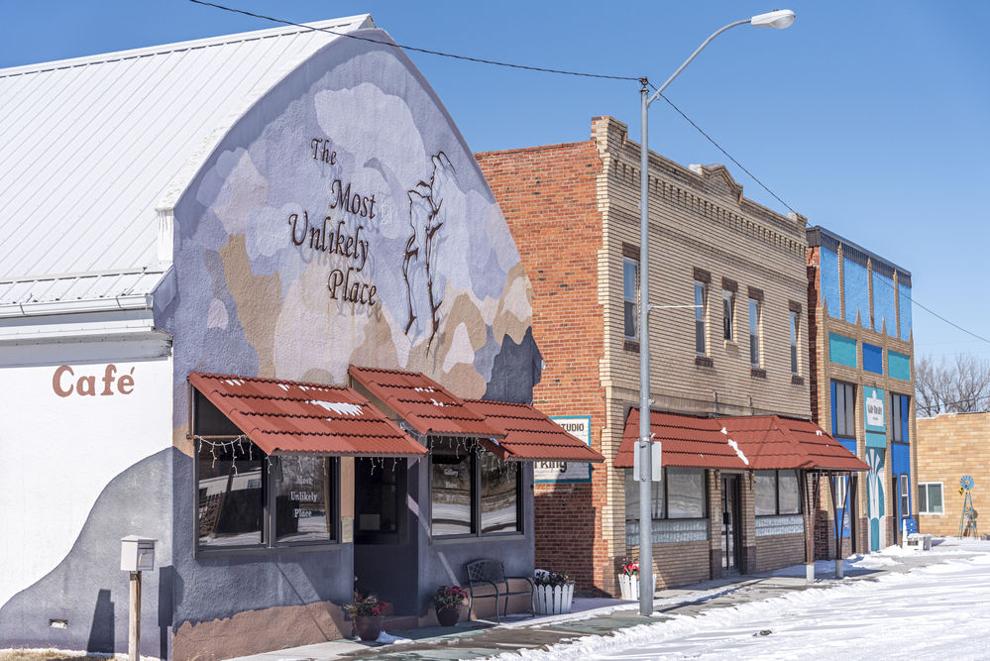 The Most Unlikely Place: A former silent movie theater is the heart of a family's art-based efforts to keep downtown Lewellen rolling
The Most Unlikely Place joins several other Miller-owned buildings on Lewellen's broad Main Street.
But along with some determined neighbors, the Millers have willed that from happening. Their vision might be the most unlikely thing of all.
Four of them, three siblings and a wife, are the movers and shakers at The Most Unlikely Place. They include Jean Jensen and her brothers Rex and Dennis, and Dennis' wife Cynthia. The elder Millers, Dennis Sr. and Lucille, came to the county in 1951 from Wallace, Nebraska, between Grainton and Dickens in the general vicinity of North Platte. Dennis Sr. had grown up on a wheat farm and wanted to own his own place. He sold the house he'd built and his share of a lumberyard and moved west with three kids and Lucille, a poet and writer. He built 60 homes in Garden County alone, others in Wyoming, Colorado, Kansas and Nebraska.
"The boys all learned how to build, how to work," said Cynthia, the roller-skating hostess and manager at The Most Unlikely Place. "I came to visit 40 years ago and was here for a month and I never saw their dad. He was always working."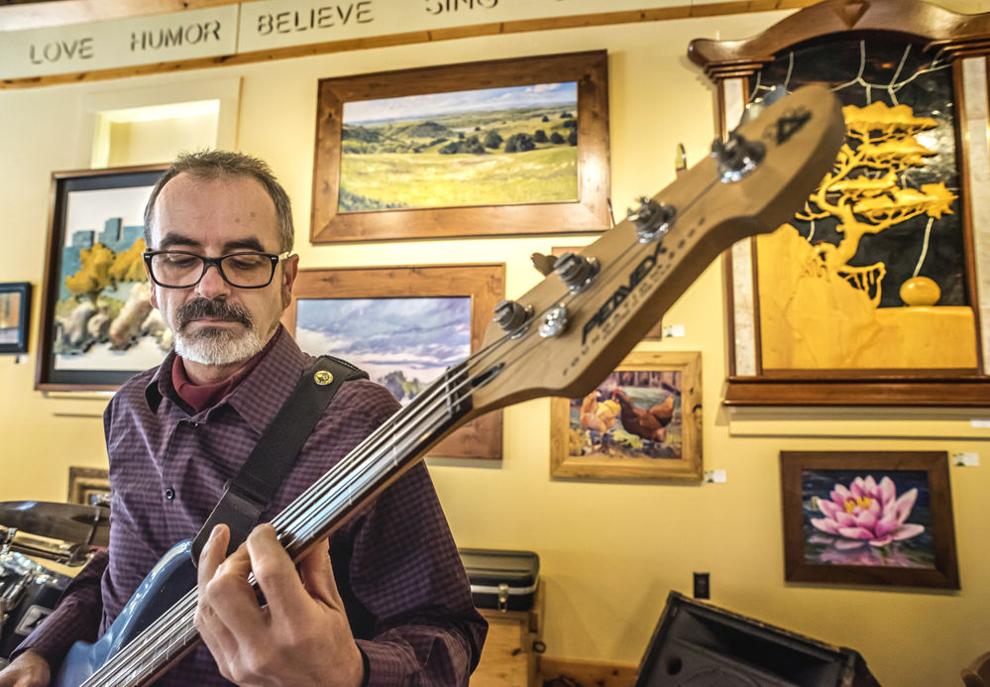 The Most Unlikely Place: A former silent movie theater is the heart of a family's art-based efforts to keep downtown Lewellen rolling
Rex Miller plucks a bass guitar in the gallery's music niche.
In 1991, the family got together for an unlikely exercise. Jean had a question for everyone: "If you could live the life you wanted, what would that look like?"
It was a conversation-starter, just a way to spend an evening together. But as years passed, the question lingered. Dennis noticed that less and less was going on along rural Nebraska's Main Streets.
"The businesses would close and the buildings would be used for storage, and I decided I didn't want that to happen," he said. "As opportunities came, we took advantage."
The first came 10 years ago. The old silent movie theater, built in 1908, had been partitioned, with some shops up front. Owner Paul Temple, a friend of the family who'd bought the place in 1972, used the back as a shop where he could paint signs and fix up old cars. After Paul died, his daughter told Dennis Jr. that she'd been instructed to sell him the place.
They decided to turn the hulking space into an art gallery. Dennis, Rex and Jean are all artists. Jean paints in oils and watercolors. Dennis paints in pastels. Rex creates sculptures and three-dimensional art.
"We put it in our closets, hung it on our dad's wall," Rex said. "We were getting crowded."
But an art gallery in a tiny town required more, and so did the family talents. Rex and Dennis are also musicians. Cynthia's a cook. They're organic farmers and own a portable band-saw mill that they use to cut up native wood from the area: elm, Russian olive, cedar and ash. Over time, they bought five more buildings.
But first they had to finish the gallery.
Unwanted stuff stored inside was auctioned off. Dennis crawled into the attic to decide whether a wall could be removed and was amazed to find an array of scissor trusses splayed in a massive ribcage under the roof. He decided the wall had to go, along with the drop ceiling. Layers of ancient insulation got shoveled into the walls, which had never had any.
"We spent three months gutting the place. We wanted to save the look of the rafters," he said.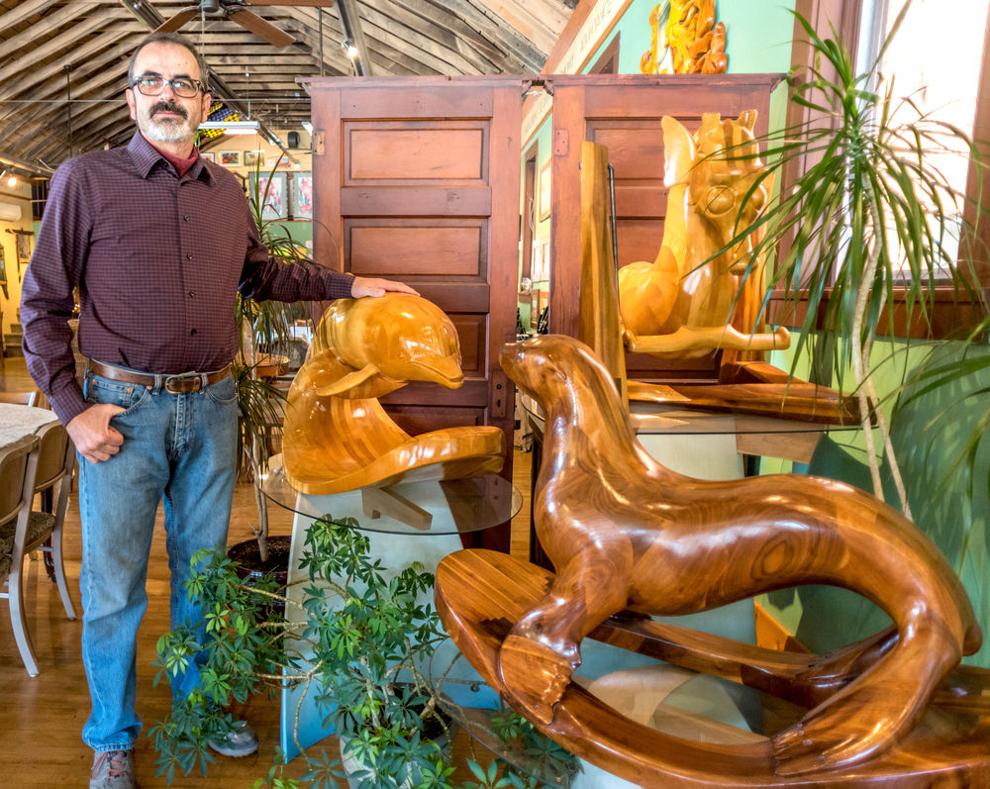 The Most Unlikely Place: A former silent movie theater is the heart of a family's art-based efforts to keep downtown Lewellen rolling
Rex Miller creates sculptures and other three-dimensional art, some from locally sourced wood.
Because they envisioned the place hosting events, they decided to add the coffee shop and kitchen. Up went drywall, and a ceiling and loft over the kitchen area, to keep out dust and reduce fire hazards. They buffed, rather than sanded, the original wood flooring, to preserve the building's character. They told the story of the building in a booklet, adding one of Lucille's poems.
They hauled a "Fairy Tree" — a hollow cottonwood that Jean's children had played in — from its place by a creek and made it part of the decor. They began hanging their art, and works by other local artists and crafters. They collected 47 inspiring words — including "Kindness" and "Compassion" and "Grace" — and painted them in a stylized shadow font around the cornice at the top of the walls. They collected and fixed up old furniture — and, eventually, more old buildings.
"We have six buildings on Main Street, if you count the old car wash around the corner," Dennis said.
In addition to the Most Unlikely Place, they own an old hotel that used to house a restaurant and bar and now serves as Rex's wood shop. They own an old movie theater that houses an insurance office and serves as a storage place for milled wood. They bought an old car wash, the former post office and a filling station, now the Blue Water Gallery for the Ash Hollow Art Club.
During its first decade, The Most Unlikely Place has become, among other things, one of the only venues for live music for miles around.
"People love to play here," Dennis said. "It's got really good acoustics."
Depending on when you stop by, you might encounter Rex strumming a guitar during lunch, a writer's club reading excerpts from their work, or various combos of Rex and his friends playing Irish folk tunes, blues or jazz during supper. You might even find a pianist who rolled in her grand piano between visiting local schools, or even a jazz orchestra. They're working on producing musical podcasts for their website.
It's all art, and all part of the ambiance.
"We're trying to create a little jazz scene. Can you imagine an 18-piece jazz band in here?" Cynthia asks with a smile. "As long as it doesn't get any bigger, it'll be all right."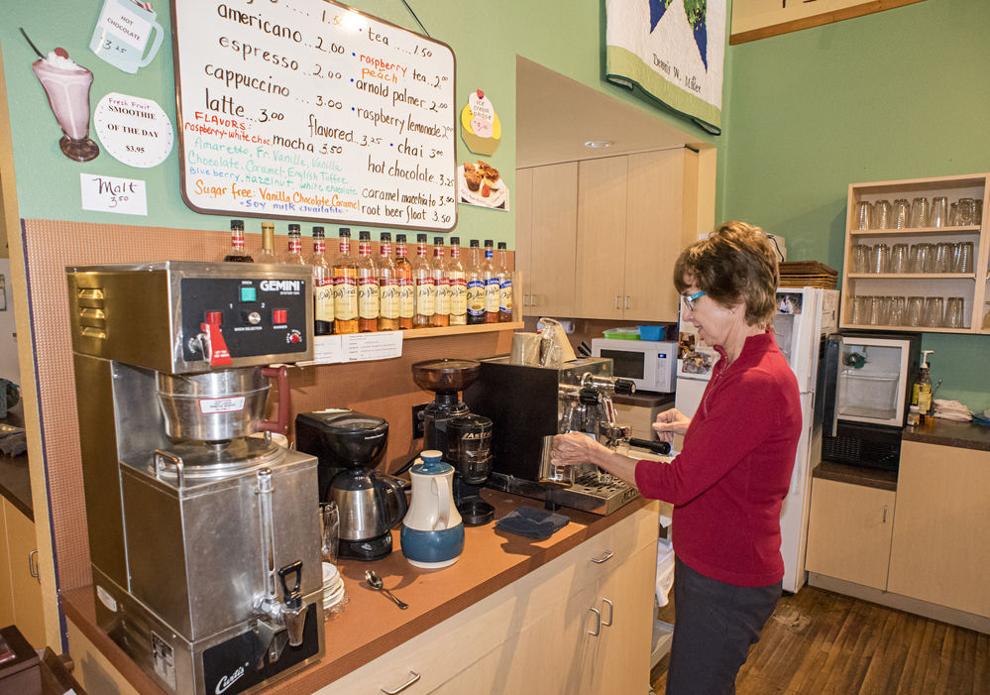 The Most Unlikely Place: A former silent movie theater is the heart of a family's art-based efforts to keep downtown Lewellen rolling
Cynthia Miller prepares a latte in the kitchen's coffee bar.
As the family's vision came into focus, The Most Unlikely Place has appeared on the Nebraska Passport tourism program three times. When it's not, it has served as a check-in spot for other nearby attractions, including Ash Hollow before the park opened for the 2017 summer season. The program designates 80 Nebraska attractions and offers prizes to travelers to encourage them to visit as many as they can.
"We apply every year," Cynthia said. "We've always enjoyed being on the Passport."
It's not hard for visitors from all over the state and nation to find the gallery. Just look for the art-deco murals on Highway 26 and turn onto Main Street. It helps that traffic picks up when the park is open and the lake is drawing anglers and boaters.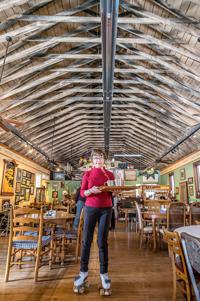 The Most Unlikely Place: A former silent movie theater is the heart of a family's art-based efforts to keep downtown Lewellen rolling
Cynthia Miller dons roller skates to cover the sprawling wood floor in The Most Unlikely Place while delivering orders. The building, built in…
"Our proximity to recreation helps make it work," Rex said. "A large part of our traffic is tourists."
The gallery will open March 17, a "grand re-opening" of sorts after being closed during the winter months.
"The first year we had no intention of closing," Cynthia said. "But after that, we decided there was no point in being open for winter."
Although Lewellen is small, it's getting harder to find a vacant house to fix up. While the Millers enjoy the synergy that comes from living in a place with other artisans nearby, they're wary of growing too fast. As Jean put it, they'd like to be the "Taos of Nebraska," referring to the renowned art colony in New Mexico.
"We enjoy living in a sparsely populated area," Dennis said. "We don't want to grow to the point where we're crowded out."
Yet they admit that their role as renovators and innovators formed with the community in mind.
"We wanted to live in a thriving village, not a dying village," Cynthia said.
Dennis said the family had been involved in a few economic-development efforts over the years. Studies and plans were never a substitute for vision and old-fashioned Miller family elbow grease.
"We never saw anything come of it. We decided if you want things to happen, you get out your hammer and your checkbook and get to work," he said. "The price was low, but there's a lot of money that goes into fixing things up. You do it because you want to, not because you're trying to get your money back."
The notes Jean took during that family meeting in 1991 spent years in a drawer. Nobody paid them much attention.
"We never had a goal. We never intended to do any of it," Rex said. "But we accomplished most of it."