The megadrought gripping the Southwest — climatologists say it's the driest 22-year period seen in the region in 1,200 years — has created an unprecedented challenge for the Colorado River Basin.
Increased evaporation from rising temperatures, a lack of precipitation and exploding demand from population growth has dried up reservoirs used to supply drinking water to communities, threatened hydroelectric power stations, and forced farmers to reduce their water appropriations.
Governments at all levels have stepped in to cut use in order to stabilize water levels, but the ongoing and worsening crisis has revived discussions online and on newspaper opinion pages about dramatic proposals to pipe water into the region from elsewhere.
Building a pipeline thousands of miles long to divert water from the Mississippi River to drought-stricken Southern California. Diverting a part of the Missouri River into an aqueduct that would supply water to the drylands of eastern Colorado and western Kansas.
Or, sinking a pipe into the Ogallala Aquifer, which extends through eight Midwestern states, to pump water to thirsty areas elsewhere.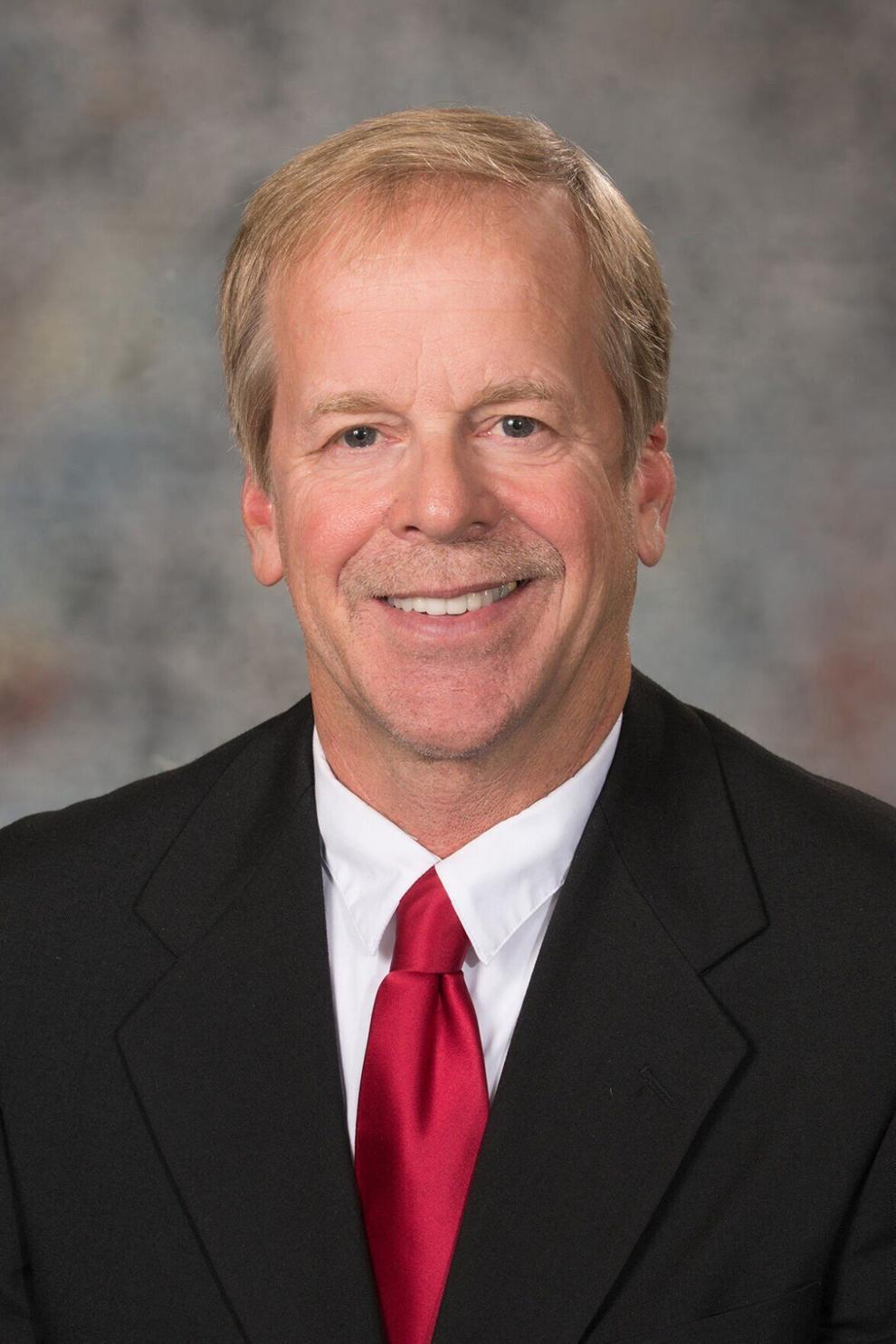 That's a prospect Sen. Tom Briese of Albion said he wants to prevent, at least in the Cornhusker state: "Water certainly is our most precious natural resource in Nebraska and it needs to be preserved and protected for future generations of Nebraskans."
His bill (LB241) would prohibit the director of the Nebraska Department of Natural Resources from granting any permit "that would allow groundwater to be transported more than 10 miles outside this state," unless it was to comply with an interstate compact or decree.
Essentially, Briese's idea would allow the Legislature a say on any project seeking to tap into the Ogallala Aquifer, a major geological feature underlying much of Nebraska.
"I want to ensure we have a roadblock in place if somebody contemplates such a transfer," he said.
Nebraska, like other western states, historically required legislative approval for surface water exports and a reciprocity agreement with another state for groundwater exports, meaning Nebraska could import water from the same states it agreed to export water to.
A 1982 U.S. Supreme Court case — Sporhase v. Nebraska — ruled groundwater was a commodity and couldn't be blocked for export under the dormant Commerce Clause of the U.S. Constitution, however.
The case originated on a farm owned by Joy Sporhase and Dellmer Moss that straddled the Nebraska-Colorado border. They were denied permission to drill a new well on the Colorado side of the state line because the area had been overappropriated by other water users.
When they sought to pump water from a well on the Nebraska side of their farm to flood-irrigate a field on the Colorado side, the Nebraska Department of Water Resources cried foul, saying Sporhase and Moss had never received a permit to transport water across state lines.
The partners appealed the decision to the nation's high court, which in addition to ruling groundwater was a commodity subject to federal regulation, kept in place Nebraska's right to regulate water use to ensure conservation.
After that ruling, the Legislature revised the interstate transfer statute to allow groundwater to be exported to other states for municipal purposes, as well as some industrial or agricultural uses.
It also allowed the state to consider whether or not a permit was in the public interest, if no other water was available for the applicant to use, and if the project would harm the nearby water supply or a future use.
That law was upheld by the Nebraska Supreme Court in 1996 after a Wyoming hog confinement operation sued the state after it was denied a permit to pump groundwater from a well in the Nebraska Panhandle.
The court found the denial of Ponderosa Ridge's permit by the Nebraska Department of Water Resources was proper because the state found Ponderosa Ridge had not adequately explored using water on the Wyoming side of the border.
Since then, Nebraska has awarded dozens of permit requests from farmers, industrial users and municipalities outside the state to tap into its groundwater.
There are currently 33 active permits for groundwater transfers to adjoining states totaling 856 acre-feet, according to the Nebraska Department of Natural Resources. An acre-foot is the amount of water needed to cover an acre of land at a depth of 1 foot, or about 326,000 gallons.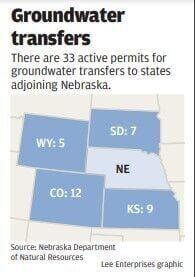 The largest out-of-state users are agricultural producers in Colorado, Kansas and Wyoming, respectively, totaling 434 acre-feet annually, department records show.
Seven municipalities outside the state get their public water supply from Nebraska sources, including Yankton, South Dakota, which filed a permit with the state in 2009 to access 5.8 million gallons per day from wells dug on the Nebraska side of the Missouri River.
The other six permits for public water supply originated in Kansas.
There are also five permits to transfer groundwater from Nebraska to other states for industrial or construction use totaling 194 acre-feet, and seven permits for domestic or livestock use totaling 28 acre-feet, according to the state.
Mike Thompson, who oversees the Nebraska Department of Natural Resources' permits and registrations division, said the application process is "relatively simple," but reviewing each permit can be challenging.
"It's very situational," Thompson said. "The facts of each potential project vary quite a bit by type of use, geologic setting and other issues."
Recently, the department has processed about one permit to transfer groundwater out of state per year, Thompson said, often working with local natural resources districts to review documentation and ensure each meets the requirements outlined in state law.
Applicants need to explain the expected use of the water, any alternative sources of water and why they chose not to use them, while the department seeks to understand if the transfer would harm an existing or future Nebraska user in the area, he added.
Thompson said the department would need to consider those questions — and maybe others — if an application seeking a permit for one of the long-rumored projects to draw water from the Ogallala Aquifer to a dry area elsewhere would land on his desk.
"We would have to weigh that carefully," he said. "The relative impact of a large project is going to take more analysis to see how a large withdrawal would affect agriculture, which could take a fair amount of effort to do."
Sarah Porter, the director of the Kyl Center for Water Policy at Arizona State University, said she's unaware of any proposal to transfer water out of Nebraska to places like Arizona, Nevada or Southern California.
Doing so would likely be cost-prohibitive for governments or developers, energy-intensive and politically explosive, Porter said, particularly rights-of-way would need to be secured across hundreds, if not thousands, of miles.
Instead of looking to move resources elsewhere, Porter said state and local governments should promote careful stewardship of water resources and sustainable development, as well as collaboration with users both upstream and downstream.
"All over the American West, there are landowners who are essentially water speculators," Porter said. "It's important for states to weigh in early and make it clear what opportunities are and are not available."
The clearest way to do that is by enacting state statute spelling out what is and isn't permissible, Porter added, as well as to keep communication lines open between states so stakeholders understand each other's problems.
Briese's bill, which will go before the Legislature's Natural Resources Committee for a hearing Thursday afternoon, spells out what Nebraska's expectations would be, Porter said.
Steve Mossman, a Lincoln attorney who represented several Banner County ranchers in the Ponderosa Ridge case, said limiting groundwater transfers out of state is "an interesting issue, because everyone is concerned about it and then it rarely ever arises."
Banning any transfers more than 10 miles out of state may run into the Sporhase case, Mossman said, particularly if it places a hindrance on interstate commerce.
"That would be a question for the U.S. Supreme Court again," he said.
Briese said he doesn't see the bill as running counter to the Commerce Clause.
Rather, it's an issue of addressing when — not if — another state comes calling for Nebraska's groundwater.
"Our job is to protect Nebraska's interests right now," he said. "I foresee it being an issue someday."