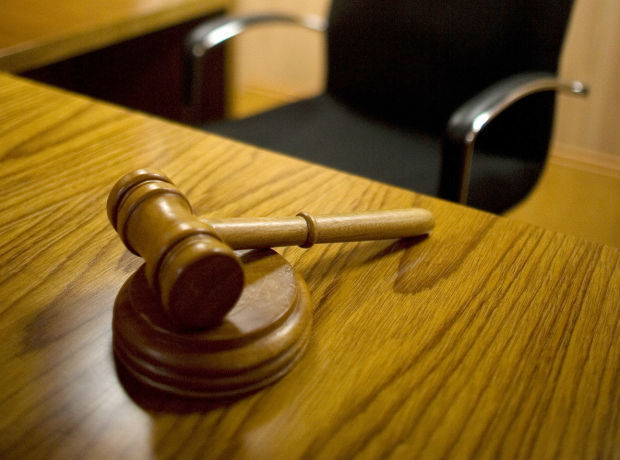 A South Dakota federal judge harshly criticized Gov. Kristi Noem and the state court system's response to the COVID-19 pandemic in an order that also strongly condemned a state judge and prosecutor for violating a defendant's Sixth Amendment right to a speedy trial. 
South Dakota can't "'take advantage' of its own failures to follow scientific facts and safeguards in entering blanket denials of the rights of speedy trials," Judge Charles Kornmann wrote in a Dec 28 document. 
Kornmann sided with Matthew Kurtenbach, a defendant who represented himself, over arguments written by lawyers for Brad Howell, the Codington County sheriff that's detaining Kurtenbach pre-trial. 
"South Dakota has done little, if anything, to curtail the spread of the virus" Kornmann wrote in his opinion and order.   
Noem "has often questioned publicly the scientific fact that mask wearing prevents the virus from spreading" and the example she set by being the only public official not wearing a mask during an event at N95 manufacturer in Aberdeen discourages the public from wearing masks, Kornmann wrote. 
Kornmann's statement that Noem was the only official not wearing a mask at the 3M factory event is false. The event took place outside with spaced seating. There is a photo of Noem not wearing a mask while the state's Congressional delegation is wearing them but there is another photo where all have their masks off during a ribbon cutting. 
The 3M plant in my town makes respirators. A bunch of political types showed up to celebrate an expansion of the plant. Here's Kristi Noem refusing to wear a mask at the GD mask factory. 🤦‍♀️ pic.twitter.com/W6gNGbsaP8

— Rachel, plain and short 🦋 (@RachelHemke) November 7, 2020
.@3M's largest respirator plant is right here in Aberdeen, South Dakota. Today, they're expanding the facility to supply our frontline medical professionals with crucial N-95s.

They'll add 100 jobs to Aberdeen, too, on top of the 200 they've already created this year! pic.twitter.com/IAqYQ7Bcbd

— Governor Kristi Noem (@govkristinoem) November 7, 2020
"Lady Justice is blindfolded for a reason. Partisanship has no place in our Courts," Noem spokeswoman Maggie Seidel said in response to the order. "It's very unfortunate Judge Kornmann, a Clinton appointee and the former general counsel for the South Dakota Democrat Party, chose to use his judicial platform to level a personal attack on Governor Noem. She will take the high road and not respond in kind."
Kornmann also criticized the state courts: "The state courts, instead of imposing their own mask mandates and utilizing other methods of preventing the spread of the disease, have decided instead to delay the trials in all criminal cases, including those where the defendant is in custody." 
Judge David Gilbertston, the soon-to-be retired chief justice of the South Dakota Supreme Court, did not order a mandate across the state courts but some presiding judges have ordered visitors to wear mask across their circuit. 
Kornmann is wrong when he said all state criminal trials have been delayed. The 3rd Circuit, which includes Codington County, has an exception for defendants who are jailed pre-trial. The presiding judges of the 4th and 7th circuits have exceptions in their orders. 
However South Dakota's federal courts have a complete ban on jury trials until Jan. 25, according to a Nov. 25 order from Chief Judge Roberto Lange​. 
Kornmann, who is based in Aberdeen, also had tough words for Carmen Means, the state judge overseeing Kurtenbach's cases, and the waiving of the state's 180-day speedy trial rule ordered by Judge David Gilbertston, the soon-to-be retired chief justice of the South Dakota Supreme Court. 
The sheriff's lawyers argued that Kurtenbach can't take his case to federal court because he hasn't exhausted all of his appeals in the state court system, the Kornmann's order says. 
The judge responded by saying Kurtenbach has "demanded over 25 times that he be tried consistent with his constitutional rights to speedy trials" but the state court has repeatedly ignored him and failed to address these demands.
Means "is not willing to promptly address his demand for speedy trials nor to promptly try his cases," Kornmann wrote. "It is clear that any further attempt to have the state court address his federal speedy trial rights would be futile."
"There is no authority for the South Dakota Supreme Court or any other court to authorize a violation of the federal constitutional right to a speedy trial," Kornmann said of Gilbertson's order. 
"The federal constitution, while flexible, does not allow a blanket refusal to afford defendants their rights to a speedy trial," he wrote. "There is no pandemic exception to the Constitution," Kornmann quoted from a recent federal appeals court ruling. 
Kornmann pointed to the fact that the federal courts in South Dakota all have mask mandates, screen visitors for symptoms, and have rearranged courtrooms and installed plexiglass screens to improve social distancing. 
Some state courts, such as the Pennington and Custer County courts, have screening and social distancing policies. However the federal court in Rapid City has more consistent and strict protocols. 
"My charges have been pending for nearly 18 months and (the court) sill seems to have no interest in bringing me to trial," Kurtenbach wrote in an Oct. 20 letter to Kornmann. 
Kurtenbach, a 39-year-old from Volga, is on federal supervised release and has 12 pending state cases spanning multiple counties, Kornmann wrote. 
His charges range from writing bad checks to an aggravated assault/domestic violence for allegedly choking someone. The alleged assault victim later signed an affidavit saying Kurtenbach had never threatened or assaulted her. However Kurtenbach remains charged with that case and 401 counts across three cases of violating a no contact order related to the assault. 
Kurtenbach was arrested in May 2019 and sentenced to eight months in federal custody for violating conditions of his federal supervised release, the order says. He and and his lawyer filed 26 demands between May and November 2019 asking for a speedy trial on the assault and a forgery case. 
Kurtenbach had some hearings in the state cases but asked a judge to dismiss his charges when the trails were set for Jan. 22, 2020, arguing the date violated South Dakota's 180-day speedy trial rule.
Means dismissed Kurtenbach's request in an order that analyzed the state rule but made no mention of the speedy trial rule under the Sixth Amendment, Kornmann wrote. The trials were instead pushed back to February and March 2020. 
But on March 13, Gilbertston issued a judicial emergency and his order in response to the pandemic. Gregory Stoltenburg, presiding judge of the Third Circuit Court, responded with an order saying it would only delay trials for non-jailed defendants. 
Kurtenbach filed his first federal petition accusing the state court of violating his Sixth Amendment right in April 2020 but Kornmann denied it since the state court had yet to rule on the same issue. 
Rebecca Reeves, Codington County state's attorney, dismissed the forgery charges in May but re-filed a nearly identical indictment on the same day. 
Kornmann said that move was not kosher: "The prosecutor cannot thwart petitioner's federal constitutional rights to speedy trials by creative pleading."
Kurtenbach appealed to Kornmann again in October, and this time the judge agreed to hear arguments from both sides. 
Kornmann came to the conclusion that South Dakota violated Kurtenbach's right to a speedy trial but said he isn't wiling to take the "severe remedy" of dismissing his state charges 
Instead, he ordered Means to hold jury trials on the assault and forgery state cases by Jan. 15. If she fails to do so, Kornmann wrote, he will order Kurtenbach released from jail pre-trial because continuing to hold him would violate his Sixth Amendment right. ​