The Legislature's Judiciary Committee was about four hours into a hearing on police reform when senators heard the revelation. 
In Nebraska, police can be hired in small communities across the state and work a year with no training. 
Brandon Lorenson, past president of the Police Officers Association of Nebraska and a Fremont Police Department detective, told the committee a person could begin working as a police officer without being certified or trained by the Nebraska Law Enforcement Training Center in Grand Island. 
His comments were part of a more than six-hour hearing Thursday that took testimony on law enforcement issues related to calls in recent months for reform and improved policing in Nebraska. 
Testimony from law enforcement, including Lincoln and Omaha police department leaders, dominated the hearing. Much of the discussion concerned police training and policies on such things as discipline, advisory boards, misconduct, use of force, choke holds and no-knock warrants. 
But the discussion on officers working without training stunned some members of the committee. 
Sen. Steve Lathrop: "So, I can carry a gun, wear a badge and enforce the law in Small Town, Nebraska ... not going through the training academy at Grand Island first?" 
Lorenson: "That is accurate."
Lathrop asked again. Could he come from a job flipping burgers to being a sworn police office for a year before going to the police academy? And again, Lorenson said, yes, as long as the person was 21, and had a high school or general educational diploma.
But he didn't know how common it was. 
The initial training at the academy is offered every three to four months and is expensive, Lorenson said. And recruitment, wages and work hours are difficult in smaller jurisdictions.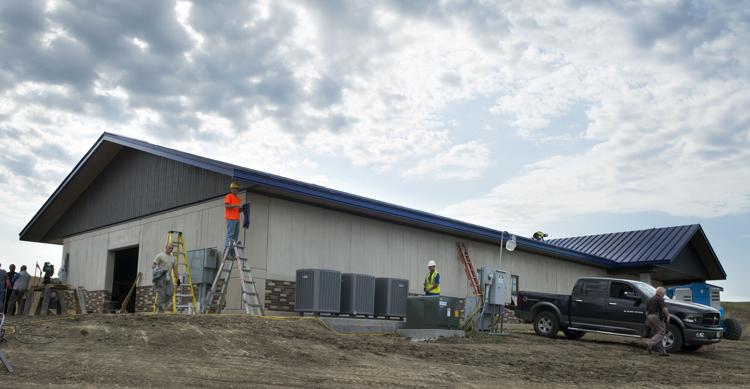 Sen. Tom Brandt of Plymouth said smaller communities are the training ground for the rest of the state, and after investing in officers they come back from training and take off for a higher-paying job in a bigger city. And that leaves the town with an opening that is hard to fill. 
"It seems sort of common among some of the law enforcement agencies (to be) a little bit of, 'Try it before you buy it,'" Brandt said. 
But Lathrop said he was concerned that high school graduates would be expected to make judgment calls without training on issues attorneys spend a semester on in law school, such as probable cause — or without training on how to shoot a gun. 
Lincoln Sen. Patty Pansing Brooks said the information was "shocking," and the state needs to buck up and get training for all law enforcement.
"I am dumbfounded by this revelation today, so we will need to continue this discussion," she said. "We want to make law enforcement better. We want to get the training."  
Omaha Sen. Ernie Chambers said if he were coming back in January — he's reached term limits — it would be one of the first things he would undertake. 
"It sounds ridiculous that this would happen, but the Legislature can correct it, and you all who are coming back have an obligation and a responsibility," he said. 
Assistant Attorney General Corey O'Brien said he wasn't aware people were still working without training until last year when an officer in Dundy County, who had served nine months without training, was out on patrol and raped a woman. 
He was successfully prosecuted. 
O'Brien said the Attorney General's Office is investigating up to 20 police officers for various misconduct violations, ranging from giving false information to use of force. It is also involved in six active prosecutions. The office has averaged about 25 investigations of law enforcement over the past 15 years, many of those prosecuted and some resulting in convictions. 
The Lincoln Police Department was praised for its transparency and enacting changes because of the Black Lives Matter movement and protests earlier this year.
Ishma Yusaf Valenti of the Malone Center told the committee police don't become racist after they become officers. It starts much earlier. 
He said 50% of complaints to Lincoln's Police Advisory Board are from Black people, even though they are 5% of the population. 
"So we know there is need for some type of change," he said. 
With that, he said, Lincoln Police have stepped up with the Hold Cops Accountable committee and an agreement that brings the police and community to the table once a month to address problems. 
That has braided into the TRACE committee, he said, with subcommittees to work toward equity and justice in policing. The policy subcommittee has given a use-of-force recommendation to LPD Chief Jeff Bliemeister, he said, and he and captains have given great feedback. 
It's what community policing should look like, Valenti said. 
In answer to a question on training, Bliemeister said police are asked to perform a wide variety of skills and are not experts in any one of them in particular. And most of them are not the traditional policing and enforcement expectations. 
"It's all of these other social services that no one else has the willingness or responsiveness to be able to pick up and take ownership of," he said. 
He suggested senators could look at the further strengthening of standards preventing people from coming into the profession who don't belong in it. It could mandate more thorough reviews from psychologists and polygraphs in the hiring process. 
"Expensive endeavors," he said of heightened standards, "but one that I believe prevents tragedy ... (and) should be a priority."
Bliemeister said the department has done a thorough review of actions by police during protests this summer. Asked what he would change, he answered communication between police and the community. 
Omaha Police Department Deputy Chief Greg Gonzalez said that since the death of George Floyd all 900 Omaha officers have had training related to suicide-by-cop, implicit bias, use-of-force policies, duty to report and duty to intervene.
And deescalation techniques are emphasized. 
The department has hired more than 350 officers in the past eight years and increased diversity at every rank, especially the officer level. 
"We want police officers that not only look like the community but speak the same language, that can solve crime," he said. 
Be the first to know
Get local news delivered to your inbox!