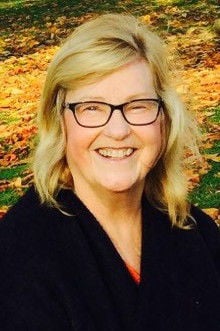 Connie Lee Frank, 70, of Scottsbluff, entered into rest Monday, February 26, 2018 at Swedish Medical Center in Englewood, Colorado. Her funeral service will be held at 10 a.m., Saturday, March 3rd, 2018 at the Salem Congregational Church in Scottsbluff with Pastor Dale Brown officiating. Interment will be at Fairview Cemetery. Viewing will be held from noon until 7 p.m. on Friday, March 2nd, at Bridgman Funeral Home in Scottsbluff. The family respectfully requests that memorials in Connie's honor be made to Salem Congregational Church or Festival of Hope (www.festivalofhope.net). Online condolences may be made by visiting www.bridgmanfuneralhome.com. Bridgman Funeral Home in Scottsbluff is assisting the family with arrangements.
Connie was born August 11th, 1947 to Frank and Bernice Rystrom. At an early age, Connie started babysitting children in her neighborhood, and the loving way people describe her care reflects upon her view of people her entire life. She developed a fondness for dolls as a child – her very favorites being Terri Lee and Ginny dolls. It was the beginning of a lifelong passion for collecting. As a young girl she loved horses and traveled with her parents who owned racehorses throughout the Midwest.
Her Scottsbluff education included Bryant Grade School and Scottsbluff Junior and Senior High. It was in junior high that she first met the love of her life, Roger Frank. Connie worked as a caddy and snack bar attendant at the Scottsbluff Country Club, as well as Woolworths and Dash-Inn. In high school, Connie was in various activities and groups,including cheerleading, being a twirler for the marching band, as well as Skittens and a variety of class offices. She attended Kearney State College after graduation and would later complete her education at Chadron State College, receiving a teaching degree with which she cherished her time teaching special education.
She was married to Roger Frank at First Christian Church on February 11, 1967. Connie was involved in many of the family businesses, including Frank Implement, Frank Motors, Holiday Inn Express Scottsbluff/Torrington, and the buying and selling of residential and commercial real estate in Nebraska, Wyoming, South Dakota and Nevada. Connie also became involved in the Scottsbluff business community, opening Deere Crossing Gift Shop in downtown Scottsbluff and was involved in various downtown activities such as business improvements and the Farmers' Market. After Roger's passing, Connie continued to invest in commercial and farm real estate, and was a strong investor in the stock market. She was still actively buying and selling properties at the time of her death.
Connie was active in her church study circle group and in organizing fundraisers for her church on a regular basis. She was an avid gardener and loved managing renovation projects on her home and various commercial properties such as the Powerhouse building. She took an active role in the preservation and rehabilitation of the Scottsbluff middle school. She traveled the US and Europe for antique and doll shows, and was also a member of the Panhandle Doll Club, the United Federation of Doll Clubs, Philanthropic Educational Organization (PEO), Zebra's Book Club and Questers. She could be seen at Barrett Jackson car auctions across the US with her family. Most of all, she was a huge supporter and a front-row fan of her seven grandchildren's sport and dance activities.
Connie is survived by her sons, Jason Lee Frank and partner Vincent Lopez of New York, NY and Andes, NY, Bryan Lee Frank and his wife, Holly of Scottsbluff; daughter, Alyssa Lee Frank of Las Vegas; grandchildren, Jackson, Mitchell, Lincoln, Barrett, Herman, Chevy and Esprit; sisters, Janice Hornbacher of Mesa, Arizona and Marilyn Snyder and her husband, Malcom of Denver, Colorado; sisters-in-law, Dorothy Steele of Scottsbluff, Ruby Keller of Gering, Cheryl Petrig and her husband, Jim of Lincoln and Debbie Potts of Ft. Collins; and several nieces and nephews.
Connie was preceded in death by her parents; husband, Roger Frank; her aunt, Mabel and uncle, Dick Fertil; father-in-law and mother-in-law, Herman and Pauline Frank; brother-in-law, Harley Hornbacher; sisters-in-law, Marion Wood and Peggy Frank; and brothers-in-law, Kenneth Steele and Gerold Keller.
Obituaries Newsletter
Sign up to get the most recent local obituaries delivered to your inbox.