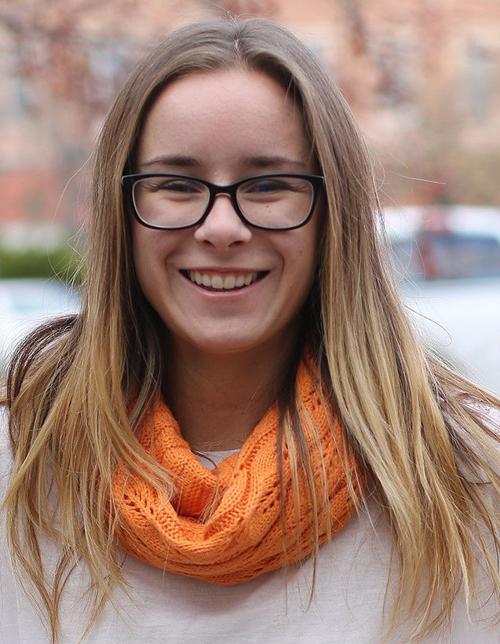 Three hundred and eighty-one days. That's how long I've been away from Nebraska and frankly, I can't wait to be back.
For new subscribers who I have not had the privilege of meeting yet, my name is Lauren Brant and I'm a reporter for the Star-Herald. I previously worked for the Star-Herald and the Gering Courier before my husband, Dylan and I pursued other career opportunities in Colorado in March of 2020. As Colorado natives, my husband and I decided to leave Nebraska behind after spending several years in the Chadron and Scottsbluff areas to be closer to family and start a new chapter. But there was just something missing.
We created many fond memories in Nebraska, earning degrees at Chadron State College, getting married, starting our careers and forming lifelong friendships with so many people in the Panhandle. Now we're coming back to a place we consider home with a new family member, our 21-day-old son, Lukas, along with our two dogs Copper and Trapper.
To say 2020 was a whirlwind would be an understatement. Moving from Scottsbluff to Grand Junction, Colorado, in the midst of the COVID-19 pandemic made house hunting an interesting feat. The pandemic halted open houses, but the market demand remained high. After nearly seven months, we found a house to raise our family and got settled.
All of our focus shifted to our child.
I found out I was pregnant with our first son on July 26, which is Dylan's birthday. The moment is still clear as day. I ran across the Target parking lot in Grand Junction to Dylan, who was waiting in our car. Little did we know that day would be the start of an adventure that would impact our lives in more ways than we imagined.
Over the next eight and half months, our emotions went on a rollercoaster knowing our son would need heart surgery after he was born.
After arriving at Children's Hospital of Colorado to be induced on March 15, the nurses hooked me up to a monitor and placed a heart monitor around my abdomen to monitor Lukas' heartbeat. As we met with the team of doctors, a nurse kept coming into the room asking me to roll from one side to another. As the anesthesiolgist informed me about the unlikelihood of needing general anesthesia, I became speechless. I felt like someone was hitting me with a hammer over my right hip. I rolled onto my left side into the fetal position and started crying.
The doctors and nurses asked me what was wrong, but I was in intense pain and could only point at my hip. Dylan and my mom, Becki, stood up behind the doctors and everyone stared at the heart monitors, which I could not see.
Frank Chow, the OB-GYN then told everyone we need to go now. Within seconds the doctors and nurses were pushing me into the operating room. I was put to sleep as the doctors prepared me for an emergency C-section. Lukas' heartbeat had stopped, but I would not learn this until several hours later.
Days later, Dylan carried Lukas into the operating room for heart surgery. While my parents shared their experience when I had heart surgery as a baby, there is no amount of mental and emotional preparation to ease the concerns of a parent.
Still, the support of friends through this time has been a blessing and only made the decision to return to Nebraska easier.
This past year has changed me and made me value the power of relationships and compassion for others. It also made me realize my family's Nebraska story is far from over. We are looking forward to reconnecting with colleagues and friends and I am excited to continue to tell the unique stories of western Nebraska and the people who call it home.