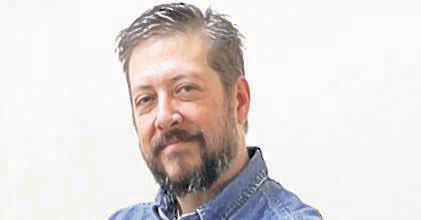 The kid called in a panic. It certainly wasn't the first time and I'm sure it won't be the last.
That's OK. I signed up for the job. When you buy the ticket, you take the ride. Some people have accused me of having a child only for column fodder. I've written enough on the trials and tribulations of being a dad over the last 20-plus years to fill a book on questionable parenting.
But column fodder is just another perk that goes along with fatherhood, like dirty diapers, sleepless nights and sky-high auto insurance.
I wouldn't change a thing.
Over the years the panic calls ranged from homework that didn't make into a book bag to car trouble to one hysterical late-night ring all the way from Germany, where she was cornered by the thing she hates most – a spider – in a room where she was supposed to sleep as her host family snoozed down the hall.
"I can't get on a plane, fly to Germany, rent a car, drive to where you are and kill the spider," I explained as rationally as I could. "You have two choices: Kill it yourself or go wake up Hansel and Gretel and get them to do it."
It worked out, but not so well for the spider.
She's now in her early 20s (my daughter, not the spider), working her first real job at a big-city aquarium after earning a biology degree. I believe a biology degree is more valuable than my degree, which is English. I picked that because I could already speak the language. It seemed like a no-brainer at the time.
If you have any questions about commas, Shakespeare or bad career decisions, email me. I'm your guy.
So, back to this latest panic call. It all came out in one stream-of-consciousness shriek, but here is what I gathered: The aquarium, like many businesses, went on pandemic hiatus and sent her home. Coworkers, who I imagine consist mostly of other 20-somethings working their first real job, advised her to immediately file for unemployment benefits.
It was an arduous online task that took hours, with stops and starts, being kicked off the website again and again because every other 20-something working his or her first real job was following the advice of their coworkers and doing the same thing.
In the end, she answered a question on the application wrong, based on information from her company that later changed, and she could not go back in and alter the application. In what I imagine were huge bold letters on that application was a stern warning that anyone lying to get benefits could be prosecuted.
"I don't want to be prosecuted!" she said.
I don't know anything about unemployment benefits. I realize I am very fortunate. I went from cooking shrimp, pounding nails and bailing hay to stringing words to together for the enlightenment and entertainment of others and no one has managed to run me off yet.
But I do know the unemployment police are not going to arrest a 20-something working her first real job because she made a mistake on an application for benefits during a global pandemic.
"Oh, yeah," I said. "You're going straight to prison all right."
"Calm down," I said. "I'm kidding. It's just a mistake. The government has more worries right now than prosecuting you."
It took a while, but I talked her off the ledge and convinced her a prison cell was not in her immediate future.
To be on the safe side, though, if there are any unemployment police out there reading this and you come across a benefits application from a 20-something working her first real job who was sent home from a big-city aquarium and there's a mistake on it, it was not intentional. No fraud intended. Please do not arrest her.
Because if you do and she gets one phone call, I know who will be on the receiving end.