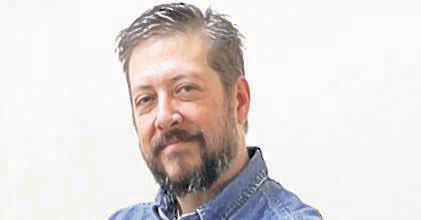 The QAnon Shaman is sorry. Very sorry.
The man who became the poster boy for the capitol insurrection, the horned-hat wearing, shirtless, face-painted, wild-eyed rioter who has the distinction of being reviled by talking heads from both CNN and Fox News, issued an apology for his actions after spending a month in jail.
His real name is Jacob Chansley and he was indicted on several federal charges related to the Jan. 6 riot in Washington, D.C.
He wasn't exactly hard for federal investigators to find. He left behind a trail of video evidence, damning statements and a horned hat.
While in federal detention, Chansley, better known as the Shaman, ate specially prepared organic food because regular processed jail chow is against his religious convictions.
(Note to self: If arrested, contend that being held in a confined space is against my religious convictions.)
Despite the sprouts and raw milk, the Shaman doesn't like jail and wants out because he is sorry. Jail tends to clear a man's head, no matter what kind of hat he puts on it.
Here are portions of the Shaman's statement released by his lawyer:
"I deeply regret and am very sorry I entered into the Capitol Building on January 6, 2021. I should not have been there. Period."
"I am sorry for having aroused fear in the hearts of others. That was wrong. Period."
I bet grading the Shaman's elementary school book reports was a chore for the teacher. Period.
Whether the Shaman is truly sorry for his actions, quickly found jailhouse religion or will say anything to be reunited with his horned hat, this much is true: He's never going to live down those pictures and videos inside the Capitol Building.
Let's look at a future job interview scenario.
"Mr. Chansley, it's a pleasure to meet you. Won't you come in and have a seat?"
"Please, sir, call me the Shaman. I'm very much an informal kind of guy."
"Yes, I gathered that from your lack of a shirt."
"It's against my religious convictions to wear a shirt on any day ending in Y."
"I see. Mr. Shaman, let me tell you about our job opening. You've applied for the vacant position of quality control here at the Acme Corporation, proud makers of such products as artificial rocks, rocket-powered roller skates and glue. Unfortunately, the media, specifically Looney Tunes, has unfairly linked many of our products to the antics of a certain roadrunner and coyote, implying our products are prone to fail.
"That coyote is really a crazy clown -- and part of a secret cabal of communists and globalists who aim to keep organic food away from political prisoners."
"Be that as it may, Mr. Shaman, tell me about yourself and why you would be a good fit here at Acme."
"I'm 33 years old. I live with my mom. I am currently unemployed. My previous work experience is in the shaman field. I enjoy wearing a horned hat, long walks on the beach and storming things. To be candid, sir, I regret storming some things. I have learned the consequences do not agree with my dietary restrictions. My dislikes include shirts, when my face paint smudges during insurrections and jail food. I believe I would be a good fit here at Acme because I will believe deeply, with all my heart, anything you tell me, no matter how ridiculous and impossible. If you want me and thousands of my closest friends to storm Warner Bros. and hold that treasonous coyote accountable for his actions, I can make that happen."
"Mr. Shaman, thank you for coming in. You'll be hearing from us."
"I'm not getting the job, am I?"