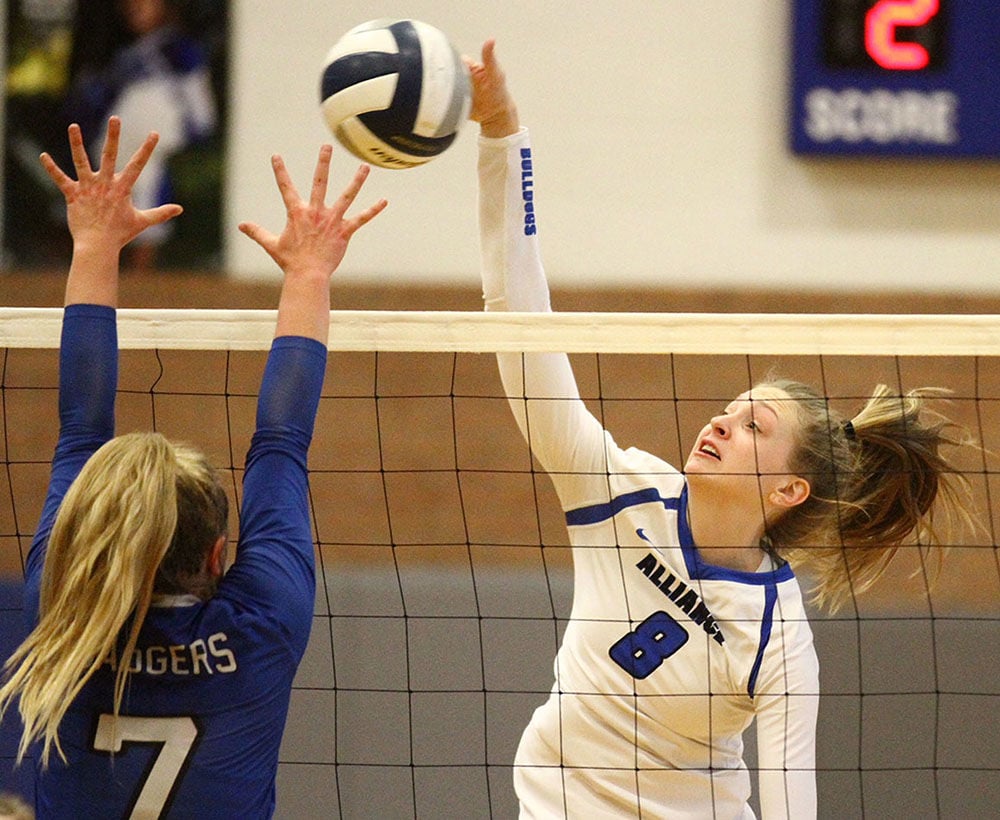 ALLIANCE — Following one of the most successful two-year runs in school history, the Alliance volleyball team isn't expecting that to come to an end just yet.
Despite graduating a group of seniors that combined for lofty statistical numbers, including two-time Star-Herald All-Region Player of the Year Emersen Cyza, the Bulldogs are aiming to maintain their winning ways this fall.
"We have some big shoes to fill from last season, but I am very pleased with where we're at right now," third-year Alliance head coach Jessica Kaiser said. "I felt like all summer when we stepped on the court we became more comfortable, more confident and improved every time. We do have a lot of letter winners returning and a great senior class that will help lead us."
One of those leaders will be 6-foot-3 senior middle blocker Jordan Hopp. She returns as a three-year starter and is an Iowa State University recruit. Last year as a junior, Hopp put down 196 kills, served 24 aces and totaled a school record of 143 blocks.
Joining Hopp as a returning starter is 5-7 senior Khloe Felker. Felker led the Bulldogs defensively last season with 346 digs.
The Bulldogs also return an experienced group of letter winners led by seniors Lillie Otto, Cameron Tritle and Peyton Weber. Weber missed all of last season with a knee injury. She would have been in the starting lineup.
"Our whole senior class is ready for this opportunity to be leaders," Kaiser said. "They've been super positive and have great attitudes. It's also cool to see how much they expect of the young kids, too."
Other returning letter winners include juniors Billi Alvarado, Olivia Knapp and Brooke Davidson. Alvarado will step into the setter position after the departure of Megan Oligmueller and Shelbi Mills, who combined for over 900 assists last year.
"She was our setter for JV last year," Kaiser said of Alvarado. "As of right now, it looks like we'll be running a 5-1 with her and she's doing really well. She's getting a lot of confidence and she's moving the ball around to all the players really well."
Alliance finished last season with a final record of 29-6 after going 24-9 the previous year. After falling one win short of qualifying for the state tournament in 2017, the Bulldogs achieved that goal of advancing to Lincoln last year for the first time since 2000. Alliance swept both the sub-district and district championships.