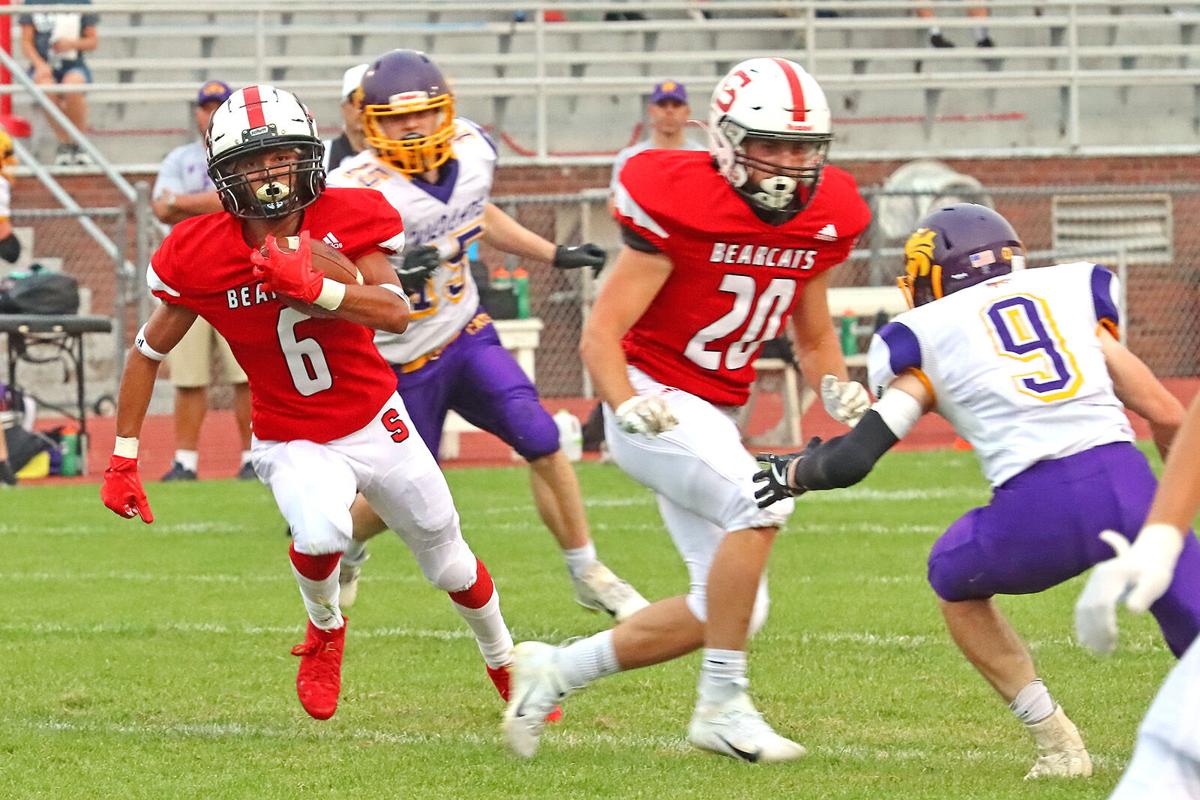 The Scottsbluff football team used a 21-point second quarter and a strong ground game en route to shutting out Custer, South Dakota, 35-0, on Friday night at Bearcat Stadium.
The win gives Scottsbluff its first win of the season, unofficially improving the Bearcats to 1-3. Although Scottsbluff has played four games this season, its first loss to Class A Columbus and Friday night's win over Custer are not recognized by the NSAA as both games were fill-ins for cancellations against Fort Morgan, Colorado and Sterling, CO., which moved their seasons to the Spring of 2021.
Scottsbluff head coach Jud Hall felt that although the score didn't reflect it, the Bearcats had to execute properly and do the little things to come out on top.
"We were a team that didn't have a lot of big plays tonight," he said. "We had to grind out first downs, keep the ball alive and do those things to help you win a game like this and I think we did that tonight. I think we took a step forward tonight as a team.
Scottsbluff found the endzone for the first time just 29 seconds into the second quarter when Alex Galindo finished off a 2-yard run, set up by his own fourth-down conversion at the end of the first to give Scottsbluff a 7-0 lead after the point after try from Placido Rodriguez.
That sparked two more touchdowns in the quarter when quarterback Brett Hill found Galindo on an 18-yard pass at the 7:38 mark to make it 14-0, followed by a 36-yard drive capped off by a 1-yard run by Hill to extend the Bearcat lead to 28-0 at halftime.
Scottsbluff's defense was solid in the first half, forcing an early interception followed by four consecutive punting situations resulting in favorable field position for the Bearcats. Scottsbluff's defense even stonewalled the Wildcats into a 4th and 32 resulting in the short touchdown drive with 28 seconds to play in the half.
Although the Bearcats were hitting on all cylinders throughout the contest, Hall said there were still going to be areas of opportunity getting ready for next Friday's showdown with Northwest.
"You see good things and bad things in wins and losses," he said. "So we'll go back, look at the film and hopefully we'll prepare the kids the right way again this week to compete on Friday against Grand Island Northwest."
Galindo picked up his third touchdown of the game with 8:01 to play in the third quarter on a 4-yard run to go up 28-0.
Hill added his second rushing score of the night with 8:20 to go in the contest on a 1-yard run to nail down a 37-yard drive and the win.
With the Covid-19 pandemic looming throughout the country and Custer making the trip south to fill the void in both team's schedules, Hall tipped his hat to the Wildcats and said it was good to give both teams the opportunity to play the game when there are a lot of others out there who will not get the opportunity to experience a season this year.
"I think in this time, or what we're dealing with, sometimes we lose sight of what's important in letting these kids play," he said. "Having Friday night experiences needs to be the first and foremost thing we're focused on and talking about. Wins and losses will come and go every year, but these kids have been through a lot of stuff the last nine months or so. To have an opportunity to play on Friday night at home or away, underneath the lights with your friends, with your buddies, that's something you remember forever. So, I'm glad we had the opportunity to give those kids the experience tonight."
Galindo led the Bearcats in the contest, chewing up 138 yards on the ground and pulling down two catches for 29 yards. Galindo accounted for two rushing touchdowns and one receiving. Hill also had a stellar night offensively, rushing for 54 yards with two touchdowns and passing for 59 yards and a touchdown. Jackson Ostdiek added 50 yards on the ground, while Preston Anderson chipped in 44. Trevor Schwartz pulled down one catch for 20 yards, while James Bruner added one catch for 10 yards. Bruner was also instrumental on defense with a pass break up before halftime that saved the shutout bid.
For Custer, running back Daniel Sedlacek finished with 34 yards on the ground and 12 yards receiving. Chance Harsh added 16 on the ground and 30 receiving. Gage Tennyson added 26 rushing yards and 36 yards receiving, while Sterling Sword ended the night throwing for 63 yards.
Scottsbluff will next be in action on Friday night when it hosts Grand Island Northwest.
S — Alex Galindo 2 run (Placido Rodriguez kick)
S — Brett Hill 18 pass to Galindo (Rodriguez kick)
S — Hill 1 run (Rodriguez kick)
S — Galindo 4 run (Rodriguez kick)
S — Hill 1 run (Rodriguez kick)
Be the first to know
Get local news delivered to your inbox!