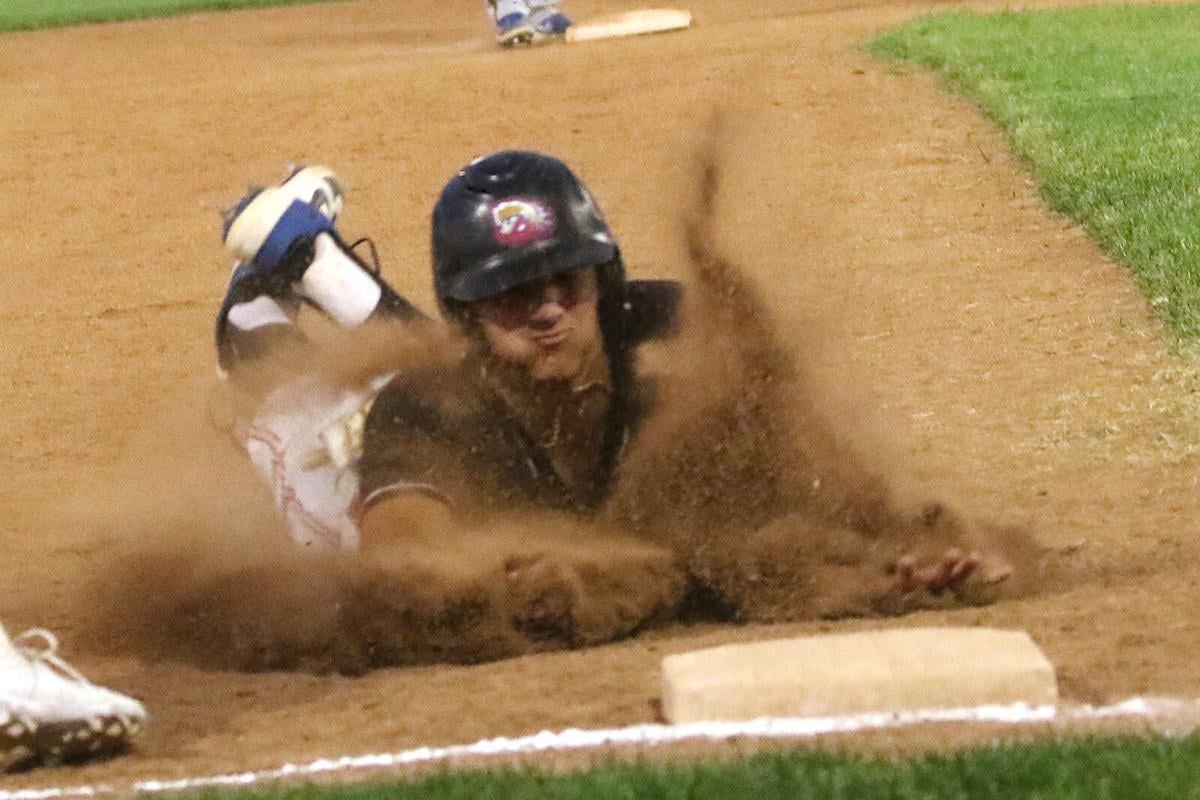 The Western Nebraska Pioneers got strong pitching and a 6-run 8th inning to register a 7 -2 win over the Badlands Big Sticks on Thursday.
The contest was a pitcher's contest for 7 ½ innings as both teams offense wasn't getting the big hits as the two defensives were stopping rallies early in the contest.
With the Pioneers trailing 2-1 entering the bottom of the eighth, Western Nebraska scored six runs, including a 3-run home run by Tyler Davis for the win.
Pioneers head coach Antonio Garcia said it was nice to see the team come back with some big hits in the eighth to get the win.
"We started off a little sluggish with the sticks but I was glad to see us going in the eighth," Garcia said. "A lot of guys came through and there was nothing I could ask for."
A big key was the pitching staff. Jack Lewis Miller got the win tossing the final 2 1/3 innings in striking out three and allowing just two hits. But it was also the pitching of starter Caden Edwards and Juan Diego. Lopez. Edwards went five innings in allowing one run with five strikeouts and three hits while Lopez went 3 2/3 innings in allowing a run, three hits, and striking out two.
"From Caden Edwards to Diego all the way to J.L., those guys pitched their hearts out," Garcia said. "They did a great job and nothing more I could ask out of them. That is awesome to see as we continue to build and keep getting further into the season, building on those guys and we have a lot of other guys that are ready to go. It was exciting to see them do a good job tonight."
While the pitching staff was throwing well, the offense struggled early on as they scored just one run in the first seven innings. The sixth is win the hits became contagious. Garcia said that was the key.
"Hitting is contagious; that is what they say," Garcia said. "The last couple days we have been swinging the bats really well and tonight we came out a little flat. It was nothing to be worried about. We came and got it done. We battled and battled, and I couldn't be prouder of the guys for fighting and staying in the game even when we were down. We haven't been down too much, but when we are down, just staying with each other and getting the job done when we needed to."
Neither team scored in the first three inning even though both teams had runners on base. It wasn't until the fourth when the Pioneers broke the goose-egg on the scoreboard with a run on two hits. Tyler Gerety led off with a single and scored on a single by JT Waldon for the 1-0 lead.
Badlands came right back to tie the game at 1-1. The Big Sticks then took a 2-1 lead with a run in the seventh as Carson Landmark singled in Marcus Hughes with a 2-out hit.
Western Nebraska came back in the eighth and found their offense scoring six times on six hits. Kip Gronholz led off with a single followed by a Eric Smelko single. Cade McGee got a single to score Gronholz with the tying run. Gerety followed with a single to load the bases. Waldon then singled to score to for a 4-2 lead. Mikey Felton then reached on an error and that set up Tyler Davis blasting a 3-run home run for the 7-2 lead.
The Pioneers finished with 10 hits on the night. Gerety, Waldon, and Davis each had two hits each. Gerety had two runs scored with his two singles, while Waldon had three RBIs and a run scored with his two singles. Davis had a single and a home run along with three RBIs and a run scored.
The Pioneers will now head to Butte, Montana to face the Mining City Tommyknockers, a team that is leading their division. Garcia said it will be important to play tough against a team that is playing well.
"I think they are atop the Lewis Division. It will be a good test for us and it is a big road trip," Garcia said. "We have a 12-hour bus ride, leaving at 4 a.m. so we will get there and see what we have going. Hopefully we can keep the momentum going and come back with another series win."
In other action in the Expedition League on Thursday, the Souris Valley Sabre Dogs defeated the Casper Horseheads 23-1; the Fremont Moo topped the Hastings Sodbusters 6-3; Sioux Falls Sunfish defeated the Wheat City Whiskey Jacks 3-2; and the Mining City Tommyknockers defeated Canyon County Spuds 6-5 in 10 innings.
Badlands 000 010 100 – 2 8 2
Pioneers 000 100 06x – 7 10 0
WP – Jack Lewis Miller; LP – Casten Reed.