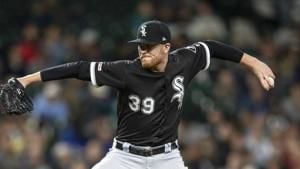 One day during spring training, Aaron Bummer told Chicago White Sox manager Rick Renteria he was impressed with teammates Michael Kopech, Dylan Cease and Dane Dunning while watching them throw in the bullpen.
Renteria responded with a compliment for the ex-Husker.
"I said, 'Man, I wouldn't want to sit in the (batter's) box with you pitching,'" Renteria said in early March. "He's got stuff that could put you back on your heels. He can get a lot of ground balls for us in big situations."
Bummer is one of the top bullpen options for the Sox. The 26-year-old left-hander had a strong spring with five strikeouts and two walks in 4 hitless innings. And then baseball went on pause due to the coronavirus.
Bummer is now gearing up for the 60-game season at summer camp.
"I want to be ready to go every day," Bummer said last week. "A lot of relievers pride themselves on that, to be ready to go each and every day. If it's three outs, two outs, two innings, whatever it is, I want to do as much as I can to help my ballclub win.
"I want to go out there and do my job as much as I can and hopefully help us get as many wins as we can. I've prepared myself this offseason, during the quarantine, expecting that. Expecting to be able to go as much as I can for as long as I can for the duration of the season."
The Sox mostly used Bummer as a setup man in 2019. He finished with a 2.13 ERA, one save, 27 holds, 60 strikeouts and a 0.99 WHIP in 58 appearances.
He took a lot away from the year.
"Just having the confidence that my stuff is going to play, and it doesn't have to be any better," Bummer said in March. "It doesn't have to be perfect. I just have to have faith in my ability.
"And when I have faith in my ability, I tend to have success. It's a mentality of believing in yourself, which is a big thing for me."
The successful season led to a new contract. Bummer and the Sox agreed on a five-year, $16 million deal Feb. 22. The contract includes two club options that could extend it through 2026.
"It's something that doesn't happen often, especially pre-arb(itration) relievers," Bummer said in March. "Maybe three or four that have gotten a contract like that. The fact that the front office has faith in me to continue to do it … when they didn't necessarily have to is a confidence boost knowing what I can do moving forward."
The Sox share that confidence.
"We are not afraid to use him in any situation," Renteria said in March. "He's developed and put himself in a really good position."
Bummer's road to the majors began when the Sox selected him in the 19th round of the 2014 draft out of Nebraska.
He missed the entire 2015 minor-league season after undergoing surgery to remove "loose bodies in his left forearm," according to the Sox media guide. He began 2016 on the injured list while recovering from left elbow surgery and was reinstated July 19.
Bummer first reached the majors in 2017 and has become an essential part of the Sox bullpen.
He focused on staying sharp, and staying safe, during baseball's break.
"Just taking care of my body, being able to throw as much as possible, being able to work out as much as possible in a safe way," Bummer said. "Obviously, staying safe. The priority of that quarantine, the priority of the break was to be safe. As long as we got as many guys here as possible staying safe and staying healthy, I think that's a big win."
And he is confident the Sox are in position for success in this pandemic-shortened season.
"It's always catching fire at the right time," Bummer said. "We've got a young group of guys mixed in with a whole bunch of veterans that have been there and done it. I'm excited to get everybody together and hopefully we can ride that wave, hopefully we start out strong.
"A lot of people have said, you can break it down into three seasons — you're going to win 20, you're going to lose 20, what are you going to do with the other 20. Hopefully we're going to go out there, catch fire and win a whole bunch of games."
The past 10 years of Nebraska baseball
Be the first to know
Get local news delivered to your inbox!