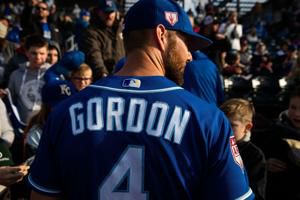 Kansas City outfielder Alex Gordon addressed several topics Thursday while taking part in a webinar sponsored by the Team Jack Foundation.
Those topics for the former Lincoln Southeast and Nebraska standout included making it through the pandemic, the Royals' playoff runs, a dugout prank and future plans. The 30-minute session was hosted by former Husker and NFL football player Jeremiah Sirles.
Gordon talked about his support for Team Jack, a Nebraska-based foundation focused on raising funds for pediatric brain cancer research. He also has been involved with Alex's Lemonade Stand, another foundation that funds research projects to combat childhood cancer.
Q: How are you staying in shape though these pandemic conditions?
A: I've got a weight room downstairs and we also have a batting cage, so I'm staying game ready. We know that we're going to have another spring training and we've been warned that when we get the call that it's going to happen quick.
Q: Tell us about your family.
A: We live in Kansas City full-time now. We have three kids — boys who are 9 and 6 and a girl who is 2. We're hunkered down here now but we make it back to Nebraska as much as we can.
Q: What's the status of the baseball season?
A: We're all kind of in the dark right now. We've heard all of the rumors but we'll address things as we get more information.
Q: Talk about your only major-league team, Kansas City.
A: For me, it started growing up and being a fan of the Royals. There are good people in the organization here and I wanted to stay loyal to them. The more I was here, the more I wanted to stay.
Q: Talk about some of your career highlights.
A: Playing at Nebraska and reaching the College World Series was one. When our bus pulled up to Rosenblatt Stadium and we saw all of that Husker red, it made us feel like rock stars. And then in Kansas City, pushing through and making the playoffs in 2014 and 2015.
Q: What about your former manager, Ned Yost?
A: He always stuck by our side and always had our back. He helped us believe in ourselves.
Q: Who were your role models?
A: My mom and dad led by example. I also knew that my older brother Eric had my back, so all of my success goes back to my family.
Q: Which teammate had an effect on your career?
A: When I came into the league in 2007, (first baseman) Mike Sweeney took me under his wing. He told the equipment manager to make sure that my locker was next to his.
Q: In your opinion, who are the greatest players of all time?
A: I grew up watching Ken Griffey Jr. His swing was amazing and he always looked like he was having fun. I'm a good friend of George Brett and I'll always cherish that, so those are the first two names that come to mind.
Q: Who handles the home schooling at your house?
A: In most households, it's usually the wife. When it gets to be recess time or PE time, that's when I take over. I made sure I told my wife "Happy Mother's Day'' about 100 times this year.
Q: Best prank in the dugout?
A: Somebody — I won't say who — put food dye in the bubble gum and chewing tobacco. I remember Mike Moustakas running out to third base with a green mouth.
Q: Which former teammates do you miss the most?
A: Pretty much everyone from the 2014 and 2015 teams. Moose (Moustakas), (Lorenzo) Cain, (Luke) Hochevar. Also Eric Hosmer, who was probably my favorite teammate.
Q: Compare the 2014 and 2015 teams.
A: For me, the 2014 season was my favorite. To finally break through after 30 years and make the playoffs and then start off the postseason 8-0, I can't even explain how much fun that was.
Q: Any plans for when your playing career is over?
A: I'd like to take a year or two off and just spend it with my family. From there, probably something related to baseball or maybe training. I'll have a lot of time to think about that after it happens.
Q: Anything else you'd like to say today?
A: Being a part of an organization like Team Jack is what makes Nebraska so great. We all stick together and have that love and support for the Nebraska community.
Alex Gordon through the years
Be the first to know
Get local news delivered to your inbox!