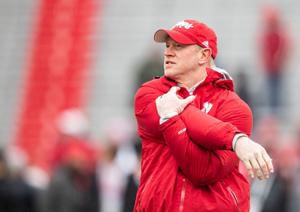 The Big Ten announced Thursday it is moving to a conference-only schedule for all fall sports, including football.
The Big Ten is the first power conference to drastically change its season due to the coronavirus outbreak. The Ivy League — which is in the FCS and is a smaller league compared to the Big Ten — announced Tuesday it was cancelling all fall sports.
Though the Big Ten hasn't gone that far, it's still a significant alteration.
"We are facing uncertain and unprecedented times, and the health, safety and wellness of our student-athletes, coaches, game officials, and others associated with our sports programs and campuses remain our number one priority," the Big Ten said in a released statement.
The Big Ten concluded its statement by saying it's "prepared to not play" at all "should the circumstances so dictate." By limiting its teams to only conference games, the Big Ten said it has more flexibility to adjust its plans based on the pandemic.
The Big Ten's decision applies to all fall sports, which for Nebraska includes football, volleyball, soccer and cross country. It will determine at a later time how each sport will be affected.
University of Nebraska President Ted Carter, Chancellor Ronnie Green and Athletic Director Bill Moos released a joint statement responding to the Big Ten's announcement.
"We are pleased that the Big Ten is planning to move forward with fall sports. The conference has determined a path forward that helps to mitigate risk and will allow Husker student-athletes to compete on the field and in the arena. The most important thing is the safety of our student-athletes and that of our Athletics staff and coaches, and we appreciate the thoughtful approach taken by the Big Ten. Athletics is a valuable part of campus life, and important to our community and the state of Nebraska. We are fortunate that the COVID-19 pandemic has not been as widespread in Nebraska and look forward to safely hosting Big Ten competitions. While there are still many details left to be worked out, we are eager to safely cheer on our Husker student-athletes."​
For Nebraska football, that means nonconference home games against Central Michigan (Sept. 12), South Dakota State (Sept. 19) and Cincinnati (Sept. 26) will be canceled. This will be the first time Nebraska will have a season without nonconference games since it joined the Missouri Valley Conference in 1921.
It's not yet clear what Nebraska's new football schedule will look like.
Nebraska was previously slated to play nine conference games, four at home and five on the road. Below is a look at the Huskers' conference games as originally scheduled:
There will be a financial impact if the Huskers play fewer than their originally scheduled seven home games, especially if there are limits on fan attendance. According to the most recent financial filings, Nebraska makes about $4.6 million off each home game.
This will also have a significant effect on the financials of those schools with nonconference games scheduled against Big Ten teams. The Huskers were set to pay $1.3 million to Central Michigan, $515,000 to South Dakota State and $400,000 to Cincinnati for those games in Lincoln.
Athletes in fall sports can continue to go through voluntary summer workouts as they are currently doing at Nebraska.
Be the first to know
Get local news delivered to your inbox!