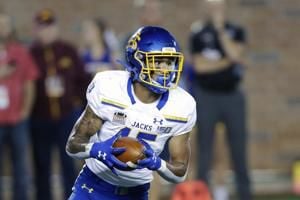 That was the first thought that flashed through Cade Johnson's mind when he heard the news Thursday afternoon. While warming up for a training session at a performance center in Omaha, an intern told South Dakota State's record-breaking receiver that the thing he had been dreading was now reality.
The Big Ten was shifting to a conference-only schedule amid the coronavirus pandemic. The game the senior and so many of his teammates had been looking forward to — at Nebraska on Sept. 19 — wouldn't happen. Just like that.
"It took me a little bit to process the news," the Bellevue West graduate said. "Once I saw it on Twitter that the Big Ten actually said that, it took my breath away. I was really bummed about it."
Johnson wasn't the only one preparing a little something extra for the Huskers. Ten Jackrabbits from Nebraska high schools were gearing for the chance to play inside Memorial Stadium against a program that, in many cases, paid them little or no attention during their recruiting processes.
Some of the team's younger Nebraskans at least had walk-on offers from coach Scott Frost's staff, including redshirt freshman safety Baily Darnell (Auburn), sophomore safety Chase Norblade (Papillion-La Vista South) and redshirt freshman defensive end Caden Johnson (Wahoo Neumann). Two other Jackrabbits are former NU walk-ons: junior kicker Cole Frahm (Omaha Burke) and defensive back Isaiah Stalbird (Kearney).
Others on the team are redshirt freshman receiver Shane Dailey (Bellevue West), junior punter Ben Dinkel (Kearney) and senior offensive lineman Jack Domandle (Millard West).
SDSU senior safety Joshua Manchigiah (Papillion-La Vista South) started all 13 games last year. The former three-star prospect from the 2016 class went to Nebraska camps but was "just kind of overlooked" by the Huskers at the time, he said. No one there contacted him about even a walk-on opportunity.
"This is my fifth year up here, so by this point I'm a little bit over it," Manchigiah said. "But it definitely would have been in the back of my mind trying to prove them wrong."
Nobody is ruing the missed opportunity more than Cade Johnson. He thrived against Minnesota in a nonconference game last year with six catches for 90 yards and a 25-yard run. His FCS school led in the fourth quarter before losing 28-21 to an 11-win Gopher team.
Only one wideout in Division I or FCS has more receiving yards the past two seasons than Johnson's 2,554. A likely 2021 NFL draft pick, he set a school record for touchdown catches in 2018 (17). In 40 career contests, Johnson has 162 grabs for 2,872 yards and 28 scores.
The son of former Husker Clester Johnson — NU's leading receiver on its 1995 championship team — spoke with Dad on Thursday, too. The turn of events would have been harder, the younger Johnson said, without his standout game against Minnesota. But the what-ifs linger. He wasn't even invited to attend the walk-on banquet in Lincoln during his recruiting process.
"SDSU has made it so they want to get Nebraska kids and bring those kids in," Johnson said. "I grew up with people who should have easily been at Nebraska. It was a prove-yourself kind of game."
Manchigiah, who is Johnson's roommate, said disappointment has been his overriding emotion since COVID-19 dashed his dreams of playing inside Memorial Stadium for the first time. He was in the early stages of figuring out how to secure tickets in the visitor section.
"I think it would have been an awesome environment in front of a bunch of family and friends," Manchigiah said. "And I think it would have been a good game. People saw what we did last year against Minnesota. We would have given (Nebraska) a run for their money."
Caden Johnson — no relation to Cade — wonders if Nebraska would have been his second collegiate game after he made one appearance as a true freshman. SDSU's scout special teams player of the year in 2019 had more to show his home-state school after NU coaches came by Wahoo once to check on him.
His family had season tickets growing up, Johnson said, which would have made facing the Huskers in Lincoln even more surreal. But all that bleacher experience also suggests to him that the now-scrapped September game would have been memorable for the competition, too.
He guarantees no one would have wanted to win more than his band of local brothers at South Dakota State.
"A lot of us felt like Nebraska missed out on us recruiting," Johnson said. "So it would have been a great opportunity to show not only the program but also everybody back home that we play just as good of football as the big boys."
What led them to Nebraska? Looking back at 11 Nebraska greats as recruits