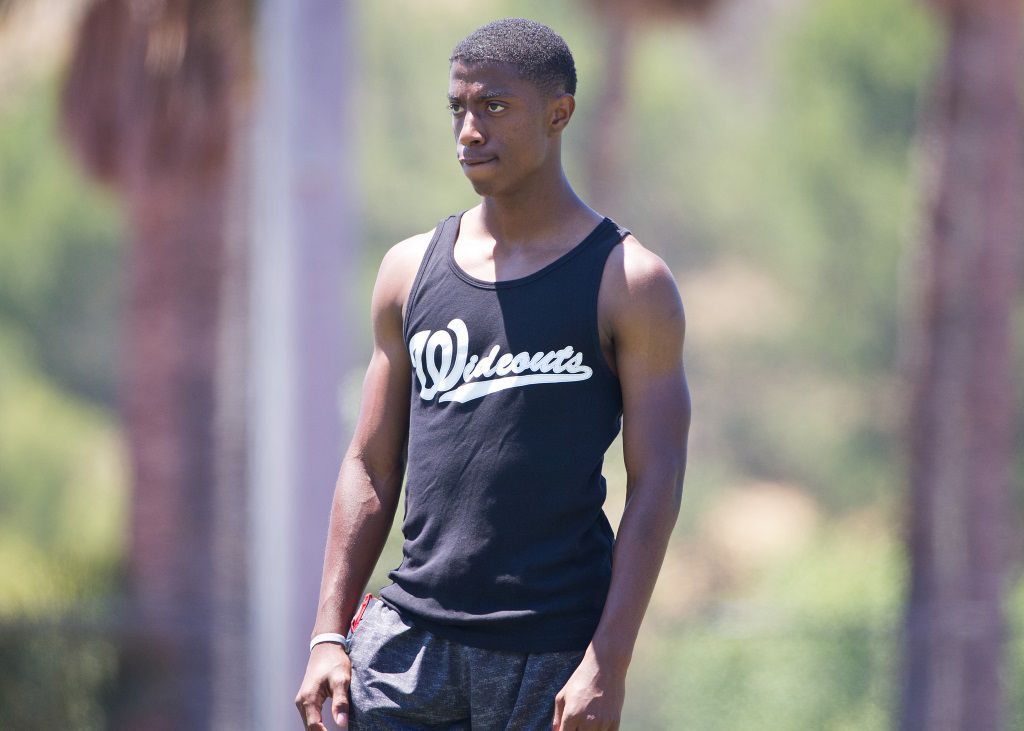 LINCOLN — Top receiving target Jamire Calvin shocked Husker fans and coaches Saturday when he picked Oregon State over NU at the U.S. Army All-American Bowl, but Nebraska isn't out of the running for the 2017 prospect yet.
Yana Johnson, Calvin's mother, told The World-Herald Wednesday that Calvin's recruiting process isn't over despite the dramatic announcement on NBC. NU is not only in the mix, Johnson said, it's where Calvin prefers to attend. Calvin, a slot receiver at Los Angeles Cathedral High School, is currently committed to the Beavers, Johnson said, in large part because he's trying to consider his family's ability to attend games.
"His heart is with Nebraska," Johnson said. "He wants to go there."
Calvin, who caught 86 passes for 1,312 yards and 14 touchdowns, declined a request for an interview earlier in the week.
The 5-foot-9, 175-pound four-star slot receiver, believed to be a lock for NU and its "Calibraska" movement, was visibly emotional during his announcement Saturday. Johnson said Calvin had switched from Nebraska to Oregon State Saturday morning, largely because he wanted his family to see him play in college — both his parents, Johnson said, and Calvin's younger sisters, who are 13 and 9.
"It's something we're trying to work through, how we'd be able to travel for the games," Johnson said. "It's not personal. It's more of an issue of how we are going to get there. If we can't go see him play in any games, then what is it all for?"
Calvin's choice of Oregon State — a Pac-12 North team that plays at USC or UCLA occasionally — surprised the family and Nebraska's coaches. Johnson said NU coach Mike Riley called after Calvin's decision. Riley was Oregon State's former coach.
"He just wanted to know where Nebraska went wrong and if there was anything they could have done differently," Johnson said. "Coach Riley is awesome."
Johnson said Nebraska's staff "put in the work" to land Calvin. She praised NU wideouts coach Keith Williams' relationship with Calvin and Riley's approach the process.
The process isn't over, either, Johnson said, adding that a final decision would be made Feb. 1 on national signing day.
"Be patient," Johnson said.
Nebraska may have received more good recruiting news early Wednesday morning when Las Vegas Bishop Gorman wideout Tyjon Lindsey — a top-50 national prospect — decommitted from Ohio State in the middle of the night. Lindsey had Nebraska among his finalists when he picked OSU in August. Lindsey is a consensus four-star prospect ranked No. 38 nationally in the 247Sports composite service.
Lindsey's quarterback and close friend, Tate Martell, enrolled at Ohio State Wednesday. Lindsey announced on Twitter he wouldn't be talking to reporters until signing day, when he announces his decision at Bishop Gorman, a national high school football power that produced current Husker left tackle Nick Gates.
Lindsey averaged 25.3 yards per catch in three years at Gorman, accounting for 31 touchdowns. He hurt his right knee after playing three games and missed most of Gorman's season. He attended Nebraska's Friday Night Lights camp in June.
Lindsey — and perhaps Calvin — are likely to get visits from Husker coaches soon, as the recruiting dead period ends Wednesday. Starting Thursday, coaches can make visits to prospects. Nebraska has 15 commits in its class. As of Thursday afternoon, it ranked 33rd nationally and sixth in the Big Ten in the 247Sports composite team rankings.
Photos: Husker recruits flock to Memorial Stadium during season