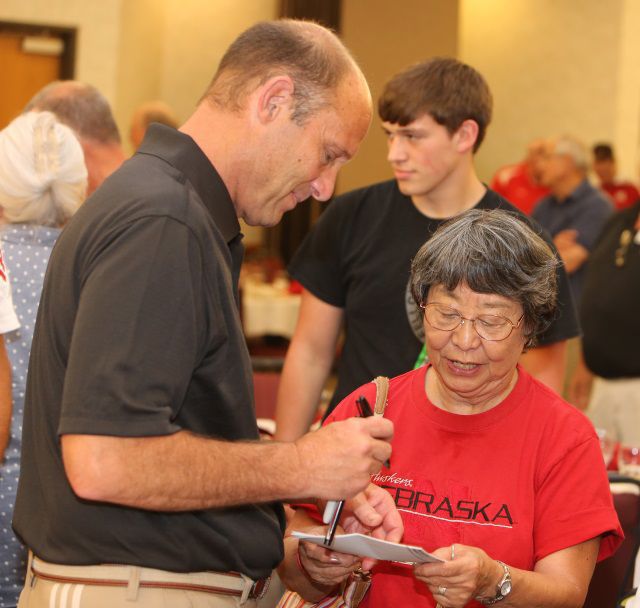 In his first visit to the Panhandle, Nebraska coach Mike Riley spoke to a large group of local Husker fans at the Scottsbluff-Gering Rotary Club's luncheon on Tuesday at the Gering Civic Center.
Riley was joined on his trip west by NU Director of Athletics Shawn Eichorst and Executive Director of Player Personnel Billy Devaney. Riley and Eichorst are crisscrossing the state and meeting with Husker fans as part of an ongoing outreach tour. The pair left for Hastings following the luncheon. They have also visited fans in Valentine, Lexington, North Platte, Kearney, York, Columbus, Omaha, and Beatrice.
"We're all in this together," Riley said. "We're making an effort to come out and share the word with everyone we can. It's been really fun. We appreciate the loyalty from every corner of this state. This is my first time out to this part of the state. It's nice and beautiful country."
Riley is entering his second season guiding the Huskers. He led NU to a 6-7 record last season, which was capped with a 37-29 win over UCLA in the Foster Farms Bowl on Dec. 26. The former Oregon State and San Diego Chargers head coach said he's much more comfortable going into year two in Lincoln.
"The comfort level is way different," he said. "I think the biggest part of that comfort is getting the chance to meet people and getting to know the young men in the program. They are fabulous guys. We're looking forward to keep building and play better and better football as we go."
Riley spoke to around 300 people in attendance at Tuesday's luncheon. He talked about certain players on the team, the Huskers' summer camps, and early goals for this coming season.
"We want to win all of the games," he said. "That's a very simple way to get started. In order to do that we have to win the first one, so we'll get ready for that. I think it's important to get a good start — win the games early and get better. If you do that you have a really good chance of being in the picture and in the championship run at the end."
Riley has been especially excited about the Friday Night Lights camp going on in Lincoln. Every Friday night in June high school players from in and out of the state participate in a camp at Memorial Stadium. Riley said the camps are a big hit with the participants, the Husker coaches and players, and the fans who come out to watch.
"We invite high school players within the state and from around the country to come in and work out in a camp setting in our stadium on Friday nights," he said. "The lights are on and it's electric in there. Our coaches and players do a lot of coaching and teaching. Players from all over the place get a chance to learn a little bit, compete against each other, and also showcase their talent. We have three of them in June. It's been really exciting."