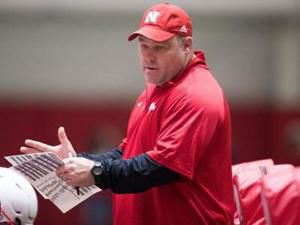 LINCOLN — You can't teach speed, says the high school coach of Nebraska football's newest 2021 commit. And Los Gatos (California) outside linebacker Will Schweitzer has the speed.
He has the joy, too, Los Gatos coach Mark Krail said before Schweitzer, a 6-foot-4, 220-pounder, announced his verbal pledge to the Huskers on Thursday.
"Will just has a lot of fun playing football," Krail said.
But what likely intrigued Nebraska — and many other schools — about Schweitzer was the big frame and versatility that he appears set to bring to NU's defense. He logged 218 total tackles, 20 tackles for loss and six sacks over the past two seasons for Los Gatos. He had three interceptions, too. He can cover in the flat, Krail said, play the weakside run and, on third down, put his hand in the ground and rush the passer.
And here's the thing: Schweitzer didn't play linebacker until his junior season, Initially, he was disappointed in not being able to play full-time at defensive end, where he figured he'd get more recruiting attention.
But Schweitzer made the transition seamlessly, he said, through film study and weight room work. The move ended up making him a more interesting prospect.
"Anytime you can get to third down and you don't have to switch personnel, that's pretty valuable," Krail said.
That's a textbook hybrid player in Nebraska's 3-4 defense, and Schweitzer was prioritized by outside linebackers coach Mike Dawson to join the 2021 class. The three-star prospect picked the Huskers over California, Utah, TCU, San Diego State and Virginia, which Krail said made a late push for Schweitzer.
Nebraska won out, though, because of the work Dawson and the rest of the coaches put in developing a relationship with a player who, because of the coronavirus pandemic, has yet to see NU. Nebraska was the second team to offer Schweitzer a scholarship, he said. And defensive coordinator Erik Chinander — one of the better recruiter coordinators in college football — made sure Schweitzer knew how important he was to the class.
"I got a text from Coach Chinander every single morning," Schweitzer said. "We laughed about it, because I thought it was a bot at some point, almost on repeat, but Chinander said, 'Naw, man, I just care about you.' Me and Coach Dawson and Coach Chins, we're super-tight. I can't wait to start working with them and Husker Nation."
"Scott Frost and those guys just did a really, really good job," said Krail, adding that he was "surprised" when NU made the cut down to five. Frost talked often to Schweitzer, Krail said, and helped sell the vision.
Nebraska's Memorial Stadium helped, too.
"Will wanted a big gameday atmosphere, and Nebraska is that," Krail said.
Schweitzer said he'll attend at least one game in the fall.
"The love the fans give, it's second to none," he said. "Playing football there is a dream come true."
Schweitzer becomes the second outside linebacker in the 2021 recruiting class, following Miami (Florida) Northwestern pass rusher Patrick Payton. Like Schweitzer, Payton has not seen Nebraska in person, either. Schweitzer is the fifth linebacker overall in the class, joining Chris Paul, Randolph Kpai and Seth Malcom. All three of them project to inside linebacker although, in the case of Kpai, he could, in theory, play either role.
Linebacker was a major need when Frost took over the program, as several key 'backers — Mohamed Barry and Dedrick Young among them — quickly exhausted their eligibility while many more (Avery Roberts, Guy Thomas, Quayshon Alexander, Pernell Jefferson, Andrew Ward and Willie Hampton among them) bounced after it became clear they wouldn't start or, in many cases, even push for playing time. Nebraska could have three senior starters at linebacker in 2020 — JoJo Domann, Will Honas and Collin Miller — plus junior Caleb Tannor. Behind them, there are two junior college transfers (Niko Cooper and Eteva Mauga-Clements), two sophomores (Garret Nelson and Luke Reimer) and a raft of untested freshmen.
Schweitzer is the 10th-overall commit for the Huskers' 2021 class and the first high school player from the state of California since the 2018 class.