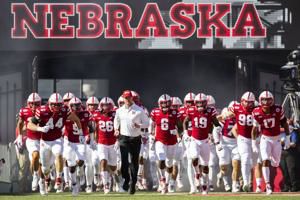 Scott Frost wants his players to express themselves on social media. He doesn't limit what they can say. But he and other Nebraska coaches remind them, too: Your feed is a "resumé to the world."
"We've never tried to stifle our kids voices," Frost said. "I want them to have the outlet to say what they think. We'll always try to encourage that kind of free thinking and free speech in our program."
Frost was asked the question in the wake of two notable stories in the sport of college football involving Iowa — where current and former player concerns led to a separation agreement with long-time strength coach Chris Doyle — and Oklahoma State, where running back Chuba Hubbard called for "change" on his Twitter feed in response his coach, Mike Gundy, being seen wearing the t-shirt of a right-wing news network.
Conversations inside athletic departments have been frequent since the killing of George Floyd in late May — and subsequent protests and rallies that continue in Lincoln and elsewhere. Frost hasn't been able to yet have a team meeting with his players — there are too many of them to put in one building and meet coronavirus protocol, but he's been able to speak to many individually. He said Tuesday he'd heard positive feedback from players he had talked to and would be "shocked," at this point, if anyone on his staff had used a racial slur or been racially insensitive.
"I haven't been involved in every conversation that's happened in this building or other buildings we've been in, but that's not the type of men that I know that work here," Frost said. "In fact, in fall camp, every single night we have team building, and usually that team building is having people come talk to the team about issues like this. Whether it's race, treatment of women, whether it's gambling — making sure our kids stay away from that. We try to educate our guys as often as we can about all those things."
One of the team-building nights during this training camp, Frost said, will be what kind of language is appropriate or inappropriate to use.
"Some of those words are not welcome in our program — from anybody," Frost said.
Football programs tend to navigate these issues better, Frost said, because teams have players from so many diverse backgrounds and races.
"Football teams, honestly, are kind of an example that a lot of people can follow," Frost said. "We need to be an example because of our influence here at Nebraska football, and we'll try to be, but the best way I know how to do that is to continue to try and provide an environment within these walls where everybody feels safe and equal."
Meet the Nebraska football coaching staff