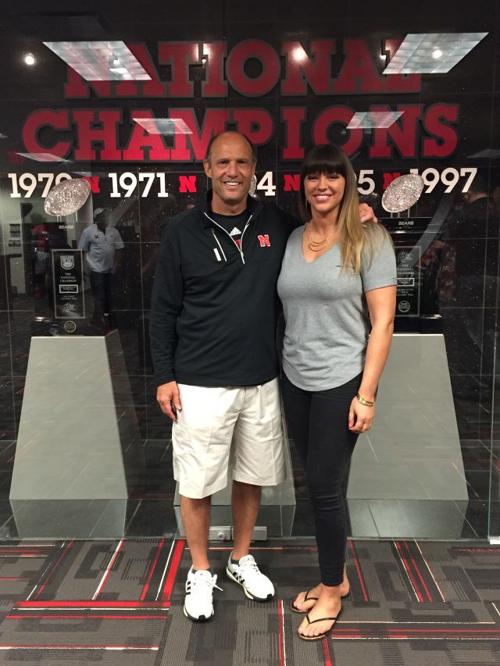 LINCOLN — Two security guards stood like sentries inside the Tom and Nancy Osborne Athletic Complex. One at the front door, another in front of the elevator.
Visitors to the Nebraska athletic department on Wednesday were told to sign in and were escorted into the elevator. Access to the Husker football offices, on the second floor, was banned.
Normal procedure? No. This was just for today. A "special meeting" was taking place.
Meanwhile, a few blocks away at a Haymarket hotel, Brenda Tracy was escorted by two NU athletic department officials to that meeting.
Tracy was on her way to tell the Nebraska football team what it was like to be a gang rape victim.
And then she would meet face-to-face with Nebraska football coach Mike Riley, a man she once hated because she felt he had trivialized the crime by giving Oregon State football players a light punishment.
This was an extraordinary day for college football. An extraordinary day for Nebraska football.
The security and escorts seemed over-the-top, until you thought about it. When Tracy told her story a few years ago, she received threats when her alleged assailants were arrested years ago in Oregon.
Would there be a threat here? Probably not. This was the middle of a hot June day on a lonely campus. This was not Nebraska's story. Tracy came here upon the invitation of Riley.
But making Tracy feel comfortable was absolutely the right thing to do.
And inviting her to speak to Nebraska young men? Even better.
Sexual assault is a story on all college campuses. It's every school's concern. Nebraska's concern. Nebraska's story.
Brenda's story is one that they all — especially athletes — should hear.
Tracy was expected to tell the Huskers about the night in 1998, in an apartment near Oregon State's campus. About the four football players, two from OSU, who spiked her drink and then raped her.
She was expected to tell them how it felt, to be frightened and helpless. The humiliation of waking up the next morning, naked, surrounded by condoms and trash.
The Oregonian detailed the alleged attack in a story in 2014. Riley suspended the two Oregon State players for one game. The charges were eventually dropped against the players.
Through the years, Tracy wanted a one-on-one meeting with Riley, to give him a piece of her mind, to tell him how she felt, how his punishment seemed inadquate for an incident she says changed her life forever.
The coach invited Tracy to talk to his Oregon State team, let the young men hear directly from a victim what it feels like, how it can alter the victim forever.
When he moved to Nebraska last year, the invitation was still open. Tracy agreed. She would tell her story. She would get to look Riley in the eye.
On Wednesday, the moment finally arrived.
Dan Van De Riet, NU's associate athletic director for football, escorted Tracy to Riley's office. Tracy stopped.
"Is he in there?" she asked.
"I took a breath," Tracy said.
This was the man Tracy once said "I hated more than the rapists." The reason, she said, was you can rationalize what a rapist does because that's who they are. But it's hard to understand "a good man doing a bad thing."
She walked into Riley's office. Athletic director Shawn Eichorst was seated to the right. Riley got up from behind his desk.
"He said, 'Hi Brenda!' and smiled," Tracy said. "Then he hugged me. He allowed me to cry on his shoulder for a few minutes."
Riley did not want to be interviewed after the meetings. Instead, he released a four-paragraph statement that recognized Tracy's pain and strength, expressed gratitude for her sharing her "powerful" story and acknowledged that sexual assault and harrassment are "serious issues on campuses across America."
Tracy, reached afterwards at her Lincoln hotel, talked about the meetings in detail. The registered nurse from Portland, Oregon, with long dark hair, stopped to dab a tear once in a while. But she was together — more than ever.
"I feel like a ton of bricks has been lifted off my back," she said.
Tracy met with Riley from 3:30 to 4:45 p.m. She said she asked him every question she had wanted to ask, all these years.
"He answered everything," Tracy said. "Looking at Riley and Mr. Eichorst, I felt like they got what I was saying. I could look at them and feel like they were receiving what I was saying."
Tracy said the coach apologized for not doing more research into what happened and finding out Tracy's story.
"He (Riley) said he just knew the players had been arrested and the charges were dropped," Tracy said. "He knew he had to do something. He didn't consider the impact on my life. He didn't do any research into it. He said he didn't know any of the specifics.
"I do believe coach Riley. I did not feel any deception coming from him. He said if he had known, he would have done something. That that would not happen today."
The meeting with Riley ended with a photo of the coach and Tracy in front of the football trophy case. Then she met with the Husker football team, for less than an hour.
She didn't know what to expect, didn't know what she would tell them. Tracy said she had no speech written or words planned. She was going to "wing it."
Perhaps that's why Riley requested the meeting be closed. No one had seen a meeting like this, rape victim and football players. Tracy had requested the meeting be open to the media. But there was no way to know how emotional it would get, what would be said.
It went very well, she said.
Surprisingly well? Maybe, sure. Because even she didn't know what to expect.
"I felt welcomed here," Tracy said. "I did not feel any animosity in that room. There was no lip service. Everyone here thanked me for coming. And they meant it."
When Tracy told the players there was no one she had hated more than Riley, she said she could see every player in the room "turn their heads and look at Riley for a reaction."
But she told them she hated him no more, and the players should be grateful that he is their coach.
"This is real accountability, real transperency," she said. "I told them, you should appreciate what kind of coach you have. It's okay to be accountable. It's okay to say you're sorry."
Tracy said she told her story, told every detail.
"Every detail," she said. "The players were really engaged. I didn't see anyone on their cell phone. Coach Riley said he had never seen them like this."
Her message was to empower the players — they have the power, not the administration, to create impact from stories like these. She said several Husker players asked questions. What can they do?
The players had suggestions, too. Release teal-colored balloons at the spring game (teal is the color of sexual violence). One player said the team could take an "It's On Us" pledge. Another said the players could wear teal wrist bands in a game.
She told them that the few bad apples do these things, but it's up to the 95 percent of the good guys to pave the way to change and awareness. They nodded.
They talked about the "Team Jack" campaign for Jack Hoffman at NU. Tracy suggested a "Team Jill" campaign to talk about violence against women.
After the meeting, Tracy said a few Husker players came up to her and told them about women they knew who had been raped. Tracy was taken aback. The power of this meeting went both ways.
Her meeting with the players lasted almost an hour. They posed for a photo. And then, Tracy said, "we had pizza."
We weren't allowed to talk to Riley or the players to gauge their emotions or feelings afterward. But Tracy had a good handle on it. She thought it was a worthwhile meeting, with impact around the room.
"I'm very proud of coach Riley and his football team," she said. "I think there was really good synergy in the meeting. I feel like they can be a good example in a very dark time for college football."
She's referring to the Baylor story, but she knows there are countless other stories in college football. Tracy is trying to do her part. She has helped affect legislation in Oregon regarding sexual assault laws. She also successfully lobbied the Pac-12 to ban transfers with character issues.
"Seeing violent athletes transfer around has to stop," she said. "Another thing is if you are found guilty of sexual assault, you don't play again for that team. It's pretty simple, right?"
If only it were. But Tracy wants to become an advocate, wants to impact change. She says every college football team should hear these stories.
And if flying to Nebraska to talk to a room full of young men she didn't know, can save one college girl from being raped? "Totally worth it," she said.
One day in mid-June in Nebraska. Not just any other day. Maybe the beginning of a new day.