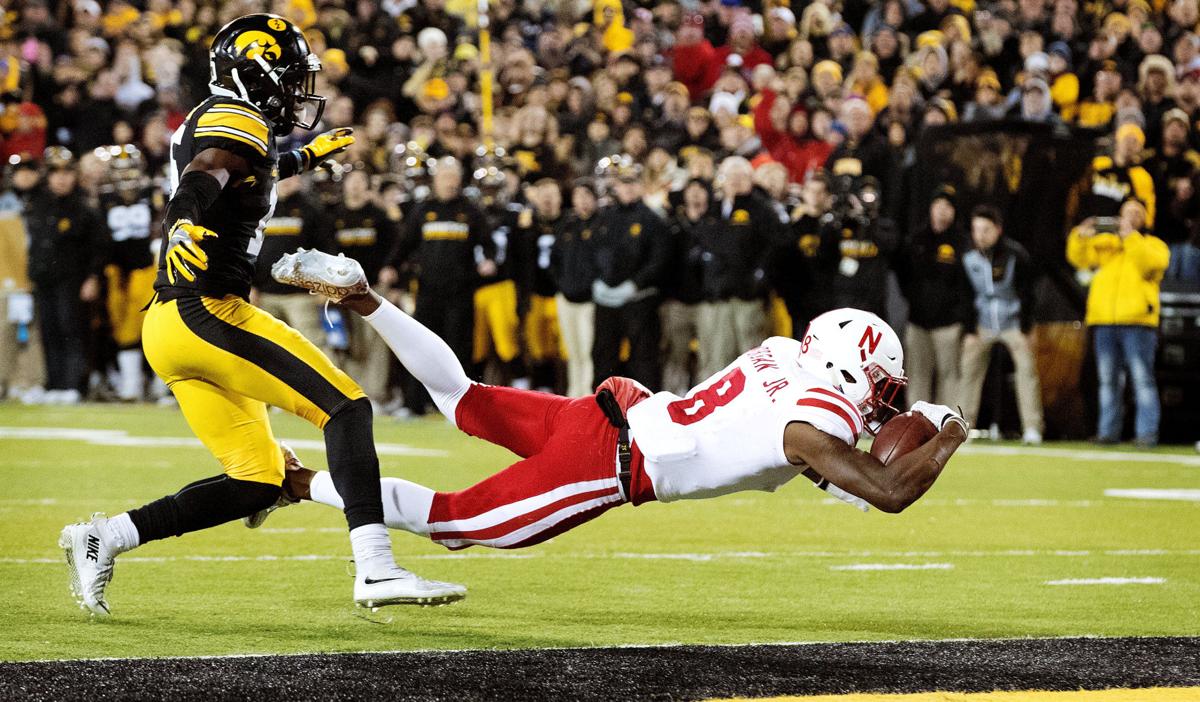 IOWA CITY — One good way to measure an offense's explosiveness is to examine yards per play. More than seven yards per play is excellent. Fewer than four yards per play is the opposite.
Since joining the Big Ten, NU has only been under three yards per play in one game — the 59-24 loss to Wisconsin, at 2.81 yards.
But the Huskers 3.19-yard average in Saturday's 40-10 loss to Iowa is its second-lowest average of the Big Ten era. The Huskers gained 217 yards on 68 plays. Nebraska didn't have a run longer than 11 yards or a pass longer than 19 yards. While Nebraska's defense gave up three giant plays — of 75, 77 and 56 yards — NU's offense couldn't answer with any of its own. Nebraska only converted 5 of 18 third downs, as well.
That's part of how the Huskers, despite completing just 52.3 percent of their passes coming into the game, threw 37 passes — 35 by starter Tommy Armstrong and two by backup Ryker Fyfe. Fyfe would have thrown a third pass, but he was sacked on NU's final offensive play of the night.
"We fell into that proverbial trap today," coach Mike Riley said. "You're in that situation where you've got to score points. You haven't really sustained much of anything."
The trap came up with Nebraska trailing 26-10 in the third quarter. The Huskers had just scored their only touchdown of the day on a 14-play, 75-yard drive. NU's defense would force Iowa into back-to-back punts.
Nebraska's offense went three-and-out on both of those opportunities. On both drives, NU ran the ball on first down, then threw the ball on second and third downs. None of the passes were complete.
Offensive coordinator Danny Langsdorf said the Huskers' running game — which only gained 90 yards on 31 carries — was going "OK" and was close to hitting a few more runs if offensive linemen had held their blocks a little longer for Tre Bryant and Terrell Newby.
"There were a couple that I thought we were really close on," Langsdorf said. They were two-yard gains that could have easily been big ones. A couple of Tre's, a couple of Terrell's."
Langsdorf said Nebraska ran the ball better outside the tackles than it did inside the tackles.
"Their linebackers are in the backfield in a hurry," Langsdorf said. "You've got to get up to them quick. Otherwise they're very disruptive. That happened on a few plays. We were able to hit a few outside runs."
In the passing game, Langsdorf said the Huskers' offensive line protected Armstrong OK. The Hawkeyes never sacked Armstrong during the game, and he did have to find his receivers.
The senior misfired on several deep passes. A few times, Langsdorf said, Armstrong made the wrong read, but more often he was just a little off on the passes.
"We had to play some one-on-one shots that we had open," Langsdorf said. "Brandon Reilly had three of them that he won on. We weren't able to make plays. You've got to be able to hit some of those, just to loosen them up."
Because the Huskers didn't, they had a historically bad day on offense — at least from a yards per play standpoint. It's the second-fewest points NU has scored in the Big Ten era — the lowest was 3 points at Ohio State. It's also the third time Nebraska has gained fewer than 300 yards against Iowa. The first two were in 2012 (263) and 2013 (288). NU scored 13 points in 2012; and 17 in 2013.