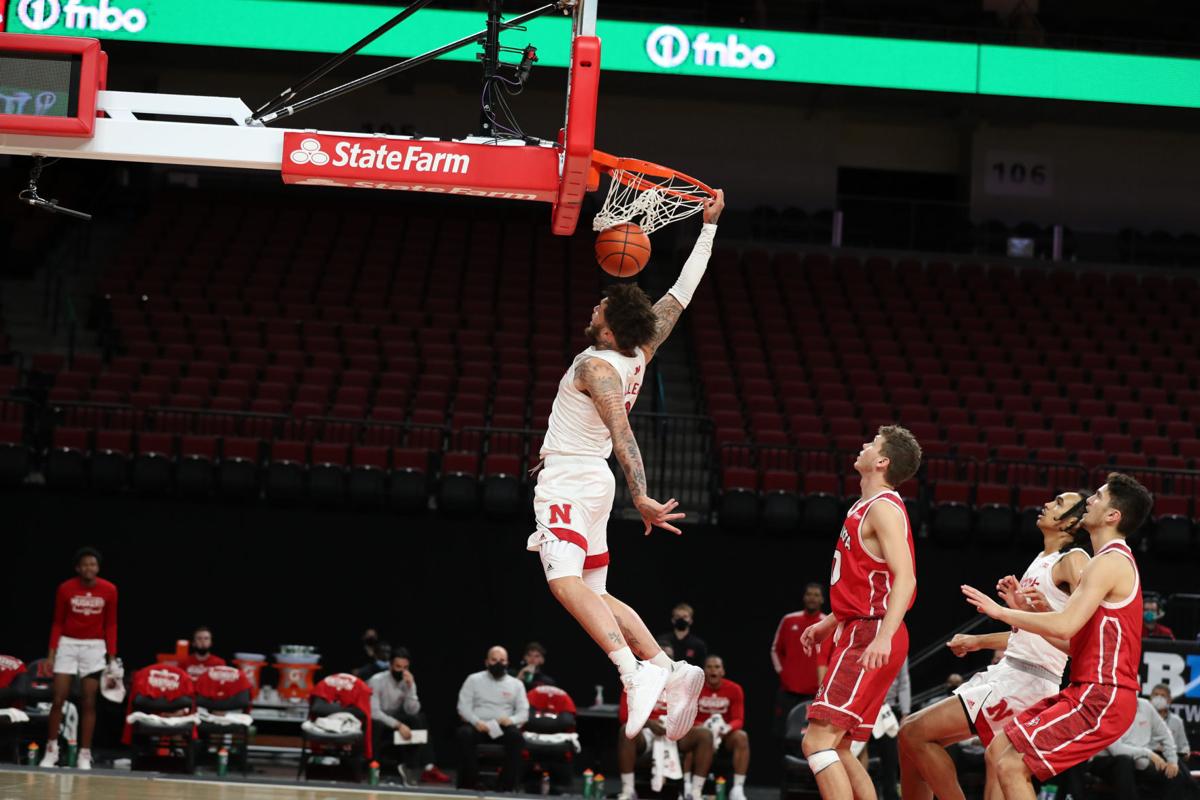 LINCOLN — It's an empty Pinnacle Bank Arena, so you didn't have to guess at how Nebraska guard Teddy Allen's roar sounded as he came to the bench early in the second half of NU's 76-69 win over South Dakota.
The former Boys Town star had just scored seven straight of his game-high 23 points to get the Huskers' blood flowing Tuesday night after a sluggish, foul-ridden first half in which Allen had played just six minutes. He made up for it in a hurry.
"We rode Teddy," said coach Fred Hoiberg, who later noted Allen's ability to score all over the floor. "Teddy really got it going. We just cleared things out and let him go to work."
By the time Allen celebrated a second corner 3-pointer from Husker guard Kobe Webster, the rest of his teammates had caught up with him.
NU (3-1) used a 12-2 run midway through the second half to put away the pesky Coyotes (0-3), who couldn't buy a 3-pointer for most of the game but had a pace and defensive plan to frustrate Nebraska, which frequently turned possessions into aggressive, one-on-one drives to the hoop.
The approach initially worked against the Huskers — who committed five offensive charges — before paying off for NU, to some degree, in the form of 30 free throws, of which NU made 21. Allen hit seven of those. Trey McGowens — who added 13 points and six rebounds — hit six.
Hoiberg wasn't thrilled with NU's impatience on offense against USD's pack-it-in defense — "we just tried to split them and drive through them" — but saw a mentally "fried" team that woke up at 7 a.m. for COVID testing and didn't tip off until 8 p.m.
"Hell, I'm usually in bed by now," Hoiberg quipped around 10:15. He was glad to see Nebraska grind through a game in which South Dakota, he said, played harder and had more energy early. Forward Shamiel Stevenson, whom Hoiberg deemed the player of the game for his defense, said NU responded "a little late."
"But we responded," Stevenson said. "The win was ugly."
The Huskers overcame late scoring from A.J. Plitzuweit — who scored 24 — and standout play from South Dakota senior guard Stanley Umude, who had 11 rebounds and scored 23 points in a variety of ways. Hoiberg credited Stevenson for hounding one of the best players in the Summit League all over the floor, but Umude struggled only from 3-point range — he hit 1 of 6 — and, in that, he mirrored the struggles of his team, which came into the game making 5 of 34 from 3. The Coyotes hit just 7 of 26 Tuesday night.
NU wasn't much better from long range — 7 for 24 — but Webster's two 3-pointers came during a stretch in which he and Dalano Banton triggered the game's defining run. Nebraska built the lead as large as 18 before a finish as sloppy as the Huskers' start.
Early, USD controlled the pace and game until McGowens hit a 3-pointer with 7:15 left in the first half to tie the game at 22-22. Lat Mayen made his second trey to give the Huskers a 27-24 advantage. That started a 12-5 run over the final 6:07, mostly executed while NU's two top scorers, Allen and Banton, sat on the bench with foul trouble. McGowens led all Huskers in the first half with nine points, while Allen and Stevenson pitched in seven.
The first half was marked by two long reviews attached to one South Dakota possession and 21 fouls, two of which were technical fouls.
"With all them fouls, it slowed the game down," said Mayen, who had six points and 12 rebounds. "We like to play fast, so it was definitely frustrating."
Allen was whistled for what looked to be a complaint to an official after Allen believed he was fouled. He sat most of the first half, and his second-half roar released some of that bottled up energy.
"That's Teddy," Hoiberg said. "He's a heck of a competitor. A fiery competitor."
After playing four games in six days, Nebraska won't play again until Sunday against Florida A&M as part of an extended doubleheader with the Husker women's basketball team.
Notes
» Nebraska won the rebounding battle, 46-38, but Hoiberg was frustrated with some of NU's second-half work, in which South Dakota had three straight possessions in getting offensive rebounds.
» Hoiberg said center Yvan Ouedraogo was "phenomenal" with two points, five rebounds and two blocks. He praised Mayen, too, for adjusting to playing the "5" spot for Nebraska despite rarely practicing in that role before the NCAA suspended Derrick Walker for 16 games.
» Two Nebraska natives, Brady Heiman and Kanon Koster, suited up for USD. Heiman, a former Husker center, had two points, two assists, two steals and two blocks. Koster, a transfer from UNK, logged eight minutes had a foul.
---
Meet the 2020-21 Nebraska men's basketball team