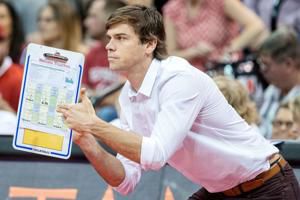 LINCOLN — Tyler Hildebrand had his dream job.
He had written the proposal for a director of coaching for beach national teams and persuaded USA Volleyball to adopt it. For the last two years he built the position from the ground up.
Now, later this summer, he will leave that job to become the Nebraska associate head coach as NU coach John Cook announced on Monday that Hildebrand would return to Nebraska, where he was an assistant on the 2017 national championship team.
"I'm excited for the opportunity to go back to Nebraska," Hildebrand said. "Something about coaching at Nebraska is incredibly special and unique. The job for me was, I really loved every minute of it."
Cook said he developed great chemistry working with Hildebrand during the 2017 season. He felt more recharged, innovative, challenged and had more fun that season compared to any other in his career. So even after Hildebrand left after one season, the two remained in constant communication and Hildebrand did some consulting work for Cook. Once Kayla Banwarth accepted the Mississippi job in December, Cook got more serious about Hildebrand coming back.
"I just think it got into his soul a little bit, in his heart, and the opportunity to come back here was pretty powerful for him," Cook said.
Cook credited NU Athletic Director Bill Moos and the administration with pulling out all the stops to make the hire possible.
Hildebrand said the hardest sales pitch was made on his wife, former U.S. national team captain Kristin (Richards) Hildebrand, who was a volunteer assistant during their last stop in Lincoln. She recently started an interior design business that is taking off but will make accommodations for the business to move back to Lincoln.
They also talked frequently with director of operations Lindsay Peterson and Dr. Brett Haskell, the director of sport psychology, about raising a family in Lincoln.
Hildebrand's position of associate head coach is the first time a coach has been given the title during Cook's tenure. The last person to hold that title was Cook in 1999 the year before he took over for long-time coach Terry Pettit.
Hildebrand said he is humbled with the title, but no succession plan has been concocted.
"The title is not going to affect my day-to-day," he said. "I think it is a symbol that represents (Cook's) belief in me and the university's willingness and belief in what I can do to help the program.
"We understood that people would speculate on (succeeding Cook), but I'm coming back because this is a great opportunity to be part of Nebraska volleyball again."
Cook echoed the sentiment and said he's not ready to hand over the reins to the Husker program just yet.
"I don't know when I'm retiring, but I don't make that decision," Cook said. "I don't think that's in my job description unless that's changed so that'll be the athletic director's decision what happens there. I take it day by day, but I love coaching right now and am fired up."
Hildebrand will remain working with the beach national teams through the Olympics this summer — something that was non-negotiable in his return. The last scheduled competition for beach volleyball in Tokyo is Aug. 8. Cook said Hildebrand will fly back to Nebraska the next day and join the Huskers for fall camp on Aug. 10.
In the meantime, Kelly Hunter will serve as an interim assistant coach. The former Husker All-American spent that past season as a graduate manager. While she remains an internship short of completing her MBA, Hunter will work as a full-time coach this spring and summer. Once Hildebrand starts, Hunter will become the volunteer coach.
Hunter said she was initially shocked to be offered to work as a coach at Nebraska only a few years after her playing career ended, but she's stoked for the opportunity.
"I was kind of just shocked and to get a really cool opportunity like this," she said. "I think it's a really unique situation."
For the past five years, Cook has encouraged Hunter to go into the coaching profession. Now, for the next seven months, he will work with her as a full-time assistant.
"At this point in my career, it's great to win and it's great to continue what we're doing here but also I get a lot of joy out of mentoring coaches," Cook said. "That's what fires me up every day."
With Hildebrand replacing Banwarth, both of the full-time assistants will be male for just the second time in Cook's tenure. The other time came in 2011 when former Husker Maggie Griffin was the volunteer assistant.
Cook said he was concerned about the dynamic, but with Hunter's presence along with the support staff of Peterson, Haskell, trainer Jolene Emricson and nutritionist Nuwanee Kirihennedige, he said there will be a strong female presence in the program.
One item left to be decided is specific coaching roles, but Cook said they hope to have that settled in a few weeks. Banwarth served as the defensive coordinator, while Jaylen Reyes worked with the middle blockers and outside hitters.
Despite the lack of definition, Hildebrand said his relationships and comfortability with Cook, Reyes and Hunter make the coaching staff a perfect fit.
"It's just so seamless," Hildebrand said. "There is not a whole lot we need to work through and we are not really worried about it."
One change already settled is Reyes taking over as the recruiting coordinator. He will hit the road recruiting with Hunter this spring.
Even though he doesn't start his job for several months, Hildebrand can't wait to work with Cook again.
"One year wasn't nearly enough," Hildebrand said. "He pushes me to be a better coach, and I can't say that about many people. I truly miss the challenge of coaching at Nebraska, and I look forward to learning even more from him and I am incredibly grateful to him for this opportunity."
The all-decade Nebraska volleyball team
Be the first to know
Get local news delivered to your inbox!